Opportunity Foundation, India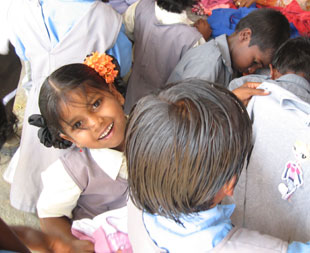 The Opportunity Foundation in central India builds and operates schools, child feeding programs and a clinic. The Foundation currently has:
A 160 student primary school teaching lower K through grade 5
Two nursery schools each having 80 children
A baby care center having 20 children
A medical clinic serving 5,000 people
A community center educating 100 adults per day in micro enterprise, local language literacy and English conversation
A daily meal program for 300 children which prevents the stunted growth, both physical and intellectual, common to slum people
Clothing and shoes are provided, as well as a hot lunch which is the major meal of the day for all our children. Uniforms are provided for our primary children. Our primary school ends after fifth grade. After this those children that qualify are placed in one of the best private schools in the area where we will provide support until they graduate.

Want to Volunteer?
Volunteers wanting to work with education or health care are welcome short or long term. English teachers, something we can all do, are always welcome. Some long term (three months or more) volunteers have helped with oversight, record keeping and teacher training. The fifteen teachers teach in English but greatly benefit from volunteers working with them and the kids.
Many volunteers have stayed at our guest house. There are opportunities for any skill you can name. Our slum people are desperately poor because of lack of education and skills. They are day laborers earning $1.50 to $2.00 on the days work is found. They build their huts from sticks, plastic sheeting and one brick at a time as they can afford to. Whatever you know, chances are they don't. Come help them learn.
Volunteers have come from the US, Canada, Malaysia, Korea and Russia. All are ready to return when they can. Our school is a very happy place filled with smiles, laughter and music. Now our children have shoes, clothes, books, love and hope.
You can contact Mission Builders International for information and assistance in volunteering.

What About Donations?
When children enter our school we commit to see them through as far as they are able. We must do this whether or not we receive outside donations. The current (2009) economic problems have tested us here, but no child has been told they cannot continue, nor will they.
As we receive outside funds we can expand to educate more children beyond our current limit of 300. We are always careful when expanding since we commit to the long term education of all our children.
Donations can be designated for Opportunity Foundation India. They are tax deductible and are processed by:
Mission Builders International
Attn: Chief Architect Opportunity Fund
PO Box 406
430 Blacktail Road
Lakeside, MT 59922
406-844-2683