Opportunity Foundation, Thailand
Opportunity Foundation, Thailand works with abused children and child trafficking victims. The Nang Rong location was chosen since there were no other non-governmental organizations or not-for-profit organizations serving this area. It is likely that if we did not provide the services we do, no one else would, and in most cases the losses to the people being served would be permanent.
We are also opening an infant pre adoption care facility to assist the government in caring for newborns who are abandoned or result from "failed" abortions until they can be adopted out to families in Thailand or internationally.

Safe Center Dormitory Rendering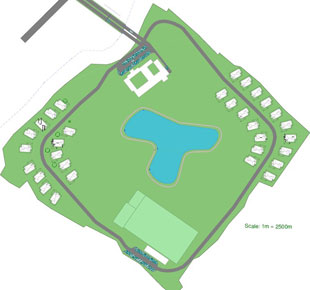 Site Plan for Opportunity Village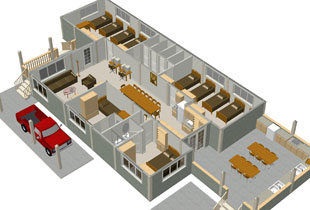 Girls' House Rendering
At this time we have:
Established a board of directors with key relationships in the community.
Completed the purchase of 28 acres of land on an island in Nang Rong City.
Completed a site plan for the development of Opportunity Village, which has been approved by the provincial government.
Currently operating two child homes in rented facilities.
Completed the final design for permanent housing homes which will start at four and are expected to grow to 32. Each home can house 12 girls along with parents and staff provided by the foundation.
Completed the preliminary designs for the safe house dormitory for girls not permanently placed.
Completed the preliminary designs for housing for both short and long term volunteers.
We will build a women's safe center for abused girls. Services would include health care and counseling for victims of sex crimes and the prostitution industry, a school providing supplemental education, and prevention and intervention of child trafficking from Cambodia, Laos, Vietnam, and Myanmar. The center will also care for twenty destitute elderly women from the community.
Much of the construction for the project will be funded by Chief Architect with the goal of being self-supporting once it is completed. The current plan is to build the safe center dormitory and up to 32 homes that could then house just over 400 girls.

Want to Volunteer?
Volunteers wanting to work with health care and education or with social work or counseling experience are welcome short or long term. English teachers, something we can all do, are always welcome. If you would like to learn more, visit Thai foundation's Web site. You can contact Mission Builders International for information and assistance in volunteering.

What About Donations?
Chief Architect's commitment for Opportunity Foundation Thailand includes land purchases, development and construction costs, now and in the future. Operations and support for the children is to come from donations from both Thailand and the U.S. Any additional funds received will not be used for construction, but for support of children and for increased efforts in prevention and rescue of child trafficking victims in the border areas of Thailand.
Donations from the US can be designated for Opportunity Foundation Thailand. They are tax deductible and are processed by:
Mission Builders International
Attn: Chief Architect Opportunity Fund
PO Box 406
430 Blacktail Road
Lakeside, MT 59922
406-844-2683