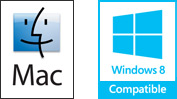 Chief Architect X6
Chief Architect X6 is now available and runs on both Mac & PC. Regardless of whether you have Windows or Mac, you can run Chief Architect on either platform natively with a single license (so you don't need two separate copies).
When you purchase or upgrade to Chief Architect, remember you get Free upgrades for the first year – it's included with our Support and Software Assurance. System Requirements are located at the bottom of the page.
Already have SSA? Log in and upgrade to X6 for free today.
Watch the What's New in X6 video
Chief Architect X6 New Features Summary
Improved Activate/Deactivate Options. You can now deactivate a license remotely from your Chief Architect online account

---

Support for Multiple Monitors. Tabbed view windows can be torn or undocked from main user interface and moved between monitors independently

Improved User Interface. Independent Control of Library Browser and Project Browser. View the Library Browser and the Project Browser as tabs of the same window, or undock them to view them as a separate window. New Tool Palettes. When you highlight a tool, you will see all of the child tools in the Tool Palette

---

Layout Page Index and Revision Index. Create an index of drawing sheets and their revisions. Specify page attributes such as Label, Title, Description, Revision Information, and Comments for each sheet in the Layout Page Information Dialog.

Crop Picture Images added to Plan and Layout. Crop handles allow picture boundaries to be reduced or enlarged

Layout Template Pages. Specify multiple Template pages in a Layout and assign individual pages to reference a template

---

Control the Order of Objects in Schedules. Re-order items by row or column in a schedule. The schedule number updates correspondingly in the plan

---

Real-Time Reflections and Shadows in Render Views. The standard render camera (OpenGL) generates reflections and shadows quickly, as you navigate your design

Save Image Settings with Ray Trace Configurations. Preserve settings like tone mapping, intensity, contrast, and saturation to reuse in ray traces

---

Import plans from Chief Architect's Room Planner™ mobile app. Create designs using Room Planner™, then import them into Chief Architect for editing and detailing

---

Auto Refresh Exterior Dimensions. Keep Auto Exterior Dimensions up-to-date as you move/update walls and openings

---

Automatically populate Camera Callouts with Layout Page Information. Choose to include layout page label in camera callout second line text. Callout information automatically updates if layout label is changed

---

Room Divide Tool. Create separations of rooms without walls using the Room Divide Tool. Great to differentiate flooring for rooms

---

Expanded Controls for Bay/Box/Bow Windows. Specify wall type, width, depth, and height from floor and ceiling of Bay/Box/Bow Windows within dialog.

---

Rebuild Framing for a single Wall or Roof Plane. Choose to generate framing for a single object without re-generating new framing for the entire plan

---

Hang Floor Joists Automatically. Define Floor Joists to be flush with the Stem Wall Top. Automatically generate floor framing platforms inside the foundation which hang from stem walls

Specify Walls as 'Bearing'. Automatically control the generation of butt or lap framing over a wall with the Bearing attribute

---

New Custom Backsplash Tool. Click to generate a Custom Backsplash that automatically fits around cabinets, openings, and appliances

Separate Material Controls for Shelves. Apply a separate material, like glass, to the shelves inside a cabinet

---

R-Value Controls. Specify R-values for walls, floors, ceilings, and platforms. Define Conditioned or Unconditioned Spaces. Specify rooms as conditioned, unconditioned, or use the room type's default to generate insulation calculations on the materials list

Window Glazing Area and U-Factor for Doors and Windows

---

Export energy calculations to U.S. Department of Energy's REScheck™ program

---

Add Walls to the Library. Add custom wall definitions to the Library for reuse in new plan files

Support for ICF and SIP Wall Connections. Specify multiple main layers for wall types to represent construction types such as ICF and SIP walls

---

Control Wall Framing on a per-opening basis. Specify that window and door openings use custom or default settings for Headers, Trimmers, Sills, and other framing related components on the Framing tab of the specification dialog
---
Chief Architect X6 System Requirements
PC
Mac

Windows 8 / 7 / Vista
2.4 Ghz processor
2 GB (32 bit) / 4 GB (64 bit) of Memory
5 GB of available hard disk space
Internet Access*

Mac OS X v10.8 (Mountain Lion) or newer
2.4 Ghz processor
4 GB of Memory
5 GB of available hard disk space
Internet Access*
*Internet access required for installation, license authentication, deactivation, and video & library catalog access.