Chief Architect Certified Trainers
Our goal at Chief Architect is to offer the best-class service for our training. Our Training Services Staff not only have years of experience in teaching our software, they also have field experience in the building industry to help you quickly learn and understand how to use our software products. We continually survey our users and incorporate the feedback to improve the training programs. Try our training services and learn how to be productive using Chief Architect software.
---
John Jones — AKBD:Chief Architect Certified Trainer
John has been with Chief Architect since 2005 and heads up our Training and Customer Support departments. In addition to being a Chief Architect Certified Trainer, John has also received his AKBD from the National Kitchen and Bath Association.
John created and continues to develop Chief Architect's online training programs and project-based certification examinations. An avid Chief Architect user, John is an active customer advocate: listening to users and students, then working with Chief Architect's Development team to make our software as intuitive and robust as possible.
Prior to coming to Chief Architect, John worked for 25 years in Sales and Marketing then took a 2 year break to complete his degree in Computer Information Technology. Shortly after completing his degree, John joined the Chief Architect staff.
---
Brad Dorscher: Chief Architect Certified Trainer
Brad offers Personal Training as a service to our users that have a specific issue or plan they need help with. By offering this personalized training, you can quickly and cost effectively solve your design challenges. Why spend valuable time being frustrated – solve it quickly with our Personal Training Service offered in 1 hour or multiple hour blocks.
Brad has over 25 years experience as a remodeling carpenter and several years as a Microsoft Technical Support Representative.
Over the years at Chief Architect, Brad has served in many roles including Training Services, Technical Support, and Certification/ Curriculum development.
Use the Personal Training Service on your next project or design challenge one-on-one with Brad, and you'll be just as happy as these two users in the photo!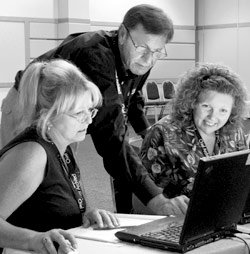 ---
Deedee Urbano: Chief Architect Certified Trainer
Deedee has been with Chief Architect since 2010, working with the Sales, Technical Support and Training teams. Prior to coming to Chief Architect, Deedee had an extensive career working as a drafter, designer, and project manager for Architects, Engineers, Developers, and Contractors in the building construction industry.
Deedee provides clients with one-on-one personal training online, as well as classroom training.
---
Mike Nuess: Chief Architect Certified Trainer
Mike Nuess has been developing Chief Architect's Training Services for over six years. In addition to coordinating and teaching the training and education seminars, Mike is the primary author and producer of the Chief Architect Training Video Series. As a result of leading the training and education for Chief Architect, Mike is one of the most knowledgeable users of the program.
Mike is an experienced home builder with several years of experience designing, implementing and evaluating education and training services to professionals, schools and communities. He's taught code officials, builders, teachers and homeowners how to design and build green energy-efficient homes with superior indoor air quality. Mike is one of our most experienced instructors.
Other highlights include:
Building prototype homes, one that won National awards for energy and indoor air quality.
Directing the factory design and production of panelized walls as building components.
Managing the Eastern Washington Office of the Washington State Energy Office.
Providing technical services to the US EPA, the ICBO, and the Bonneville Power Administration.
Consulting on energy and air quality issues in housing with federal and regional policy makers.
Mike enjoys teaching small groups of motivated people. In his off-hours he enjoys writing, friends, skiing and catching a good wilderness sunset now and then.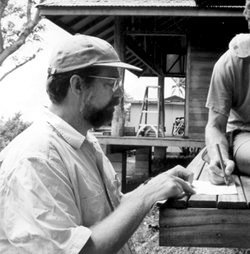 ---
Gary Doski: Chief Architect Certified Trainer
Gary Doski has been in the construction business for over 25 years, and has been involved with Chief Architect since 1998. Gary owns a business, 3D Homes L.L.C., providing consultation services to local builders, designers and remodelers. He also assists local contractors/builders with getting their plans through the permit process.
Gary is a certified Building Official for the State of Connecticut. Gary believes having a thorough knowledge of the building code can be a great asset when designing. His wide range of experience in the construction industry and his knowledge of Chief Architect give Gary a unique perspective on the needs of Chief Architect trainees.
Gary started designing with a paper and pencil in the late 70's. Back then he used perspective sketches to show his clients a "3D" view. Thus he named his company 3D Homes.