Chief Architect software brings home design projects to life. Automated building tools for home design, interior design, and kitchen & bath design make it easy to create construction drawings, elevations, CAD details, and 3D models.
Download a trial and see why Chief Architect is the best residential home design software for architects, home builders, and remodeling professionals.

Software for Home Design Professionals
Chief Architect software is the professional tool of choice for architects, home builders, remodelers, and interior designers. Smart building technology makes it easy to create construction drawings, floor plans, elevations, 3D renderings, and 360 panoramic renderings. Chief Architect's software is purpose‑built for residential design with building tools that can automatically generate roofs, foundations, framing, and dimensions. As you draw walls, windows, and doors, the program simultaneously creates a 3D model. These 3D models can be shared with homeowners, structural engineers or subcontractors using the 3D Viewer app.
Chief Architect Premier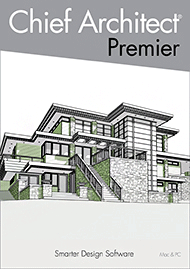 Chief Architect software is for the professional residential designer. Chief Architect Premier is the best software product for full residential or light commercial design—everything inside and outside the house—3D visualization, 2D design, elevations, cross‑sections, and construction drawings. In addition to the residential design features, Chief Architect Premier offers a full feature set for interior designers and kitchen & bath designers. Kitchen, bath, and interior design tools include automatic interior dimensions, floor and space planning, wall elevations, manufacturer catalogs, nearly unlimited color and material selections, and a style palette for design options.