Chief Architect® 3D Viewer
Web App / Mobile App to Share 3D Models
Visualize home projects before they are built using the 3D Viewer app. The 3D Viewer works on both the web and mobile devices - Android and iOS. With the free mobile app, you can share your Chief Architect home models with clients and let them see their new home or remodeling project on their tablet or phone. Experience exterior, interior, and dynamic cross-section views and use Chief Architect's Sojourn® virtual reality navigation tools to Walk or Fly through designs.
3D Viewer & Mobile Video Playlist
3D Viewer Free Download


---
Desktop Viewer Download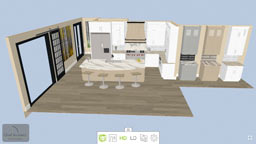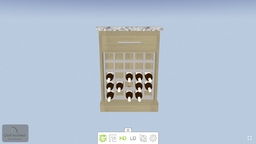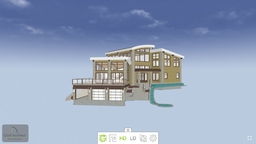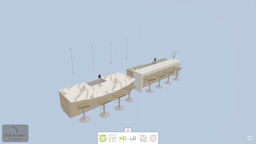 Viewing & Sharing Models
To view a design in the 3D Viewer, export it from your Chief Architect® desktop software to your cloud account, hosted by Chief Architect, then open the model in 3D Viewer on your mobile device. To share a model with a client, simply send them a Share invitation e-mail from your online Chief Architect account.
Sojourn® 3D Virtual Reality Navigation Controls
Thumbsticks to move (fly) and rotate
Gyro camera for free-form viewing
Background camera on/off
Walk-Thru — allowing you to physically walk through the model
Dynamic camera height while in fly mode
Manual camera height adjustment
At the bottom of the screen, you will find controls for Overview and Room mode. When you are in the Room mode, the Sojourn® controls are available. There are also controls for High Definition (HD) and Low Definition (LD) mode. The LD mode does not display textures and uses less memory which may help to view home designs with high surface counts or on older mobile devices.
Cross-Section Slider
Use the Cross-Section Slider with six different cutting planes to view all angles and aspects of the home design. In the settings panel, there are controls for displaying a mini-map, aiding in the navigation of large models, defining your step length for the Sojourn® Walk-Thru mode, and using a game controller for navigation.
File Management Options
Export models to the cloud.
99 models can be active for viewing and sharing at the same time.
On export, models can be assigned both Names and Descriptions for easy identification.
Share, deactivate, reactivate, and delete models from your online Chief Architect cloud account.
Contact Chief Architect Sales to purchase a cloud plan with additional storage for active models.
3D Viewer Tips
To export a 3D Viewer model from Chief Architect you will need current SSA and your software must be Chief Architect Premier or Interiors 18.3 or newer.
Before you export your model from a 3D view within Chief Architect, optimize by turning off unnecessary layers before you export – items like framing that may not be seen. Mobile devices are not typically as powerful as desktop and laptop computers. We recommend that you keep the number of surfaces exported below 500,000 and the exported texture memory below 50 MB. Both of these metrics are shown in Chief Architect during the export process.
To reduce the number of surfaces, turn off layers or delete objects that require a large number of surfaces. Symbols like cars, chandeliers, 3D plants or other objects with curved surfaces have higher surface counts. Turning off terrain or layers that won't be seen in 3D are good candidates.
To reduce texture memory, consider reducing the resolution of your custom material textures – 512 x 512 or lower is a good rule of thumb. Often, artwork or images not intended to be tiled have higher resolutions and can be scaled down or left out without negatively affecting presentation quality.
Once you have prepared your model for export in Chief Architect, select File> Export> Export Chief Architect 3D Viewer File.
Exported 3D Viewer models on the cloud do not require unique names, so be sure to provide a name or description that will help you to identify a particular version of the model in case you export multiple versions. Last-modified timestamps will be available within the app to aid with the versioning process.
From your Chief Architect account, you can manage the sharing, deactivation, and deletion of models you have exported from Chief Architect.
Chief Architect cloud account: accounts.chiefarchitect.com/viewer-uploads/
To share your models with another 3D Viewer user, click the Share button associated with the model you would like to share. You will need to provide the Sharing code that appears in the console. Or, you can click the Send button to generate an email that includes the Sharing code as well instructions for obtaining 3D Viewer and creating a Chief Architect account.