Chief Architect 3D Viewer
3D Viewer models are interactive virtual reality models that can be viewed on a phone, tablet, or web page. 3D Viewer models can be shared or embedded on your website. These models are a great way to help your clients or subcontractors visualize your designs.
To view on phones or tablets, download our free 3D Viewer app — available for both Apple and Android devices. To embed on your website 1) export the 3D Viewer model to your Chief Architect cloud account 2) from your cloud account use the embed button and copy the code to your website. Learn more with our 3D Viewer support article.
Viewing & Sharing Models
3D Viewer models are exported from your Chief Architect or Home Designer desktop software and saved in your Chief Architect cloud account. You can include saved cameras to highlight particular details of the model, from color schemes in the living room to cabinet layout in the kitchen. From your Chief Architect cloud account you can then view, share, or even embed the 3D Viewer model on a web page. For more information about exporting, sharing, and embedding your models, please see our 3D Viewer support articles: for Chief Architect | for Home Designer.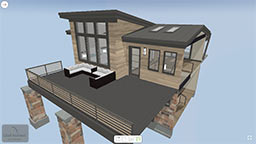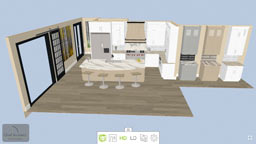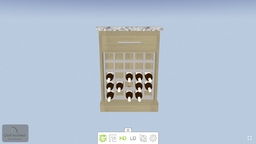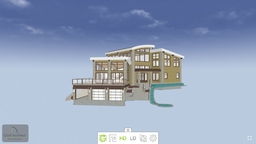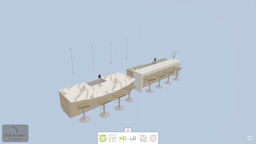 With the Augmented Reality mode, you can place your 3D model in the real world and explore in detail by rotating, zooming or walking around. To view a 3D model in AR, use any horizontal surface such as a table, countertop or floor, then tap to place it when the AR surface grid appears.
Sojourn® 3D Virtual Reality Navigation Controls — Available in the Mobile App
Thumbsticks to move (fly) and rotate
Gyro camera for free-form viewing
Background camera on/off
Walk-Thru — allowing you to physically walk through the model
Dynamic camera height while in fly mode
Manual camera height adjustment
At the bottom of the screen, you will find controls for Overview and Room mode. When you are in the Room mode, the Sojourn® controls are available. There are also controls for High Definition (HD) and Low Definition (LD) mode. The LD mode does not display textures and uses less memory which may help to view home designs with high surface counts or on older mobile devices.
Use the Cross-Section Slider with six different cutting planes to view all angles and aspects of the home design. In the settings panel, there are controls for displaying a mini-map, aiding in the navigation of large models, defining your step length for the Sojourn® Walk-Thru mode, and using a game controller for navigation.
Chief Architect 3D Viewer Requirements
To export a 3D Viewer model from Chief Architect you will need Chief Architect Premier or Interiors, X8 or newer. To export a 3D Viewer model from Home Designer requires version 2019 or newer. Home Designer Essentials is not able to export 3D Viewer models.
iOS
iOS 11 or newer
2GB of RAM
400MB Storage Space
iPad Air 2 or newer recommended
iPad Mini 4 or newer recommended
iPhone 6s or newer recommended
Augmented Reality: Supported iOS devices
Android
Android 7.0 or newer
2GB of RAM
400MB Storage Space
Accelerometer and gyro with sensor fusion (Required for some Sojourn® features to function)
Back-facing camera (Required for some Sojourn® features to function)
Support for OpenGL ES 3 or higher
Samsung S Pen not supported
Augmented Reality: Supported Android devices
Web Version
Firefox 42 or later (preferred)
Chrome 46 or later
Safari 9 or later
Edge 13 or later
Windows or macOS
Browser must be able to allocate 1GB of contiguous memory
Mobile browsers are not supported (you will need to use the app for iOS or Android)