Fire & Crime Scene Software — Catalog Downloads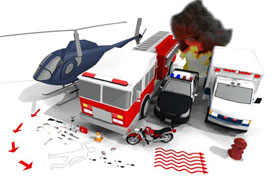 Add-on Expansion Pack Catalog
Chief Architect, Inc. is a leading home and light commercial design software publisher. For years, the ATF and state and local fire and police departments have used Chief Architect software to reconstruct 2D and 3D fire and crime scene diagrams and renderings. And now it's even better; when you order, download the Fire and Crime Scene catalog below to expand your version with new tools to recreate almost any scene.
Chief Architect's software is designed for the residential and commercial market. It is one of the best 3D home design software products available. Investigators can use this same technology for fire and crime scene analysis. Create 3D views and virtual tours of any scene — helpful for investigation, analysis and courtroom exhibits.
Chief Architect software is a great design tool with an extensive catalog of objects; you can also purchase a Fire & Crime catalog.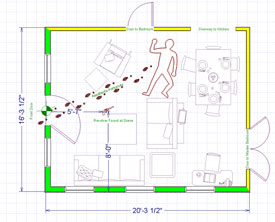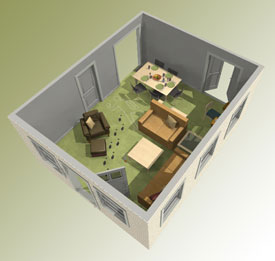 Summary Features for Fire & Crime Scene Software:
Automatic and manual dimensions — dimension to any object
Automated building tools for roofs, stairs, terrains and more to make designs quick and easy
Road and sidewalk tools
Thousands of catalog objects to detail designs — sofas, chairs, beds, tables, etc.
Import third party objects from commonly used 2D and 3D file types — such as those from Google's 3D warehouse
Scaled 2D floor plans
Day and night time settings
Define latitude and longitude, time and date for realistic shadows
Please note not all features are in all products. Please refer to the individual product details or call our sales department.
Fire & Crime Scene Catalog Object List:
Aircraft
Boeing 727
Cessna
F16
Helicopter
Crime Scene
Arrow
Body Outline
Bullet Hole
Female Footprint Left
Female Footprint Right
Female Footprints
Fingerprint
Hand Print
Male Footprint Left
Male Footprint Right
Male Footprints
Wind Direction
Fire
Fire 1
Fire 2
Fire 3
Fire 4
Fire 5
Fire 6
Fire 7
Fire Bell
Fire Extinguisher
Fire Extinguisher in Case
Fire Hydrant
Objects
Bottle
Camera
Camera On Tripod
Classic Vase
First Aid Kit
Flashlight
Hammer
Ladder
Pipe Wrench
Pliers
Scissors
Screwdriver
Shovel
Tape Measure
Telephone
Traffic Cone
Roadside
Bus Stop
Modern Bus Stop
Phone Booth
Signs
BIKE ROUTE
Crosswalk
Dangerous Curves
DO NOT ENTER
FIRST AID
Handicap Sign
Handicapped Crossing
Hospital "H"
Hospital Arrow
NO PARKING
NO PASSING ZONE
ONE WAY
RAILROAD CROSSING
Sharp Turn
SPEED LIMIT 15
SPEED LIMIT 35
SPEED LIMIT 45
SPEED LIMIT 60
STOP
WRONG WAY
YIELD
Surveillance Cameras
Dome Camera
Exterior Camera
Interior Camera (ceiling)
Interior Camera (wall mounted)
Motion Sensor
Traffic Signals
Flashing 4-way
Traffic Signal
Traffic Signals on Poles
Trains
Train Caboose
Train Car
Train Engine
Vehicles
Full-Sized Truck
Hatchback
Large SUV
Minivan
Pickup Truck
Sedan
Sports Car - Convertible
Wagon
Ambulance
Fire Chief
Police Car
Pumper Fire Truck
Tiller Fire Truck
ATV
Bicycle
Motorcycle
Ski Boat
Cargo Trailer
Flatbed Trailer
Bullets
22 LR
3 In 12 Ga Shotgun Shell
32 ACP
357 Magnum
38 Special
38 Super
44 Magnum
45 ACP
45 Magnum
9mm
Weapons
Baseball Bat
Bomb
Box Knife
Dynamite
Hatchet
Knife
M16
MP5
Revolver
Rifle
Semiautomatic
Shotgun