By Kendra Dorosh
What are the biggest challenges your business will face over the next year? If you said finding skilled labor and completing projects on time, you aren't alone.
With housing starts at a high and labor shortages expected to continue, we set out to identify the biggest challenges that businesses are facing in the coming year and what they're planning to do to address them. We heard from 35 building industry professionals who provided us with a pulse on what they are preparing for in the coming year.
The top 5 challenges that businesses are facing in the Building Industry over the next year are:
Finding Skilled Labor
Completing Projects on Time
Rising Cost of Materials
Productivity / Profitability
Attracting New Business
Take a look at our key findings in the infographic below and continue reading to learn more about how businesses are planning to combat these challenges.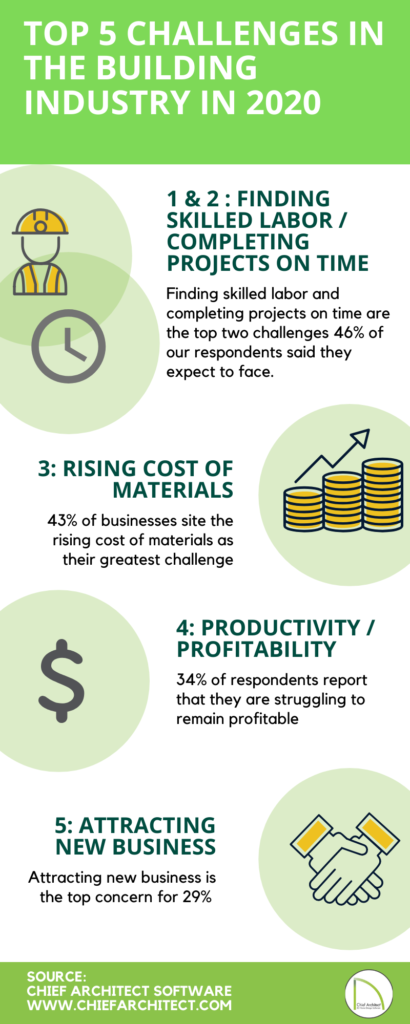 The two greatest challenges that our respondents say they expect are a shortage of skilled labor and the difficulty of completing projects on time. This finding correlates with what we learned in our recent Projected Backlog for New Clients survey, which indicates that nearly one-half of respondents report a backlog greater than one month when taking on new clients:

---
What can you do to prepare for upcoming challenges?
The top two areas of focus that were cited most frequently by our respondents going into the coming year are software (26%) and time management (26%).
Using technology is a great way to save valuable time doing a variety of tasks and increase your efficiency. In a recent survey, Chief Architect identified a great example of how this can be achieved in the remodeling industry. The most commonly cited request for remodeling software that we heard from our respondents is for a way to isolate the "as-built" from "new" in a remodel project. At the same time, we found that many are still using paper and pencil (75%) to capture as-builts (see graphic below). The potential for increased efficiency by switching from paper and pencil to a Bluetooth measuring device inputting directly into a program like Chief Architect is evident.

Using design software also allows customers to see completed jobs ahead of time. This turns potential leads into paying customers faster. With the customer able to visualize the proposed space in detail, future revisions and time spent on change orders are both greatly reduced. Designers like Harby + Points and others are already leveraging the 3D rendering capabilities in Chief Architect to communicate with their clients during the design process, saving time and money while making clients happy.
From creating renderings and selling the job to organizing design details and producing construction drawings, design software is an invaluable tool.
It will be interesting to see how the challenges of 2020 play out, as well as how design and construction professionals adapt in response. Only time can tell, but we will keep asking questions and will be sure to let you know what we find out!
Thank you to everyone who took the time to answer our survey questions.
Leave a comment below and let us know how you plan to stay competitive in the evolving landscape of the Construction Industry.
---
Interested in the full rank-ordered list of challenges from the survey results? See the graphic below.