By Kendra Dorosh
Joni Anderson places 3rd in the Chief Architect Residential Design Contest. Creating 3D models of home designs is one of Joni's greatest passions and stress releases. You can see her love for design in the details of her dream retirement home.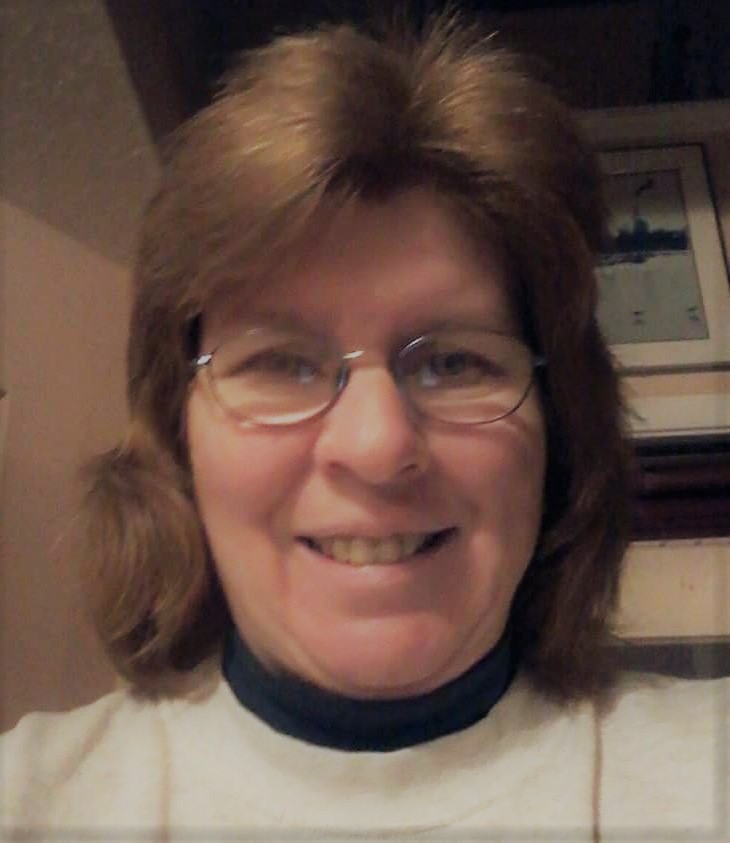 "I became interested in computerized home design back in the year 2000 when it became available for the consumer market. As the technology changed, I continuously upgraded to stay compatible. Eventually, with each subsequent home computer, I was led to Better Homes and Gardens software developed by Chief Architect. I then graduated to their aptly named Home Designer Suite. Of all the different home designing software programs I've tried, I've found Chief Architect products to be the most computer friendly, affordable for budget-conscious consumers, and versatile. I've basically stuck with them since 2005. And the visuals are absolutely stunning, almost life-like.
"I hail from Indiana, born and raised there, but have resided in Southern Maryland for the past 22 years. I actually had my first custom home built here that I'd planned for six years, waiting for the opportunity to bring it to life. All I needed was a more permanent place to stay since there had been uncertainty with my husband's government job back then. Both the property and the house plan coincided with my six-year vision. After locating the property, it took only 24 hours to modify the house plan, add an extra bay window, pick out all the colors, countertops, placement of outlets, windows, etc. that functioned effectively for my family. I created these plans on paper, all without the use of home designing software so you can imagine my joy when that became available!
Whenever I feel agitated, I turn to Chief Architect Home Designer Suite to calm me.
"I'm a self-taught computer operator (mostly so my children couldn't pull a fast one on me if I hadn't taught myself). I learned everything by trial and error using Windows-based systems. My husband, who is a computer engineer, said I was a natural when it came to running different kinds of software programs, basic graphic design, and learning HTML code all from the comfort of my home. Home design has been one of my more constant hobbies over the past 18 years. Whenever I feel agitated, I turn to Chief Architect Home Designer Suite to calm me. It's my number one go-to stress reducer. It rejuvenates my creative juices as well."
Winning Design
More from Joni
"I've been sharing a few of my projects on my Facebook page and one of my friends asked if I could design a barn with living quarters so she could check on her horses while wearing her pajamas! I told her, not a problem. Although I'd yet to design something like that, I knew it could be accomplished using Chief Architect Home Designer Suite and importing 3D farm objects. I found a barn house plan that included living quarters and went to work. She absolutely loved it and hopes to one day build it. I'll be charging for the next project!"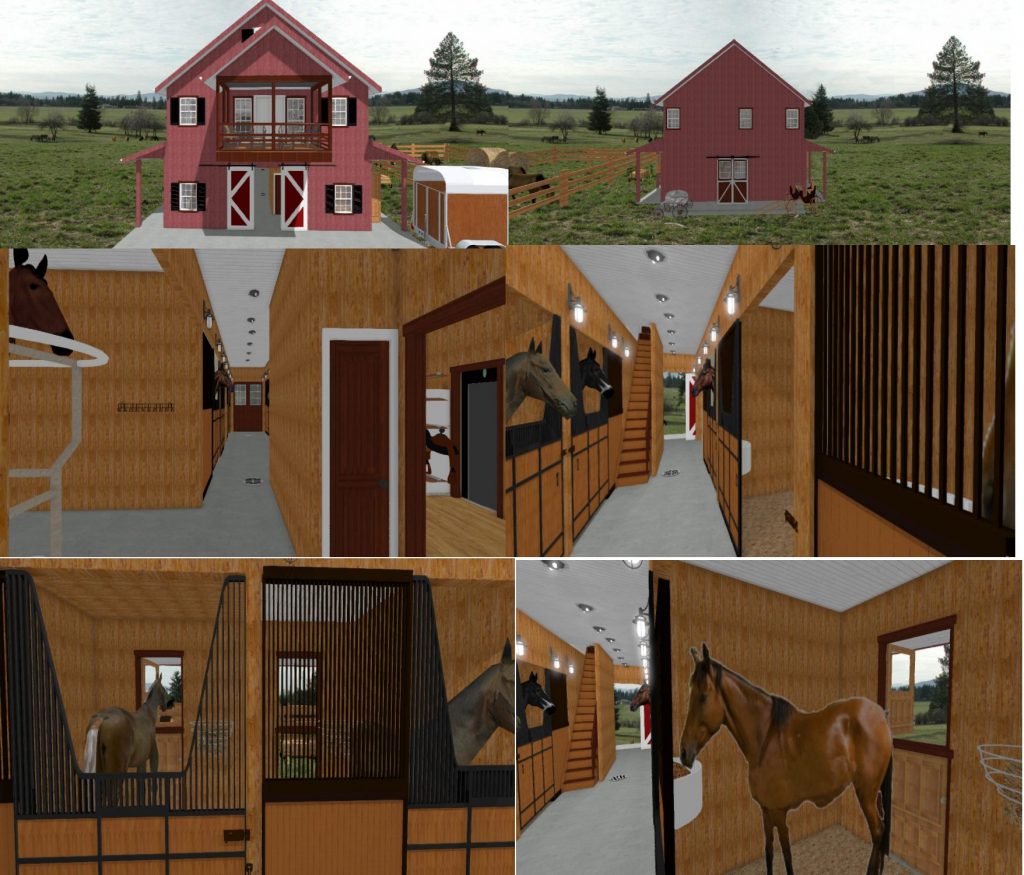 "Here's another project I created with Chief Architect Software. It's a Bed and Breakfast that was inspired by Calamity Jane and an ancestor of mine, Colorado Charlie Utter. Colorado Charlie was best friends with Wild Bill Hickok. Both of them knew Calamity because she rode on the wagon train to South Dakota with them! I call the design Calamity June B & B for my granddaughter, June! It features three exteriors of the four-bedroom Victorian house (many who've seen it love the porch feature) and three rooms of its interior: the kitchen, dining room and one of the bathrooms, which are included in each suite."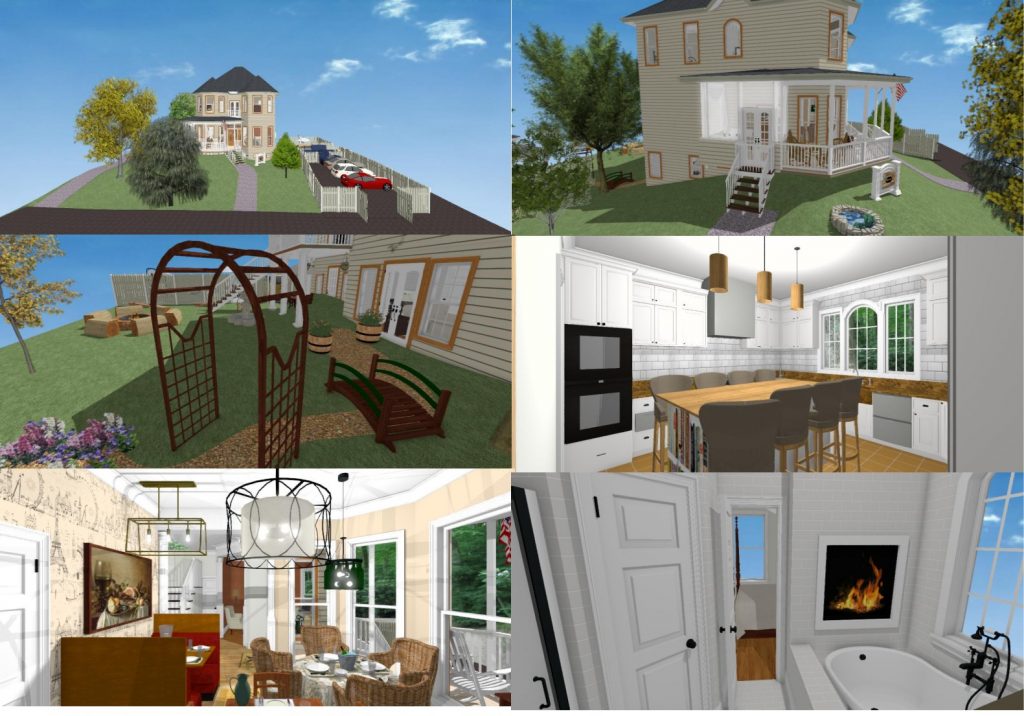 Connect with Joni
jganderson58@comcast.net
We want to congratulate Joni again on her winning design and to thank her for sharing her story with us and our community! You may have noticed that Joni features a number of imported 3D symbols in her plans. If you'd like to learn more about how you can import 3D objects from an outside source into Chief Architect Home Designer Software, we have a Knowledge Base Article available here with step-by-step instructions.