By Kendra Dorosh
Alexandra DuBois places 2nd in the Chief Architect Remodel/Addition Design Contest. Her experience with color, tile patterns, and materials is evident in her custom design.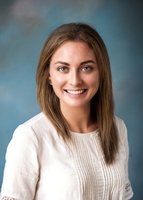 "I am originally from Des Moines, Iowa and moved to San Diego to attend design school ten years ago. I have been around design and remodeling my whole life with my family, my dad always being one to complete all of his own remodeling projects and having my sister and I help all along the way. I graduated from the Art Institute of California – San Diego with a Bachelor's of Science in Interior Design. My first few jobs in the industry were a color specialist at a paint store, furniture sales, and tile design before I settled at Lars Remodeling and Design.
"I first started using Chief Architect Software in 2016 when I joined the Lars team as a Concept Designer. I had never used Chief Architect software before but was familiar with a few other 3D modeling programs. I found Chief Architect extremely easy to learn and use. At Lars, we use Chief Architect to create 3D models of our clients' projects to bring our designs to life for them to see. We make it as realistic as possible, by incorporating all new material and finish choices, as well as specific plumbing and appliance selections.
My favorite part about using Chief Architect is being able to create my own materials and symbols, to create specific tile patterns, flooring materials, and even the clients own artwork and furniture, to use in my models. I also really enjoy the challenge of trying to figure out a way to do something that is complicated or doesn't exist in the program. I love creating models that accurately reflect our clients' homes and lifestyles, and really feel that the personal connection to the models makes all the difference."
Winning Design
We'd like to thank Alexandra for allowing us to be a part of her design process! If you would like to learn to make custom content like Alexandra, check out the below articles and videos.
Customizing a Library Material
Creating Custom Materials and Colors
Creating Custom Tile Materials
Connect with Alexandra
More from Alexandra