By Phillip Gibney
Chief Architect produces 3D Home Design Software for professional designers and DIY homeowners. From automated features for quickly creating floor plans, section details, and layouts to photo-realistic 3D renders for visualizing the design, the software is a powerful tool for those with residential design needs. Because the software is so powerful and robust, a question we often hear at Chief Architect is "what type of computer do I need to run the software"? Many computers are capable of running Chief Architect; however, depending on the specs, some will run Chief much more efficiently. Investing in the right computer will also help ensure that the computer will run future versions of Chief effectively for a longer period of time, making your investment more cost effective over time.
Choosing the right tool for any job is critical. Would you attempt to hang drywall for a whole house with a screwdriver or drywall gun? Although a screwdriver is significantly cheaper, it will provide minimum performance whereas a drywall gun will save you an enormous amount of time and energy. The principle of ensuring you have the correct tools in the field, also applies to the tools used in the office. A computer that may seem like a bargain may be impractical for running a 3D program like Chief Architect. When computer shopping there is no specific price point you should target, but instead there are certain recommended system specifications you should account for.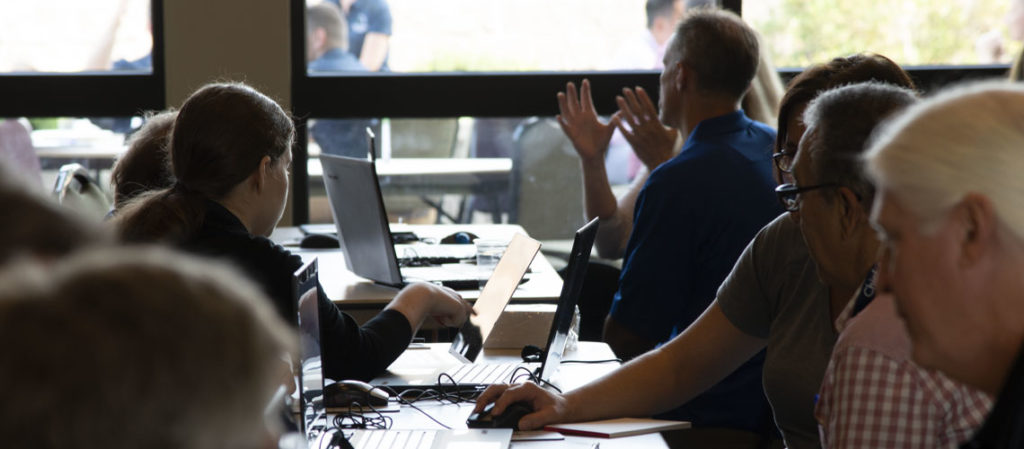 Understanding System Specifications
There are specific minimum system specifications needed to run Chief Architect, but we strongly encourage you to go with our recommended system specifications. As we release new versions of the software each year, the minimum system specifications may change due to advancements in the software's capabilities and technology. Going with our recommended system specifications will help ensure that your computer will run Chief Architect efficiently and help extend the useful life of your computer.
Computer Specification
Example of use in Chief
Specification needed to run Chief Architect
Video Card (GPU): Produces the image you see on your screen
Renders views of the model on screen including reflections, shadows, lighting, and more.
Minimum1
Windows 10 / 11: 4GB Memory with DirectX12 Shader Model 6 support & (1) Dedicated Video card such as Nvidia GeForce RTX or AMD Radeon Gaming cards or (2) Intel integrated graphics 9th generation "Skylake" or newer.

macOS Monterey / Ventura: M1, M2 or select Intel/AMD

Recommended1
Windows 10 / 11: Nvidia GeForce RTX 30 Series or AMD Radeon™ RX 6000 Series

macOS Monterey / Ventura: M1, M2 or select Intel/AMD

Supported Mac Models

1Real Time Ray Tracing requires a Windows computer with a Nvidia GeForce RTX or AMD Radeon™ RX 6000 Series video card

Processor (CPU): Brains of the computer, process inputs
Most drawing, editing, and building operations
Minimum
Multi-Core

Recommended
6+ Core Intel i9+ or AMD Ryzen Class Processor

Apple M1 and M2 processors are supported.
Windows computers with ARM processors are not supported.
Random Access Memory (RAM): Short term storage
Stores data temporarily for quick access by the application
Minimum
8GB RAM

Recommended
32GB RAM

Video Card (GPU): Also referred to as the Graphics Card or Graphics Processing Unit (GPU), this is the part of your computer that produces the image you see on your screen. Since Chief Architect is a graphics intensive program, the graphics card is an extremely important part of the computer for day-to-day design work. There are a few types of Video Cards: integrated, workstation, and gaming. While some integrated (Intel) and workstation cards will work with the software, it may run slower since integrated (Intel) cards share computer resources from the CPU and RAM and workstation cards don't perform well when doing 3D rendering in Chief. Gaming video cards do not share computer resources and are designed specifically for 3D rendering tasks used in Chief Architect. For best performance, we recommend a gaming class video card with 4GB+ or more of video memory on a Mac, and on a Windows PC NVIDIA's GeForce RTX series or AMD Radeon™ RX 6000 Series. Here is information on why we specifically recommend these video cards. Additionally, computers with gaming video cards typically meet all of our required system specifications.
Processor (CPU): The Central Processing Unit (CPU), often referred to as the Processor, is the brain of your computer. The processor takes inputs from your computer's RAM and processes them for output. As you are typing on the keyboard or working in a software program like Chief, the processor is performing billions of operations each second to understand and react to the inputs. The performance of a processor is a function of the number of cores and the speed it is capable of running which is measured in gigahertz (GHz). More cores and higher speed is better, particularly if you expect to run multiple applications simultaneously or work on large projects. We recommend an Intel i9 or AMD Ryzen class processor or equivalent with 6+ cores.
Random Access Memory (RAM):

Commonly known as just "memory", RAM is used for short term data storage. The computer uses memory to store information your computer is actively using so that it can be accessed quickly. The more programs your computer is running, the more memory it will need to run efficiently. A computer with insufficient memory for the tasks that are running will have major performance issues. The RAM is measured in the number of gigabytes (GB). We recommend 32GB of RAM.
---
"I recommend a Windows computer with a NVIDIA GeForce RTX or AMD Radeon RX graphics Card. A new computer with a Ray Tracing capable card is likely to meet our required system specifications for several versions."
— Brian Beck, Software Testing Engineer
---
Real-Time Ray Tracing
Ray Tracing is a process in which the software produces a still, photo-realistic image by calculating the path of light as it travels through the model and bounces off surfaces. Older versions of the software performed traditional Ray Tracing, which can be time-consuming, sometimes hours, depending on your computer hardware and model size. Starting with version X13, Chief Architect can perform real-time ray tracing on Windows PCs, meaning you can navigate through the model in real-time while using the Ray Trace rendering technique. The minimum video card required to perform real-time ray tracing is a NVIDIA GeForce RTX 20 series, but we recommend either a NVIDIA GeForce RTX 40 series or AMD Radeon™ RX 6000 Series. If real-time ray tracing is important to you, make sure the computer has one of these video cards. If the graphics card in your Windows PC does not support real-time ray tracing, you will still have access to ray tracing rendering with the traditional ray trace feature.
Please note, that real-time ray tracing requires a Windows PC. On a PC, certain newer NVIDIA and AMD video cards support GPUs with hardware acceleration specifically for real-time ray tracing – see a list of GPUs that support this feature. Mac's hardware does not support the same level of GPU hardware acceleration necessary for real-time ray tracing. The Mac version of Chief Architect still performs 3D rendering, CPU Ray Tracing, and has new features.
If you want to check the system specifications on a computer you already have, you can do so by following the instructions in this Knowledge Base Article.
If you have found a computer you like, feel free to contact us and we would be happy to review the system and provide you with feedback. Additionally, we have made this printable checklist to guide you in computer shopping.
Multi-Tasking
For many, a computer is a multi-functional tool that will perform other important tasks in addition to running Chief Architect. For example, you may be using your computer daily for accounting software to run your business, video and photo editing software to provide content for your website, and managing your social media, in addition to running Chief. If you are using your computer to run other software and are often multi-tasking with several programs open simultaneously, it is a good idea to consider more RAM. Consider between 16GB and 32GB of RAM and lean toward the higher number if you are multi-tasking.
When upgrading your computer you will want to check to see if other software you use will be compatible with a new computer or if other software will need to be upgraded as well. In addition to meeting our recommended system specifications, make sure you are meeting any recommended system specifications for other software programs you use.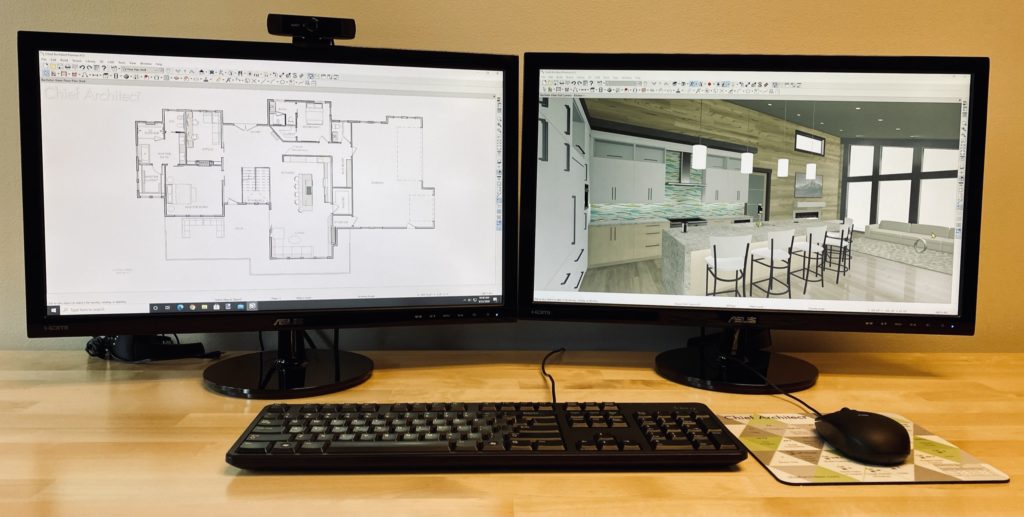 The software and files you create or download are typically stored on the computer's hard drive. The two most common types of hard drives are hard disk drives (HDD) and solid state drives (SSD). While hard disk drives may be cheaper, you will get faster performance in starting your computer, launching applications, and opening files from a solid state drive. Additionally, solid state drives will often require less battery power. To improve performance when multi-tasking, consider looking for or upgrading the hard drive to a solid state drive (SSD) that is at least 512GB though a 1 terabyte (TB) drive would be preferred.
To further increase your productivity, maximize your screen space with a large monitor, or even better two medium sized or large monitors. Having ample screen space to clearly see your floor plan views, elevations, and 3D views simultaneously will make it easier and faster to work on the plan. Make sure that your video card is powerful enough to handle the monitors you have in mind and, when setting up your system, plug your computer monitors directly into the video card (if applicable). If your primary computer is a laptop, a second monitor can be a huge benefit – but make sure your laptop's graphics card is up to the task.
Tips & Considerations
If working on computers isn't high on your list of hobbies, it may seem like choosing a system is a journey fraught with traps and pitfalls. It certainly doesn't have to be – armed with some basic information about system components, you can make informed decisions. Here are some tips and considerations to factor into your computer purchasing decision:
If you are doing a lot of rendering buy a desktop over a laptop. The video cards and performance are A LOT faster. Typically desktops are also more economical.
Be cautious of computers that are micro computers or a computer/tablet hybrid. These computers rarely meet our recommended system specifications or may be running an operating system that is not compatible with Chief (such as Android). A low number of cores, only 4GB of RAM, and a non-gaming (Intel, integrated, or workstation) Video Card often result in minimal software performance.
Chief Architect software is not supported with emulators or virtual machines/environments, such as Hyper-V, Oracle VM, VMWare, Parallels, VirtualBox, and others. Running Chief Architect in this type of configuration often leads to problems with properly recognizing the system's hardware, such as the graphics/video card (GPU), since these systems emulate hardware instead of utilizing the actual components installed
Windows or Mac? This is really a matter of personal preference; however, if you choose to switch to a different operating system, you should factor in additional time to learn how to navigate a new computer platform. If switching platforms, you will want to check to see if other software you use will work on the new platform.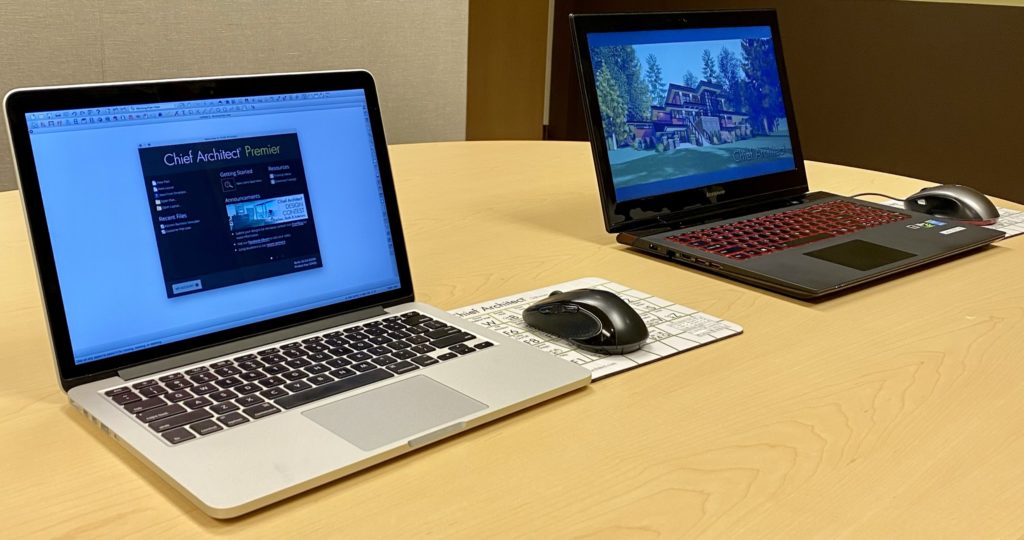 Some computers come with solid state drives that may have minimal storage space, such as 128GB or 256GB. As you install programs, and download or create files, you can quickly run out of storage space. Check to see if the solid state drive is large enough to hold all of your programs and files, preferably 1TB, or upgradable.
Many computers come with a return policy, warranty, and support. Make a note of these policies and factor them into your purchase decision. Warranties may require product registration. Don't forget to register your computer once you get it set up. Some retailers or manufacturers may even offer assistance in getting your new computer set up. Be sure to ask about this.
Make a plan for transferring data from your old computer to your new computer. Migrating to a new computer is a great opportunity to assess your files and how you manage your files. If your files were unorganized on the old computer, make it a goal to be better about file management on your new computer. After you decide on which files to keep, you need to get the data from the old computer to the new computer. Consider backing them up to the cloud or an external hard drive and relocating them to the new computer. In addition to your Chief Architect files, you can migrate your Chief Architect libraries, toolbars, hotkeys, and templates. This Knowledge Base article has information on how to do this. When in doubt, contact your local computer experts for advice or assistance.
Is Real-Time Ray Tracing in Chief Architect available on a Mac?
The primary reason Chief Architect does not currently support real-time ray tracing on Mac is that current Mac hardware lacks hardware acceleration for ray tracing. This applies to both older Mac computers and more recent Apple GPU hardware, including M1, M1 Pro, M1 Max, M1 Ultra, and M2. Ray tracing on a Mac is still supported using the traditional ray trace feature (utilizes the CPU).
GeForce RTX GPUs introduced hardware accelerated ray tracing in 2018. What we mean when we use the term "hardware accelerated" in this context is that these graphics cards have physical circuitry dedicated to tracing rays in a 3D scene. On NVIDIA GPUs, these are referred to as RT Cores: "RT Cores are accelerator units that are dedicated to performing ray tracing operations with extraordinary efficiency."
Recent AMD GPUs also have hardware accelerated ray tracing. It has been pointed out by users that you can install certain AMD GPUs that have hardware accelerated ray tracing on some Apple computers. We are occasionally asked why Chief Architect is still unable to perform ray tracing under such a configuration. The answer is that on Windows, driver vendors have implemented the requisite functionality to take advantage of these hardware capabilities. On Mac, the driver vendors have not implemented the requisite functionality. When running under the macOS, ray tracing hardware on these GPUs is effectively unused.
The lack of hardware acceleration does not mean that ray tracing on Apple is impossible. Metal provides APIs for ray tracing on the graphics card. However, ray tracing performance via these APIs on GPUs lacking hardware acceleration is slower by a factor ranging from tens to hundreds of times. We explicitly disable ray tracing on Windows computers with GTX 10-series GPUs for the same reason; while DirectX Ray Tracing will technically work on those cards, we don't find the performance level acceptable for our products. We have made the decision not to support real-time ray tracing in Chief on hardware that would be beneath a certain performance threshold. We define this threshold as "cards that provide hardware acceleration for ray tracing."
Resources
Lastly, have fun and get excited! Chief Architect Software is very fun and easy to use and computer shopping is part of the process. We want you to be successful in using Chief Architect and it all starts with ensuring you have the right tools for the job – in this case the right computer for running Chief Architect. Getting a properly equipped computer will help ensure fast, smooth performance and maximize the service life of your investment.
Don't forget to download your printable checklist to guide you in computer shopping.
Once you've got your new computer up and running, use these resources to get started with Chief Architect.
Good luck and have fun on your hunt for your next computer to run Chief Architect Software!