By Dani Walker
What does a hot real estate market mean for professionals in the building industry? A significant backlog of work. Since 2012, there has been a steady increase in housing prices. That increase continues as inventory and labor availability shrink.
Over the past couple of years, builders have been busy keeping up with the high demand for new builds, remodeling projects, and additions while many clients have to wait months before someone is able to start on their projects. This begs the question, what is the projected backlog for new projects next year? Will 2020 be the year things slow down or is there no break in sight? Chief Architect surveyed professionals in the building industry and found that 30% expect their backlog to increase next year.
What is backlog?
For the context of this study, when we say "backlog" we're referring to how far out a builder or designer's time frames are for beginning a new design/build project. This excludes the time for plan permitting.
In September, Chief Architect surveyed over 70 builders asking three key backlog questions:
We've broken down the results in detail. Read on to discover our findings.
1. What is your current backlog for new clients? For example, how long will a new client have to wait for you to get started on their project?
Nearly 48% of respondents said under 1 month, followed by 27% citing 1-3 months, and 19% with 3-6 months. It seems that although the demand is high, the workflow continues to move forward at a quick pace. With a rich real estate market, many homeowners are looking to remodel or expand their current homes due to current land value and space of new homes.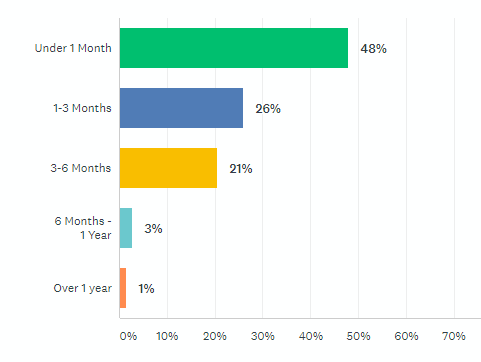 2. How do you expect your backlog of work to change next year?
Just over 44% of respondents expect that their backlog will remain the same next year. As the housing market continues to grow in other areas of the nation, 30% of professionals expect their backlog to increase in 2020. It doesn't look like things will slow down any time soon. Clients should expect some waiting before they are able to make their project a reality.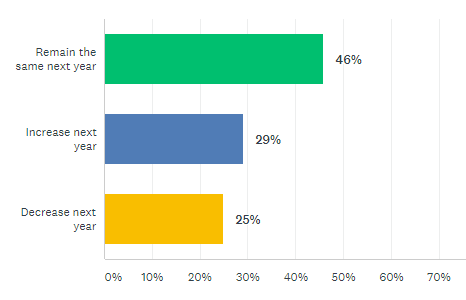 3. In your own words, how would you describe your local real estate market?
The majority of respondents gave feedback describing a favorable real estate market with 17% using the term "Hot", 16% citing "Good", 8% citing "Steady". Only 3% described an unfavorable real estate market.
It's quite busy. It doesn't seem to slow down. Chief makes me so efficient my clients don't need to wait to have me start in between existing jobs.

Annonymous Survey Respondent
At Chief Architect it is our goal to make your design life easier and more time-efficient. We appreciate any and all feedback and are always striving to develop new power features that will speed up your workflow and improve your design process along the way. Thank you to our customers who took the time to answer the survey questions! Comment below and tell us what your projected backlog is for 2020.