By Kerry Hansen
The first design contest of 2022 did not disappoint. Please help us congratulate the February/March Kitchen, Bath, and Interiors Design contest winners!
1st Place Winner: Sarah Gubbels
Sarah used Chief Architect Premier X13 for her award-winning kitchen design. This new build is located in southeastern Nebraska. It is 2500 square feet with 4 bedrooms 3 1/2 baths. There are tall ceilings in the living room with many windows overlooking their acreage. The clients wanted a modern feel and were drawn to the black and white aesthetic. It was the homeowners' wish that their kitchen be the heart and focal point of the home. With that in mind, Sarah created this L-shaped design. The tall, angled pantry doors reveal a hidden walk-in pantry. The thick waterfall countertop and pop of cobalt on the center island are bold. Sarah incorporated a light-stained wood floor to add warmth to the space and balance the clean black cabinets, gold finishes, and dramatic backsplash.
Sarah is a graduate of the University of Nebraska at Lincoln with a degree in design. She has been with Homestead Homes of America in Wayne, Nebraska, since 2013 and has helped countless families realize their dream of new homeownership. With the help of design professionals like Sarah, clients at Homestead Homes enjoy the pride and participation of building their own homes. Customers receive personalized home plans, professional building knowledge, an approved sub-contractors list, customized building materials, and a well-designed timeline to get you into your new home.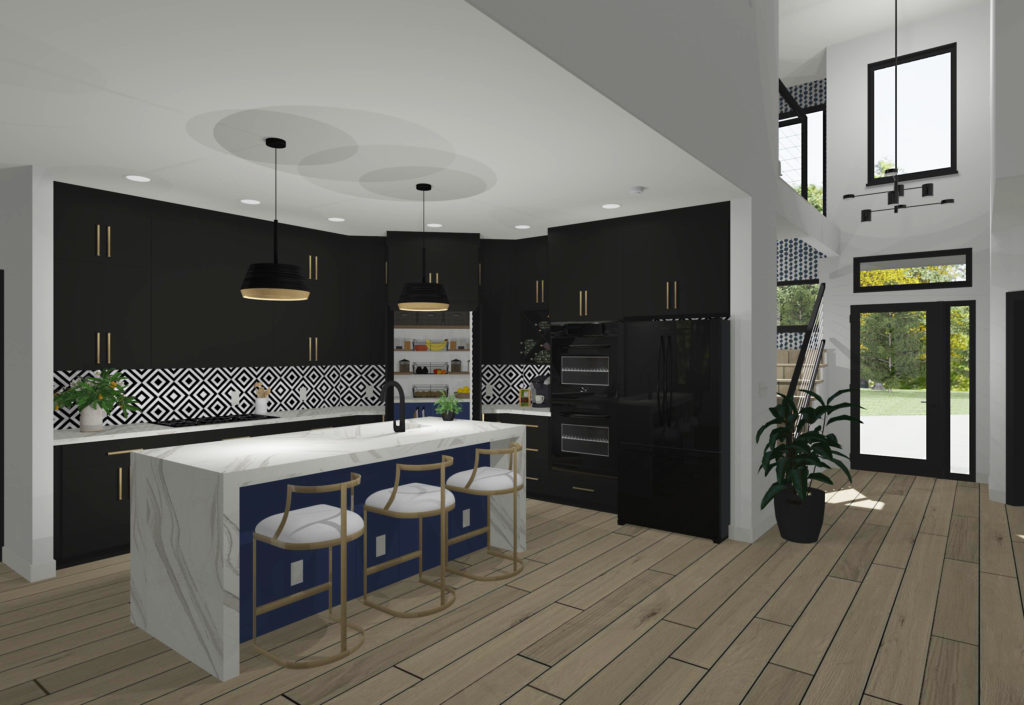 ---
2nd Place Winner: Shelly Wood
Shelly's winning design is a kitchen remodel! This particular kitchen was an odd shape. It was very long and had a curved wall to accommodate a built-in indoor grill. The awkward arrangement and lack of space planning made functionality and flow difficult, leaving portions of the kitchen, like its breakfast nook, unused. The goal in Shelly's design process was to utilize the entire kitchen and existing breakfast nook area to create a large, welcoming kitchen that functioned nicely, not only as a kitchen but also as an ideal entertaining space with plenty of seating. According to Shelly, "this particular kitchen was definitely a fun and challenging design to meet the client's Wishlist for function and aesthetics as well as effort to keep costs down!"
To keep costs down, Shelly's team focused on leaving utility hookups in the exact locations and utilizing these appliances as focal features to balance the space. A new entrance was added, so multiple entrance/exit points are available, creating a better flow through this area of the home. By straightening it out and adding some old Chicago brick for texture, Shelly was able to save a portion of the existing curved wall. The kitchen style is relatively simple, with a neutral color pallet. She included accents of gold hardware and a clean, simple waterfall island that serves as a functional storage space for kitchen items and seating space for entertaining. The quartz material on the island was also utilized as the backsplash.
Hiding the electrical outlets was a priority in this design. Outlets are located on the underside of the upper cabinets and hidden behind drawer panels. There are areas on the island where it appears to be a drawer face, but it will fold down to reveal outlets! An existing window was replaced with double back doors. Not only did it provide a better functional flow to the kitchen and neighboring rooms, but it increases the flood of natural light into the kitchen. The flooring of the kitchen matches the hand-scraped floors in the rest of the house and provides a seamless transition between rooms. The overall design opens up the space, increases functionality and flow, and makes entertaining a breeze.
Shelly and the team at Axis Construction are experienced and qualified general contractors performing both residential and commercial projects. They specialize in kitchen and bath renovations, residential design/build remodeling, and additions. Shelly works closely with clients to develop a plan and vision for their project. They are service-oriented problem-solvers committed to both the product and the process.
Shelly is the Design Lead at Axis Construction and was recently featured in Wichita Living Magazine. Her role is to lead clients through the design process by understanding their lifestyle, their challenges, and their needs. "We work really hard to put together a digital replica of projects using Chief Architect software and create proposed plans and virtual renderings allowing the clients to visualize their finished project!" One of her favorite features in Chief Architect is the ability to create a 360-degree panorama. This feature allows clients to sit in their existing space and visualize their new design.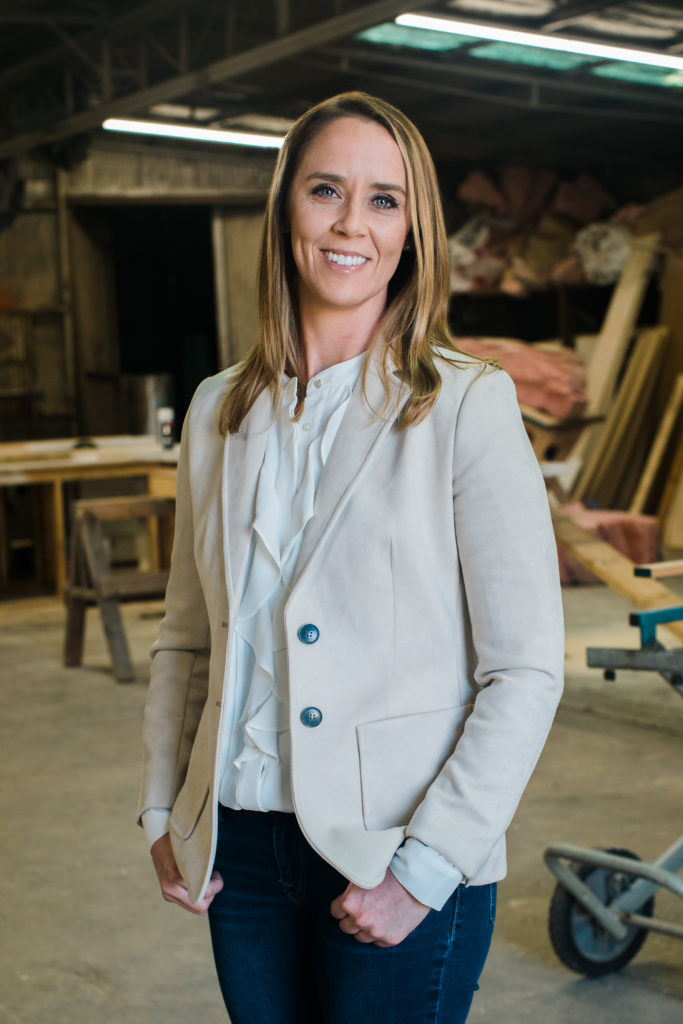 Shelly's background in design comes from her training as a Civil Engineer. She earned a BS degree in Civil Engineering from Colorado State University, CO, and is a licensed Professional Engineer in the state of Texas. Shelly has a love for décor and interiors and opened a business creating custom furniture refinishing and faux finishing for clients back in 2012. She sold furniture and taught DIY paint classes. It was around that time that she met the owners of Axis Construction. The owners approached her asking if she would be interested in assisting with remodeling designs and plans for clients. Shelly's engineering background and love for interiors are the perfect combinations for design. "Without hesitation, I jumped at the chance and the rest is history! I have adored every minute of being the Design Lead at Axis Construction and am able to use all my experience to date to work with clients, project designs, budget, and construction crews."
---
3rd Place Winner: Robert Smith
Robert's winning design is an open concept kitchen with a metal and glass wine closet tucked conveniently beneath the staircase. According to Robert, the concept was easy, but it was a fun challenge to model and create the room in Chief Architect X13 Premier.
Robert Smith Design offers 3D Architectural Residential Design and Drafting Services to showcase home builders, architects, and designers' residential and light commercial projects in the most realistic way possible.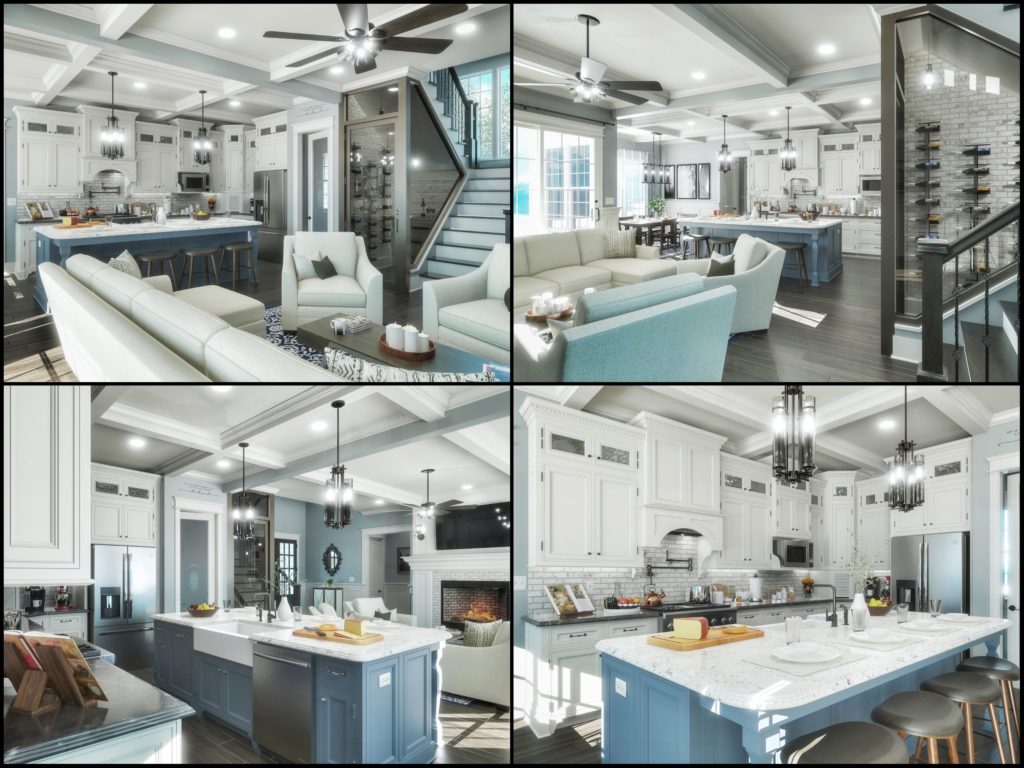 Thank you to everyone who entered the Kitchen, Bath, and Interiors design contest. We hope to see your design in the next round, here is how you can enter!