By Kendra Dorosh
Did you know that a person aged 60 needs three times the light as a 20-year-old?
That may seem like a drastic amount, but Certified Living in Place Professional (CLIPP) Adam Gibson explains the reasoning behind this statement: people over 60, "need more light, and everyone needs a high Color Rendering Index (CRI) to best reveal the colors of various objects. It's no fun going outside in your black socks only to realize they're blue. One solution? Light-colored walls washed in light provide more ambient light than the same quantity of recessed lights pointing toward the floor."
If you're like me, you probably hope to live well past your 60's! Are there things you can do now to prepare your home for what's to come? What if you were injured tomorrow and now utilize a wheelchair? Maybe your family will need to learn to care for a child with autism. Perhaps a parent will lose their sight and need to move in with you for care. Adapting to life's curveballs can be stressful, but working with a professional who's attuned to your needs and knows the technology available to create a healthy indoor environment for you and your family can relieve a surprising amount of that stress.
Chief Architect has reached out to Living in Place Institute (LIPI) Ambassador, and long time Chief enthusiast, Adam Gibson to shed some light on the benefits of working with a CLIPP to improve the functionality and aesthetics of your home. Also a Certified Master Kitchen & Bath Designer, and a Certified Aging-in-Place Specialist, Adam consults with builders and developers to create best practices for safe and healthy environments.
"There are millions of individuals with disabilities who, with a bit of ingenuity, can live in safe and beautiful homes."
-Adam Gibson, CMKBD, CLIPP, CAPS
Dive into our interview with Adam below.
Q. What is the Living in Place philosophy?
A: Living in Place includes preventive measures for those who wish to remain in their homes indefinitely, along with solutions for special needs to be addressed immediately. The housing and design industry is continuously hit with a high demand for designers to find solutions for individuals with various physical and cognitive needs. While there are similar certifications, only Living in Place addresses uniqueness and teaches the tools that help designers think outside the box to create solutions for each individual client.
CLIPPs are equipped with guidelines for the accommodation of carefully thought out safety measures that can be flawlessly incorporated into design. This enables features that "hide in plain sight" without the disruption of aesthetics. A safer home is a healthier home.
---
Q. What is the benefit of working with a CLIPP?
A: Even for a client who has not expressed specific concerns, I often suggest design elements they haven't considered. Many families have or will have someone with special needs (autism, for example, or a young athlete with an unexpected injury) and are not aware that having a good designer will help them manage many of their challenges.
A CLIPP will know how to best fasten a grab bar to a wall, and surprisingly, it's not necessarily by adding blocking to the framing. An institutional-looking bathroom isn't the most desirable, so many people will simply add decorative bars that complement the room. However, if fastened properly, most towel bars can act as decorative grab bars without compromising the aesthetics of the room. After all, if a person slips, they'll instinctively grab the nearest thing to hold them up. It had better do its job.
Here is an example of a few of the thoughts that may cross a CLIPP's mind when they enter your home: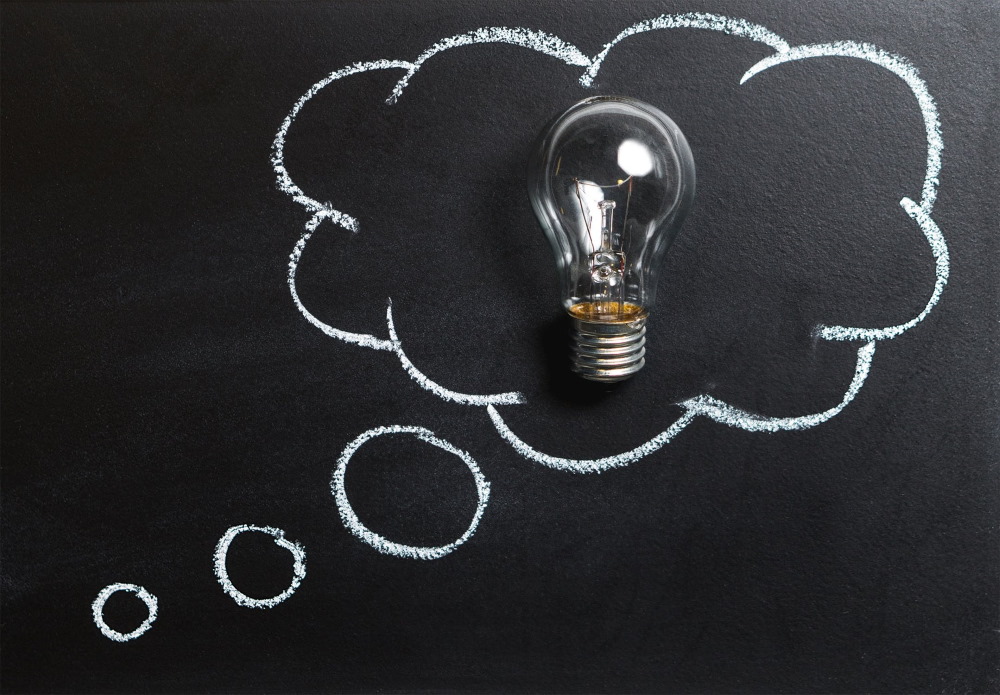 Will the client potentially need an elevator in the future? If so, where can we stack closets to accommodate the space down the road?
Is there a curb at the shower? Let's make it a no-barrier entry.
Is the room monochromatic? Let's add a horizontal line so someone with a head injury knows which way is up.
For a list of common living in place design considerations, read Adam's ChiefBlog contribution on Design for Living.
---
Q. What value does interior design software add to your projects?
A: I am committed to creating designs that honor my clients' needs without compromising visuals. My job as a designer is to carefully incorporate safety measures that can be flawlessly added into the design — without disruption of aesthetic. The Chief Architect software that I use brilliantly enables me to do just this.
For instance, one of my clients has cerebellar ataxia, a non-fatal, progressive disability that affects speech, coordination, and balance. No cognitive function is affected. He's fairly young and has very specific needs. He understood that having a side-swing oven below the counter would allow him to wheel right up to it. And while I was able to describe solutions via traditional drawings, the renderings provided his "aha" moment. Chief Architect's 3D rendering capability is one of the best tools I use for all clients. As I've said for years, it makes me a rock star in my market.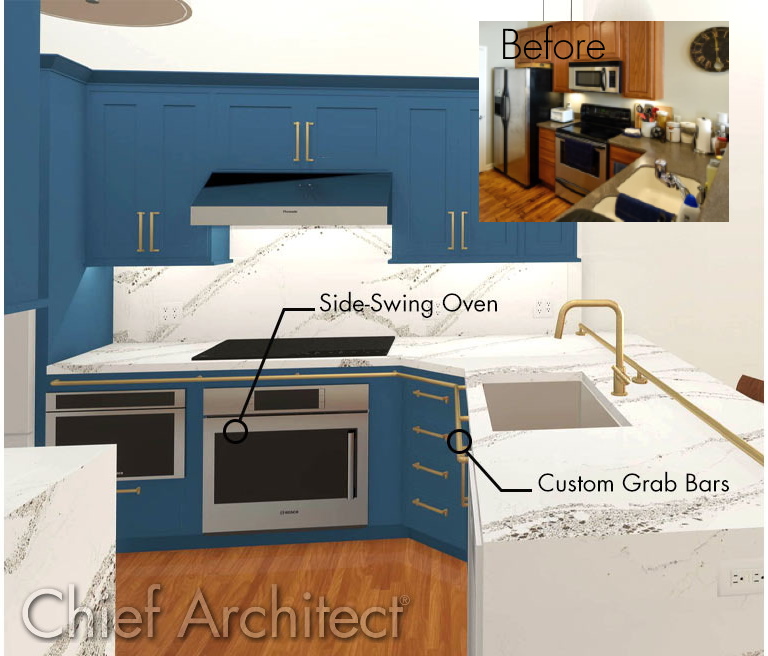 Of course, in a plan like this, the cabinets would be custom, so a note indicating they must withstand unusual force is needed. In addition, a metal fabricator would provide shop drawings for custom bars. In this case, we wouldn't want to specify ADA-radius grab bars because they're supposed to look like a continuous towel bar. Their job is to allow the client to pull himself up from sitting and to provide a hold while standing. It's a unique setting for a unique client. I inserted this language: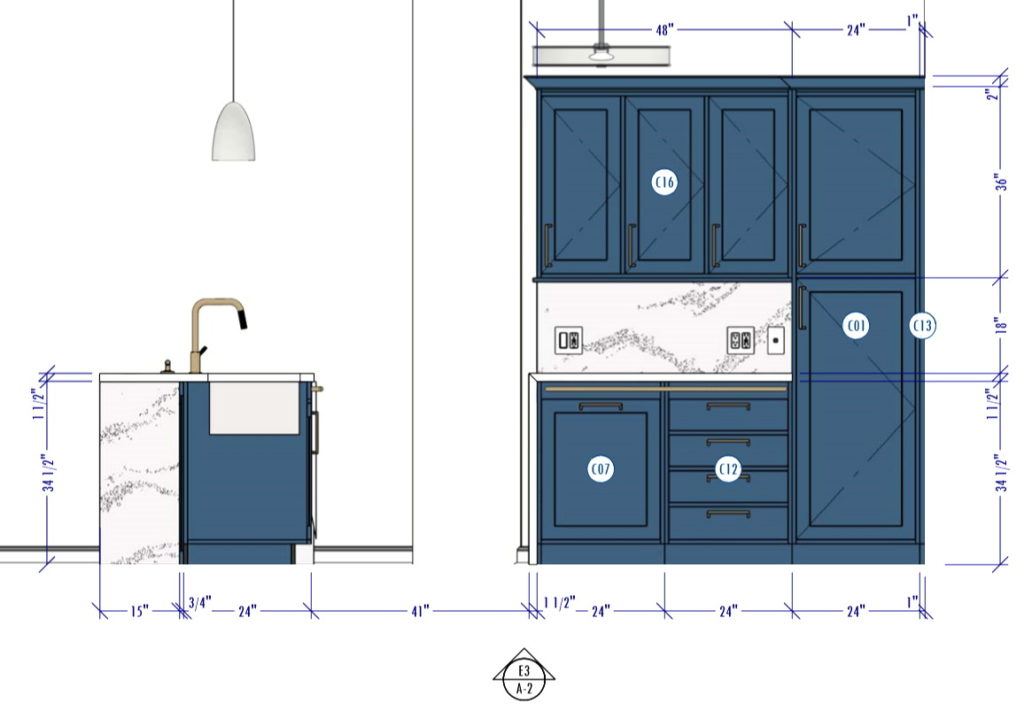 "ALL FRONT TOP RAILS SHALL BE 3 1/4″" TALL AND SHALL BE REINFORCED SUCH THAT CONTINUOUS CUSTOM TOWEL BARS CAN WITHSTAND 250 POUNDS DOWNWARD OR OUTWARD FORCE W/ NO DAMAGE TO STILES OR ANY PARTS OF CABINETS."
This thoughtful Living in Place solution is a reflection of the unique needs of an individual client and is just one of many possible adaptations that a CLIPP like Adam can provide. To find a CLIPP in your area, or to learn about what it takes to become a CLIPP yourself – visit Living in Place Institute's web site.
---
Thank you to Adam for sharing his insight. Learn more about how you can leverage the tools in Chief Architect software to meet specific accessibility needs.
---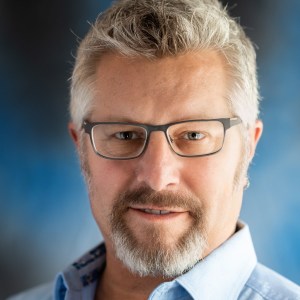 Adam Gibson is an architectural designer living in Indianapolis, Indiana. He is a Certified Master Kitchen & Bath Designer, Living-in-Place Professional, and Aging-in-Place Specialist. He's been leveraging Chief Architect software for his business since 1995.
Connect with Adam: Adam Gibson Design, Facebook, Instagram