by Danielle Schroeder
Savanna's purpose is not only to create beautiful designs but to also promote independence in the workplace while giving a portion of her proceeds to the Down Syndrome Association.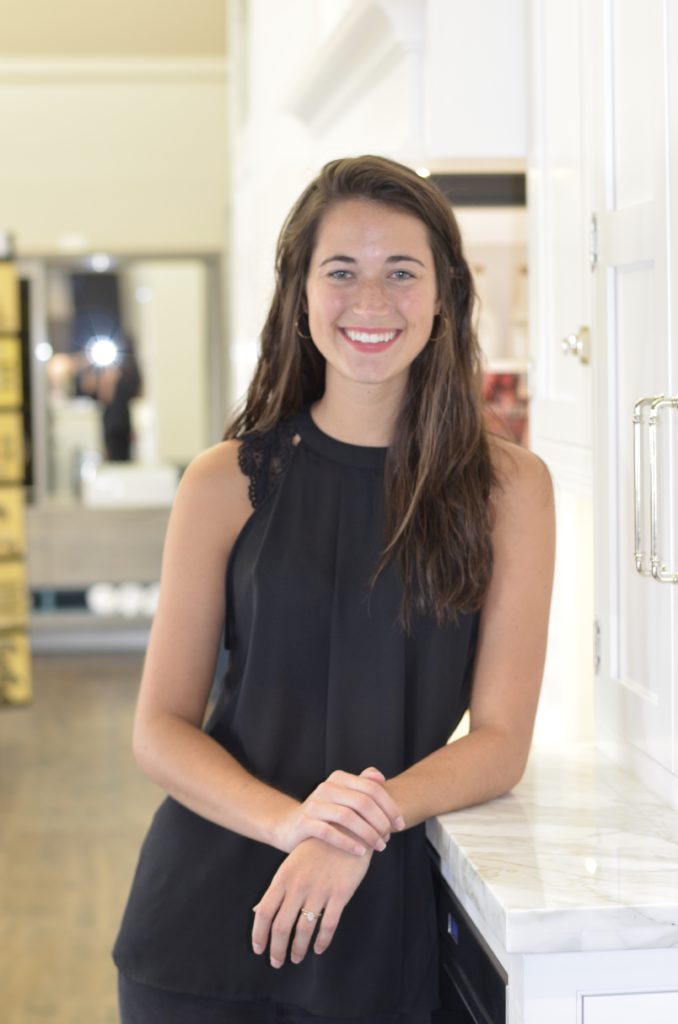 Savanna's stunning Kitchen, Bath, and Interior Design Contest entry caught our eye when we first saw it, and we knew we had to learn more about her heartwarming story.
Savanna resides in Clemmons, North Carolina, and is the owner of Twenty One Design. At an early age, she would draw wild and outrageous design ideas in her sketch pad. Her love for design never subsided and she later received her degree in Residential Environments and Design from Virginia Tech.
"I have been using Chief Architect since 2015 and have used a few other software programs in the past, but the rendering quality and user-friendliness are unmatched! This software helps clients truly envision their project coming to life, and helps close sales because there is a sense of confidence in what their final product will look like."
"The rendering quality and user-friendliness are unmatched!" – Savanna
"Chief Architect has set our business apart from so many other designers out there by allowing us to offer our design service completely online. We are an online interior design service… Without Chief Architect software, our online platform would not be a success or possibility!"
---
One of Savanna's other passions includes working with children who have special needs. She truly enjoys helping them further their independence. Savanna was able to combine her two passions and it led her to opening her own business, Twenty One Design, with her outstanding little sister, who has Down Syndrome.
The motto at Twenty One Design is to "Design with Greater Purpose". They aim to promote independence and inclusion within the workspace and a portion of the proceeds go to the Down Syndrome Association of Greater Winston-Salem. This association strives to ensure that people with Down Syndrome are valued and are given opportunities to pursue fulfilling lives. They also raise funds to support research programs and provide resources to support families with individuals who have Down Syndrome.
---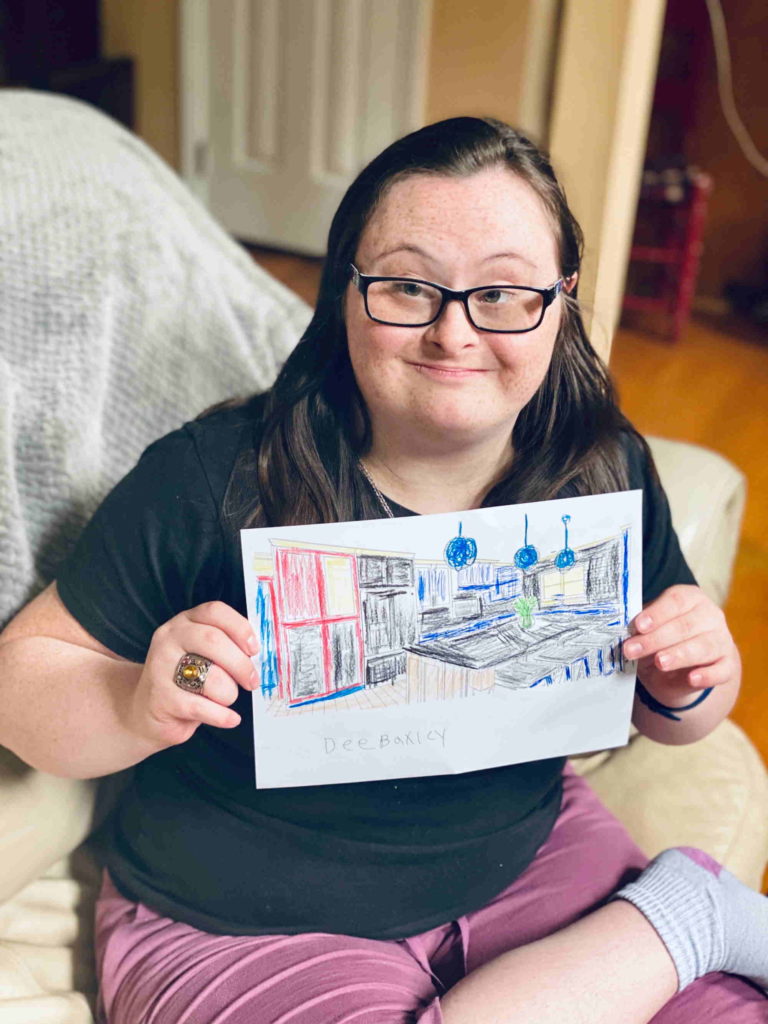 Dee, Savanna's younger sister, is the inspiration and reason she chose this career path. She is full of love, laughter, and makes everyone around her feel seen. Dee started picking colors with Savanna and it spiraled into more than just choosing colors. Dee is now Savanna's design assistant. She treasures working with her sister at Twenty One Design as a design specialist and likes to put a creative twist on each project. All of their customers receive a custom drawing that Dee pours her heart into.
"My favorite part as a designer is me! I love that Savanna and my clients love my colors and drawings!" -Dee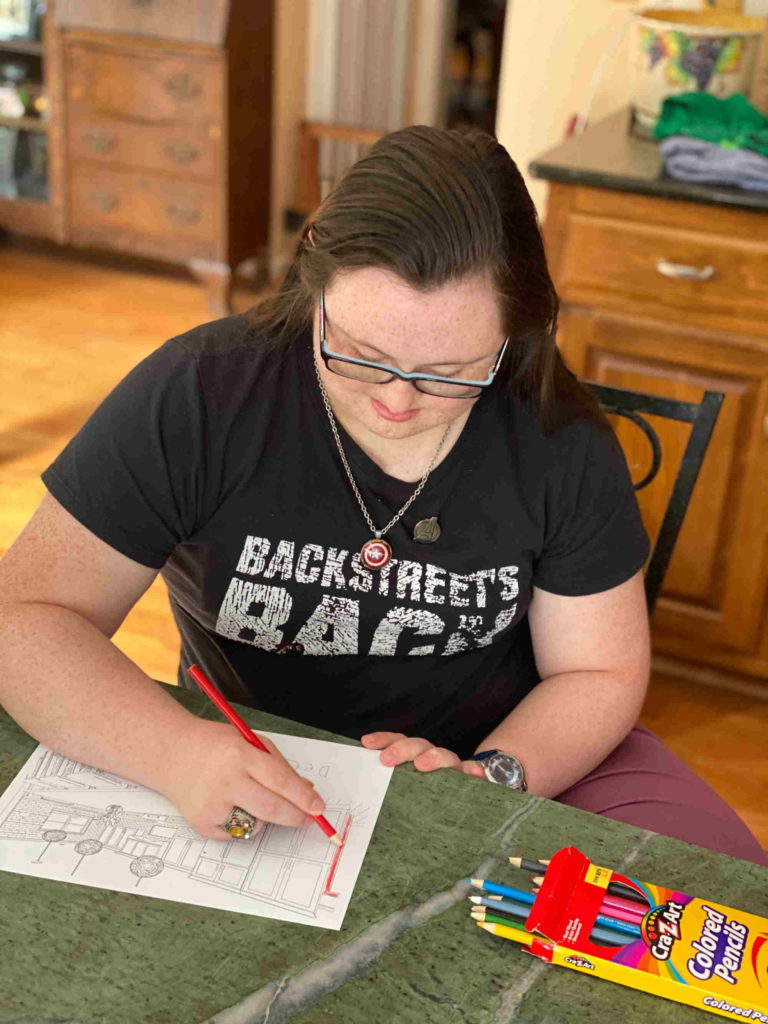 ---
Savanna and Dee's favorite design style is a transitional style where they can create something timeless. They prefer naturally stained wood with raw materials on cabinet hoods and islands to warm-up spaces. The most important outcome is that their clients are thrilled and have felt heard. The client's vision coming to life is what designing is all about!
One day, Savanna hopes to design Dee's dream kitchen. Dee has always strived to be independent and loves cooking. She has always needed supervision while cooking, but Savanna would eventually like to create the perfect design that is user friendly and safe enough so Dee can be more independent.
---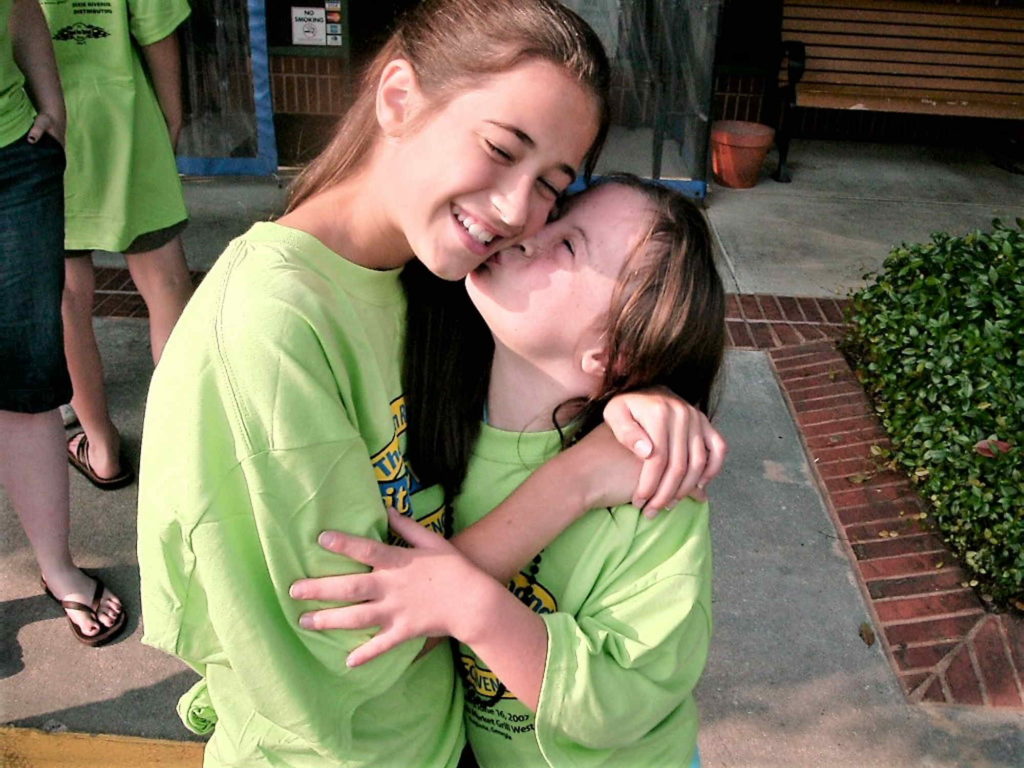 Savanna and Dee are grateful for the many opportunities their business, Twenty One Design, has created for them and they appreciate all the support they receive from family and friends.
Connect with Savanna and Dee:
We want to thank Savanna and Dee for being a part of the Chief Architect community and cannot wait to see more of their beautiful designs!