By Ariana Beaudry
Robert Smith embraces fresh design concepts to meet clients' needs.
Our Second place Residential Design Contest winner, Robert Smith, was encouraged at a young age to start on his design path. When he mentioned that he enjoyed working with wood, his high school counselor suggested, "Why not draw houses?" to fill an elective. He proceeded to study Architectural Drafting all 4 years of high School, earned a degree in Architectural Design and Drafting from York Technical Institute, and has been an avid student of design ever since.
With over 20 years in the industry, Robert has won many awards: from Parade of Homes to Home-A-Rama competitions. Raised in Pennsylvania, Robert moved to North Carolina in 2014 and was excited to discover that Charlotte is a town bursting with inspiration. He says, "It's nice to work with builders who are willing to step outside the typical design parameters and try something new and different – exciting and fresh."
His philosophy in residential design is to design homes that go beyond the "standard" ideas by pursuing projects and concepts that are inspired by land layout, house location, and functionality: form follows function. From this philosophy emerges designs with "less is more" aesthetics and an allure from space rather than decor and details. Robert's designs often feature open floor plans and showcase structural elements such as exposed beams to exhibit the home.

"Farmhouse designs are still a big thing among builders and home buyers, along with open floor plans," Robert says. "I do not see these two design styles going away any time soon."
A fusion of old and new, the modern farmhouse style can take many forms but its success always hinges on establishing harmony. Robert says, "The eye can quickly find an item that is not symmetrical or equally balanced. When a design is done properly, it just feels right. You're not sure why, but it usually comes down to symmetry and balance."
Increasingly, Robert also seeks to establish harmony between each client's desires and wishes and their expectations. He is adding a psychological approach to help builders better integrate home-buyers' needs into construction, while helping home-buyers understand the design and construction process. The result of this effort is a well-executed design that leaves no detail overlooked. To achieve this end, Robert uses Chief Architect's 3D capabilities. "Clients just really enjoy that they can view their designs in 3D, from various angles and perspectives."
The main focus I like to pay close attention to is symmetry and balance. The eye can quickly find an item that is not symmetrical or equally balanced.
The winning design by Robert Smith:
---
2-story, 4-bedroom, 4-bath home with a 3rd floor bonus space
3-story tower design surround on two sides with fixed windows allowing the stairwell to be lit with natural light.
---
"I first used Chief Architect in 2002 when I started working for a builder at the time. It was the first time using Chief and using a 3D CAD program. I used other 3D CAD programs over the years since then, but Chief was always the easiest to use, so I kept coming back to it whenever I could utilize it."
In addition to being able to show his clients their designs in 3D in the software, Robert adds, "I like the flexibility of being able to export the 3D models to import into other programs to create renderings and even video animations for promotions and marketing online and social media."
---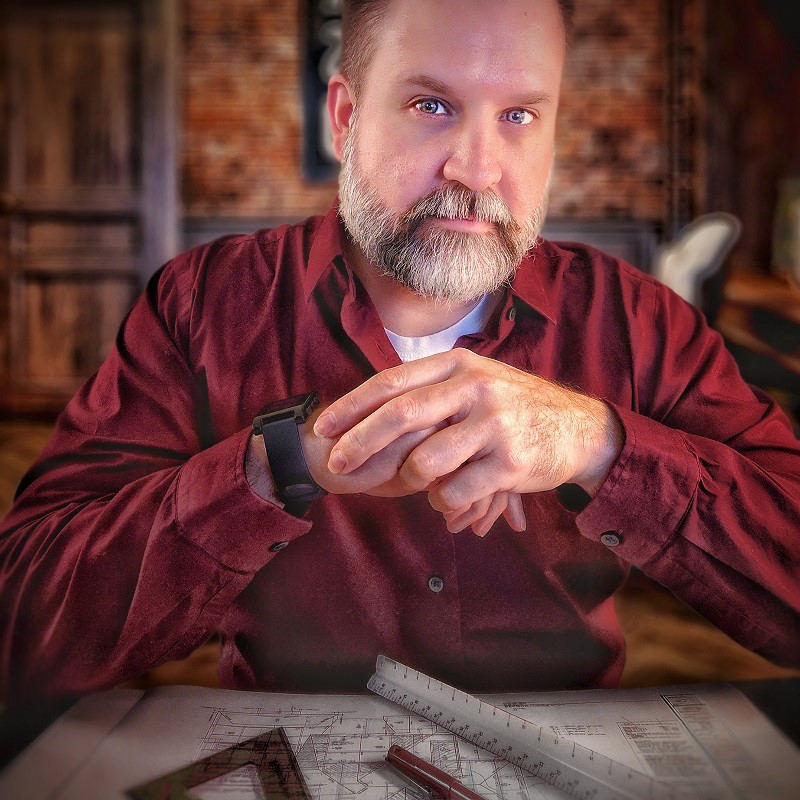 Robert Smith is celebrating 25 years of Residential Design. In addition to Residential Design, he also offers 3D modeling and rendering services and 4K photo-realistic rendering animation services for other design firms.
Connect with Robert:
704-436-4075
---
Thank you Robert Smith for sharing your design and philosophy.
---