by Phillip Gibney
Design options are choices provided to the client that offers variations in design concepts. Design options can range from design styles, floor plan layouts, and elevations, to material finishes, interior selections, and more. Using the tools in Chief Architect Premier, you can help clients visualize design options to ensure they are satisfied with a home design and provide upsell opportunities.
8 Reasons to Offer Design Options to Clients

How Can I Quickly Specify Design Options in Chief Architect?
– Automated Building Tools
– Structural Design Options
– Material and Product Selections – Catalog Downloads
– Design Features

Help Clients Visualize Design Options in Chief Architect
– 3D Rendering
– 360 Images
– 3D Viewer and Augmented Reality (AR)
– Video Walkthroughs
– Virtual Reality (VR)
---
8 Reasons to Offer Design Options to Clients
There are many benefits to offering design options to clients, and Chief Architect offers tools to make the process fast and easy. Let's explore eight reasons why providing design options can benefit you and your clients.
A custom home may be the most significant investment of the client's life, and they may be nervous about the design-build process. By helping the client visualize design options, you can alleviate their concerns and instill confidence in them that you're designing the perfect home to meet their lifestyle needs.


Integrating design options into your client presentations can help differentiate your business and provide a competitive edge to your sales process.


Presenting clients with design options is a quick and easy way to upsell jobs.


For remodeling projects, the client may already have a vision of what they anticipate the completed project will look like. You can use 3D rendering to ensure the client's expectations and your design are aligned while using your professional experience to show additional design options that they may not have considered. This helps ensure the customer makes good decisions that ultimately lead to a highly satisfied client.


Making changes to the design after construction has started is expensive, may be impossible, or lead to a delay in completing the project, all of which can damage client satisfaction. By providing the client with design options upfront, you can ensure they are satisfied with the design before construction begins.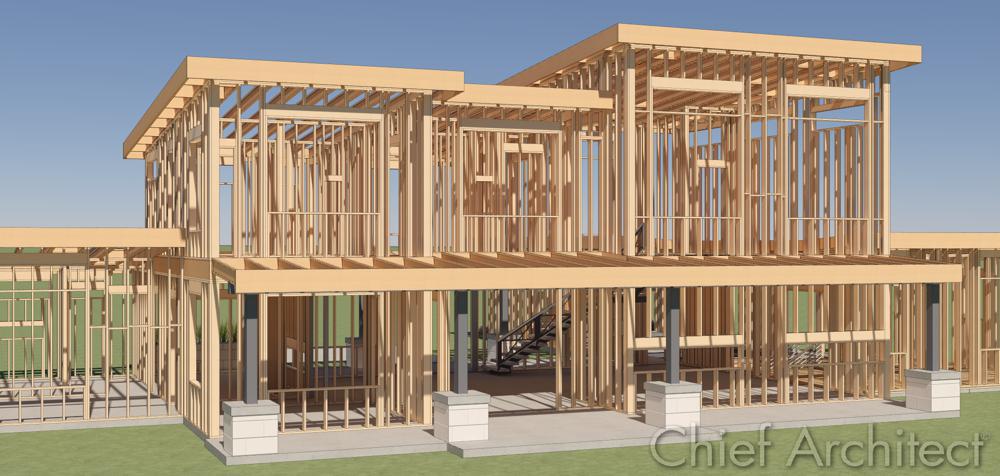 If this is your client's forever home, you can use design options to communicate design considerations for aging in place.


Kitchen, bath, and interior projects may have an overwhelming variety of selections to choose from. You can highlight what different material and product selections will look like by providing the client with renders to help them visualize the selections.

If you are a production builder, providing design options is a convenient way to give clients a custom home-like experience while maintaining tight operational efficiencies with standardized plan options.
---
How Can I Quickly Specify Design Options in Chief Architect?
Chief Architect Premier is loaded with tools that expedite the design process. Let's look at some of the tools that make creating design options fast and easy.
Automatic Building Tools Make Designing Options Easy
Chief Architect Premier's automatic building tools not only make it easy to create designs but fast to switch between simple design options. You can switch between a hip and gable roof style with a single click. When a door size meets or exceeds 48", it automatically converts to a set of double doors. Custom ceilings can add character to a room. In seconds you can create a custom tray ceiling that can include moldings or rope lights. Decks are a great outdoor living feature, and upselling a deck to a job is easy. Select the deck tool, draw the shape of the deck, and the deck will automatically build with planks, joists, beams, posts, and footings. With a couple more clicks, you can show what a roof over the deck looks like. These are just a few examples of the software's automatic building tools that take seconds to use, provides design options for the client, and upsell opportunities for the project.
Structural Design Options
You may present the client with design options that have significant structural variations. For example, you may design a simple single-story home with a two-car garage but offer a design option for a third garage bay and a bonus room over the garage. This might be a significant structural change that impacts roof lines, elevations, roof framing, wall framing, floor framing, electrical, the interior floor plan, and more.
In Chief Architect, an easy way to manage a scenario like this is to simply save each option as its own file. You would start by drawing the first option (single-story home with a two-car garage), then do a "Save-As" and design the second option (option with the third garage bay and bonus room over the garage). The Save-As approach works great because each model is independent of the other. This makes it easy to manage the different floor plans, roof lines, etc., between the two options. And once the client has picked the option they would like to move forward with, this approach makes putting together construction documents fast since only the necessary information is present in the plan.
Material and Product Selections – Catalog Downloads
The Chief Architect 3D Library has over 100,000 items available to use in your designs. This includes both manufacturer and generic content. With such a diverse selection of library content to use, there is no shortage of content for showing what different materials and objects may look like in a design.
Once you download an item from the Chief Architect 3D Library, it is available to use in the Library Browser, where the item will appear in the Manufacturer Catalogs or Bonus Catalogs folder. Another folder in the Library Browser is the User Catalog folder. You can save objects and materials you frequently use or custom-create in the User Catalog folder. This makes it easy to quickly locate your favorite objects or materials that have been popular in past designs and reuse them in future designs.
Design Features
Showrooms will likely have physical samples of material finishes, hardware, cabinetry, and more on-site. There are several ways to quickly show what these objects and materials from the Chief Architect 3D Library will look like in a design.
The Material Painter allows you to pick a material and apply it to the model. You can control the scoping mode so that the new material replaces an old material anywhere it is present in an entire plan, on a single floor level, in a single room, on a single object, or just for a component of that object. Additionally, the Material Eyedropper tool allows you to select a material from an object already in the plan and then apply it in the Material Painter mode.

The Object Eyedropper and Painter allows you to pick specific parts of an object and apply them to other objects in the plan, such as if a client was evaluating cabinetry hardware or door/drawer styles. Like the Material Painter, there are different scoping modes for applying objects using this tool.
The Style Palette allows you to set up predetermined styles for objects and materials and apply them all at once. Once the Style Palette is set up, you can quickly apply it on a Room, Floor, or Plan wide basis.
The Replace from Library tool allows you to select an object in the plan and directly replace it with an object from the library. For example, if you were showing island options, the Replace from Library tool quickly allows you to swap out an entire island. The Replace From Library tool's scoping mode can be adjusted to replace a single object, identical objects in a room, or identical objects on a floor. For example, if evaluating island pendant lights, you can replace the pendant style being used for just a single object, in that room, or on the entire floor.
---
Help Clients Visualize Design Options in Chief Architect
Chief Architect Premier has numerous tools to assist with presenting design options to the client. From static 3D images to full virtual reality, Chief Architect Premier offers numerous features to help your clients visualize the design, giving them more confidence to move forward in the sales process.
3D Rendering
One of the major features of Chief Architect Premier is 3D rendering. Showing the client photo-realistic views of the design is a powerful way to communicate how different design options may impact a space and the client's lifestyle.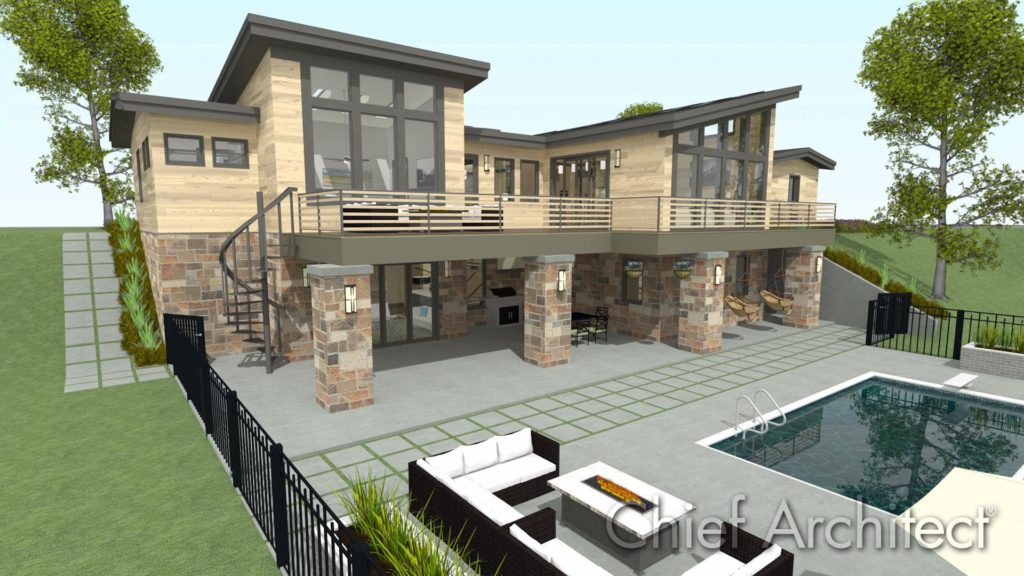 360 Images
You can take exporting 3D render images to the next level by exporting a 360 panorama image. This exports a single image of all six sides of a scene (front, back, left, right, up, down) from a first-person point of view. Then the client can click and drag their mouse around the image to look around it. This allows the client to quickly understand what is happening in a design from a single vantage point.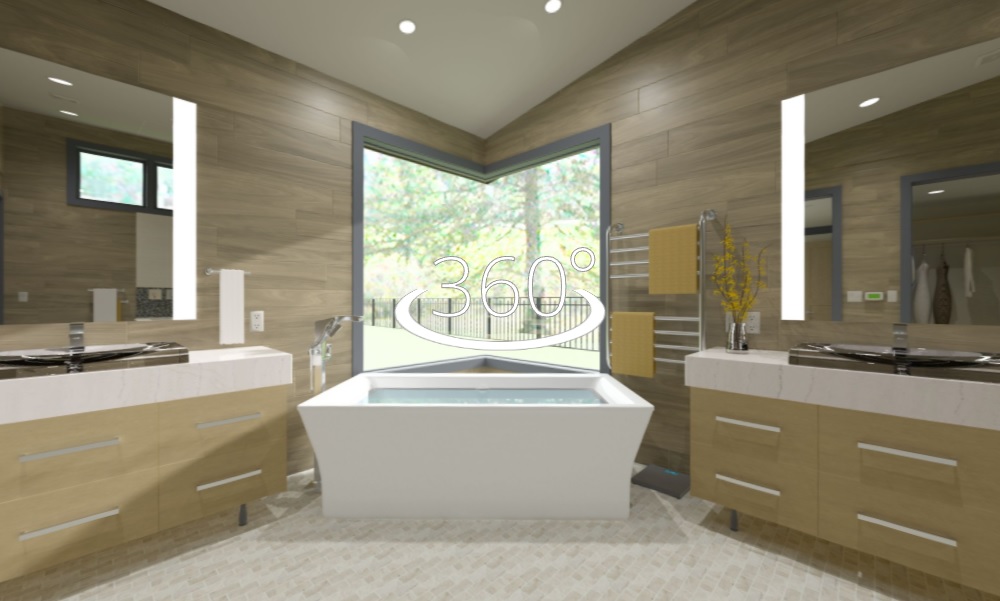 3D Viewer & Augment Reality (AR)
You can export 3D Viewer models of the different design options and send them to the client. This allows the client to navigate through a 3D model in a view-only mode on their desktop or tablet. In the 3D Viewer app on a tablet, there are augmented reality controls to physically walk through and look around the space and see what real-world views out windows will look like.
Video Walkthroughs
You can create video walkthroughs going through the design and send the client a share link to view your video walkthrough. This is a fun way for the client to tour the home as if they were physically walking through it.
Virtual Reality (VR)
For a fully immersive experience, you can set up a virtual reality station and have your clients physically explore the model from a first-person point of view. By physically moving in the real world, the client will virtually move through the virtual model. This can help clients understand the size and proportion of the proposed home design and evaluate design and material options.
---
Do you present your clients with design options? What type of design options do your clients like to see? Let us know in the comments!