By Kendra Dorosh
Giuseppe Rispoli, is the first place winner of the Chief Architect Kitchen/Bath and Interior Design Contest. His modern kitchen design is infused with unexpected luxe and flair, a signature of Giuseppe's European-inspired design style.
Originally from Naples, Italy, Giuseppe currently lives in Southern Oregon with his beautiful wife and family where he is the proud owner and operator of Rispoli Design and Build, LLC. His family is his "main source of inspiration" in his design work. Married since 2004, he and his wife are the perfect design duo. Much of their work is inspired by late-night conversations and the sharing of intriguing design ideas that they later bring to reality. "I love my work and my family, and am truly dedicated to both."
Growing up in Italy, Giuseppe was fortunate to see firsthand timeless design and architecture. This stirred in him a fascination and passion to create quality homes of his own. When he moved to the USA in 2001, he set out with a purpose to "bring not only European inspired design and craftsmanship, but most importantly individualized designs that match the uniqueness of my clients" to the forefront of his design process.
Giuseppe has a deep appreciation for many varying design styles and often fuses them together in his work to achieve the perfect design for each of his clients and their unique tastes.
Examples of Giuseppe's Design Style
After decades of working as an interior designer, Giuseppe has self-identified his personal design style to a Modern, clean-lined, practical, and functional approach with the incorporation of a little drama, unexpected luxe, and classical flare. "I like being different and creating beautiful and unique aspects in each of my homes, but always being mindful to keep good function and flow at the heart of it."
1st Place Design
This award-winning kitchen design was inspired by Giuseppe's family. Since they have a larger family with four boys, function, quality, and flow were very important to the design. The kitchen has a bright, happy, and open feel, with large windows and glass sliding doors contributing natural light to all corners. Playing into that natural light, two more windows frame the kitchen's main focal point, the vent hood. Additional features include a large walk-in pantry, double ovens, angled dining area, pot filler with niche accent, open shelving, and an oversized breakfast island.
His wife's favorite features of the kitchen are quietly functional: the dual spice drawers and baking organizers by the stove. Giuseppe states that "For us, there is nothing quite like a beautiful kitchen adorned with big windows and a walk-in pantry." Scroll through the gallery below to view the space.
More images of this beautiful home
A note from Giuseppe
"I have been using Chief Architect for approximately 3 years, since the X9 version. I am now on X12 and have been amazed by the ease of the software and all of the work I have been able to accomplish with it. Great product.
"Chief, in a very simple way, has allowed me to present my work to clients and subcontractors in a way that not only they can understand, but more importantly in a way, they can physically see and experience their project and my vision for it. Furthermore, with Chief, I am given the opportunity to foresee any potential design or structural issues that might arise and can address them prior to the start of any construction. This opportunity also allows me to make any cosmetic/aesthetic changes to help better achieve the desired overall look and feel of a project. This, in my humble opinion, is a vital necessity in today's design world.
From the start, Chief has become an invaluable asset to my company and design work.
"Before purchasing Chief architect I tested several other software products. One of the main reasons I initially chose Chief Architect was the fact that I could test the software for a one month trial. Very quickly I became familiar with their helpful support base, and their faithful and knowledgeable user community. From the start, Chief has become an invaluable asset to my company and design work. I am truly grateful for this software and am so glad that I had given it a try."
Thank you, Giuseppe, for inspiring us and our community with your unique and beautiful designs. We look forward to seeing what you'll create next!
---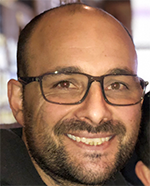 Giuseppe Rispoli is the owner and operator of Rispoli Design and Build, LLC. and has been using Chief Architect software in his design business for 3 years.