Abe Neufeld of Abe Neufeld Design
---

By Kerry Hansen
A sleek, on-trend kitchen wins 2nd place in the Chief Architect Kitchen, Bath & Interiors design contest.
Drawing and painting from a young age, Abe Neufeld, of Abe Neufeld Design from Bow Island, Alberta, Canada has always been fascinated by the creative arts. Like most creatives, he relies on his talent to draw or draft up an idea in the beginning phase of his projects. "Whenever I begin a project I draw or draft it up first." This foundation is likely one of the reasons Abe has secured the runner up title in the March 2020, Chief Architect, Kitchen, Baths, and Interiors contest.
Abe's career path began while working at a custom cabinet and woodwork shop. The shop owner saw potential in Abe and taught him everything he knew about cabinetry and millwork design. "This is where I really began to see the possibilities in design and developed a keen interest in architecture." Later, Abe went to work for a modular manufacturer, there learning to design a variety of modular buildings in such a way that they could be up to 90% complete in a factory prior to arriving onsite. This brought on unique challenges but gave Abe the opportunity to learn and develop Building Information Modeling (BIM) thinking and design techniques for efficiently planning, constructing, and managing buildings and infrastructure.
Newly pursuing freelance design, Abe recently created a modern kitchen design to add to his portfolio. "I saw the design contest ad on social media and decided I would enter and see what happens. This was a great way to get more exposure and to share my work." To secure votes, Abe reached out to all of his contacts with a personal message. His advice for designers entering the contest is, "to be proud of your work, let others know about it, and share, share, share."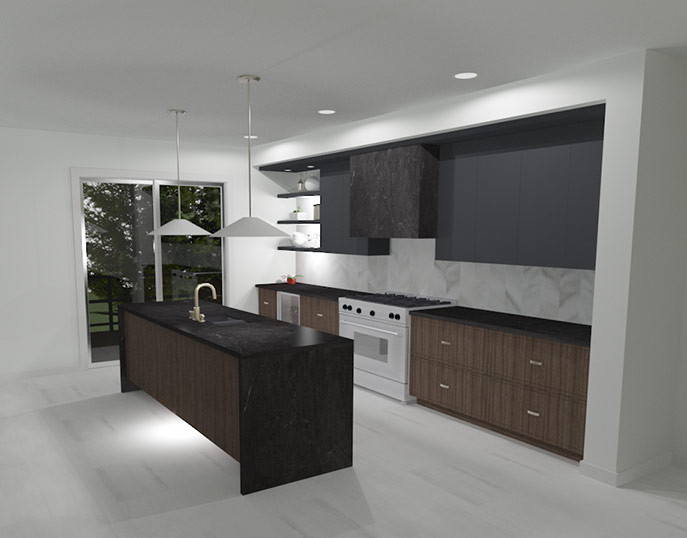 Using Chief Architect Premier, Abe created a 3D conceptual rendering with a focus on capturing some of the latest trends showcased at the 2020 Kitchen and Bath Industry Show (KBIS). His winning design is modern and clean with a touch of the natural. Abe's entry features dark upper cabinetry with wooden base and island cabinets. He chose champagne gold cabinet hardware and coordinating stone flooring and backsplash. The design is crowned with a contemporary range hood and waterfall countertops.
Abe finds inspiration from other designers in the field, often taking time to navigate through Houzz to see others sharing their work and creations, or staying current by following design sites like dwell and ArchDaily. Abe is also inspired by one of the founding visionaries of Modernist architecture, Frank Lloyd Wright. His creativity and timeless designs have inspired many to pursue, as Wright describes it, "the mother of all the arts."
In Abe's work, he often leans toward modern design. He likes to keep things, "simplistic yet with just the right amount of character" and Abe explains the most important outcome is "that I captured what my clients want inside their soul and that it has relatable, expressive character."
"I instantly fell in love with the easy to learn, user-friendly interface…"
Abe has been using Chief Architect for about 7 years. "My employer had it, I instantly fell in love with the easy to learn, user-friendly interface, and the details it was capable of capturing. My clients have been very happy with their design, the process, and the finished product." Abe says that he, "finds purpose and meaning in making the world a more joyful place. I have a passion for creativity, taking an idea, and turning it into a work of art."
Abe Neufeld Design Gallery
Abe specializes in residential and kitchen design with a focus on designing beautiful and creative self-sustainable housing that is also economical, by utilizing modular design and construction methods.
Thank you, Abe, for sharing your inspiration with us. We are looking forward to seeing more of your work in the future!

Abe Neufeld
Abe Neufeld is a freelance designer and drafter with over 7 years of experience in multiple phases of Residential Design, including Initial Design, Schematic Design, Construction Documents, Specifications, Code Compliance/Research, Estimating and Quantity take-off, Project Management, and Quality Control
Contact Abe:
Abe Neufeld Design
Email – abeneufeld@outlook.com
Enter your original design in the next Chief Architect Design Contest for a chance to be our next featured designer!