by Phillip Gibney
Post frame construction is a building method in which a structure is framed using posts that are connected on the outside with 2 x 4 or 2 x 6 horizontal framing known as girts. The posts are typically placed in a concrete footing or can be connected to a steel fastener that is anchored into the concrete footing. Trusses are typically used to support the roof system. Once the framing is complete the structure can be finished for its intended purpose.
---
Chief Architect has several resources to aid in designing post-frame structures:
---
Why Post Frame Construction is Rising in Popularity
There are several reasons why post frame construction is rising in popularity:
Low Cost
One reason for an increase in post frame construction has been the increase in material prices. Supply chain constraints have resulted in material prices rising by 31.3% since January 2020. Post frame structures use fewer materials than stick framed structures, making them less expensive to construct than other building methods. In post frame construction, electricity, HVAC, plumbing, and more are optional add-ons. If these add-ons are not necessary for your intended usage, you can further save on material and labor costs.
Easier and Faster to Construct
With their simplicity in design and construction, post frame buildings are easy and fast to construct, and inexpensive to maintain. Post frame structures are built on basic concrete piers, requiring less excavation time and less concrete. When compared to other building methods, post frame construction uses significantly less lumber, and its framing is simple and easy to construct. The roof systems are usually straightforward and easy to understand. The roof structure can be built on the ground and raised into place, making roof framing an easy process. Post frame structures typically only have a few doors and windows, decreasing material cost and increasing install speed. And while you can include add-ons (electricity, plumbing, HVAC, etc.), their design requirements are typically simple, accessible for installers, and affordable for the owner.
Flexible Use
Post frame buildings can be constructed for many purposes, such as shops, agriculture buildings, storage, industrial usage, housing, or a combination of these purposes. Pole barns with tall eave heights provide a means to store boats, RVs, tractors, and other large vehicles or equipment. With many people working from home, post frame buildings can be an office that are separate from the main house. Whatever the intended goal is, post frame buildings can be adapted to the owner's desires.
Alternative Housing Option
With the low inventory of affordable housing, some people are turning to post frame structures as an alternative housing option. Post framed structures can be fitted with the same living accommodations as a stick framed home. With their tall eave heights, post framed structures can include lofts that can be furnished as a small living quarters. Accessory Dwelling Unit (ADU) laws are easing in some states, providing some homeowners the opportunity to build a post framed building that can include living quarters for guests or as a rental.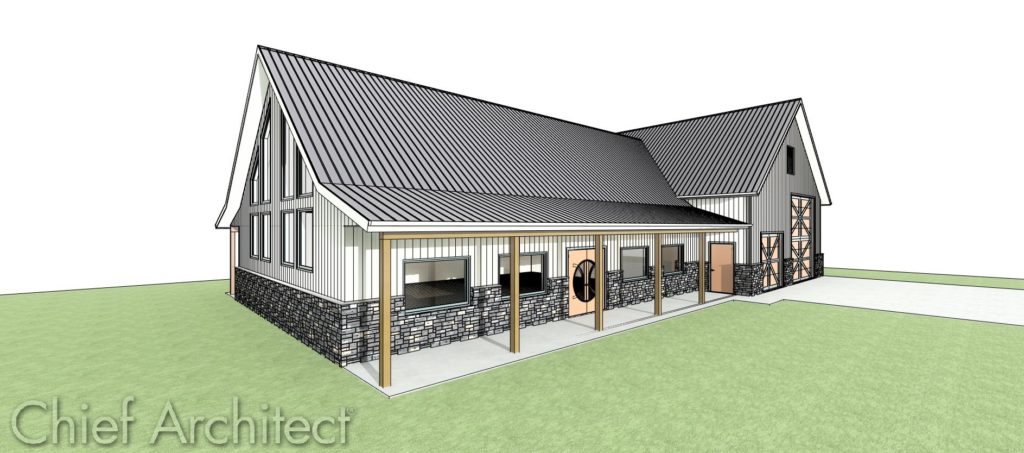 ---
Disadvantages of Post Frame Design and Construction
Even though post frame construction is rising in popularity, there are some disadvantages you should consider.
Site Limitations and Building Restrictions
Post frame buildings generally require a level building site. If your site will require significant excavation and retaining walls due to a steep grade, investing in a traditional foundation and structure may be more cost effective. Some jurisdictions may have strict requirements on outbuildings, building height limitations, and usage. Some jurisdictions may not allow post frame structures or have requirements that negate many of the advantages of this type of construction. Before building, always check your local building requirements.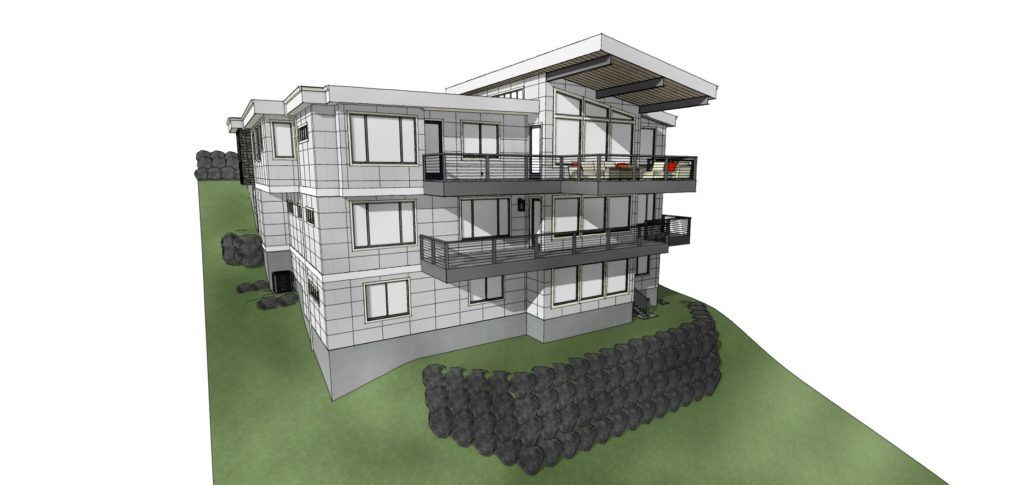 Lending
Some lenders or loan types may have specific building requirements or living space requirements, making it more difficult to obtain a loan or requiring the owner to pay more out of pocket. You may also find higher interest rates for post framed construction. Be aware of your financing requirements and ensure your design adheres to those requirements. Also, consider your intended usage and whether there are less expensive alternatives for accomplishing your end goal.
Shorter Life Expectancy
While post frame buildings are structurally sound, due to the posts being underground they are susceptible to rotting or moisture damage. While the life span of a post framed structure is 40 – 60 years, this is less than the 60 – 80 year lifespan of other residential construction methods. Newer construction methods can eliminate direct concrete and wood contact which will narrow this gap, however, these methods are more expensive. Consider how long you will own the property, your local climate, and your intended use of the building when deciding if post frame construction is right for you.
---
Post Frame Design in Chief Architect
Chief Architect Premier has design tools and features specifically for post frame structures.
Automated Building Tools & Rendering
With design tools for walls, doors, windows, framing, roofs, footings, slabs, and more, Chief Architect Premier is the all-inclusive program for creating post frame plans. The design process is automated, so that as you draw your floor plan and make changes, all building components automatically update, increasing your speed and productivity. 3D rendering allows clients and subcontractors to visualize how the design will turn out and be built. There are thousands of materials and objects you can use in the design, providing limitless design options and upsell opportunities.
Framing Features
Knowing how a structure will be framed is critical for any design. Chief Architect Premier can automatically place posts and girts to your specified size and spacing. When adding roof trusses, the trusses automatically span the width of the roof planes and add webbing. Purlins can be generated on top of trusses or rafters, and structural purlins can be generated between trusses or rafters. All framing can be shown in a framing detail, framing schedules, material lists, and more.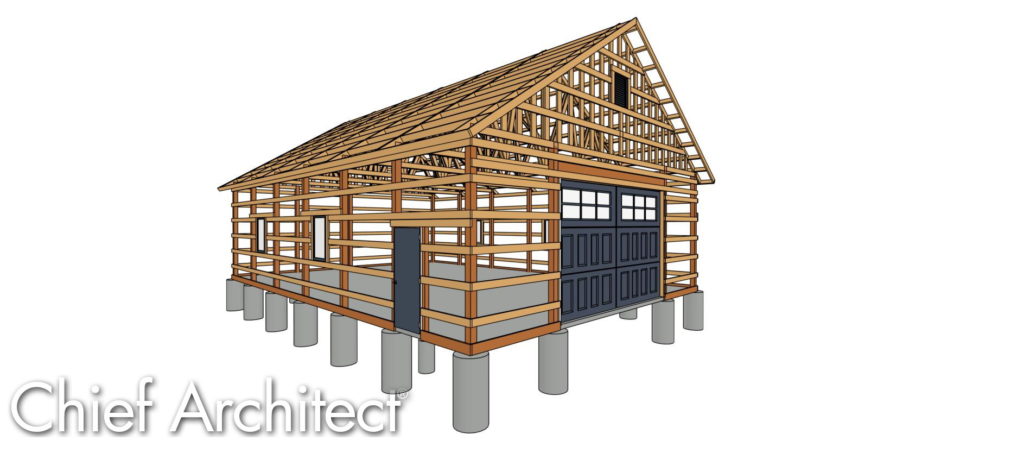 Construction Documents
After the design is completed, your local permitting authority will need to approve it. Chief Architect Premier makes creating construction documents easy. You can quickly switch between different views, such as a floor plan view, foundation view, framing view, etc. using the Plan Views dropdown. You then send the Plan View to your layout sheet at your desired scale. The program can automatically generate elevations and automatically include story pole dimensions. There are over 500 details included that can be modified, or you can create your own. Schedules and material lists are automatically generated based on the model.
If you are going to be building a post frame building, be sure to check out our resources to aid you in creating your design!
---
Citations