By Adrean Stephenson
When you have been designing Kitchens and Baths for 32 years and teaching the process to others for 14 more, it is next to impossible to not know your stuff. Robin Rigby Fisher is no exception, and it shows in the Large Bath she submitted for 2017's NKBA Design Competition.
"I teach part-time at Portland Community College, an NKBA Accredited College. One of the reasons I continue to teach is to make sure that I stay at the top of my game. I want my drawings to be as meticulous as possible because I expect that from my students. I think they are synonyms. I'm at the top of my game because my students are at the top of theirs. They are highly desirable, highly regarded. They are easy to hire. That's what I like about teaching.
"What I find about design is that you learn something new every single day. It's fun, it's always different, and it's exciting. It's a great career. I love what I do. I can't imagine doing anything else."
Robin is happy her drawings are going to be part of the NKBA Study Guide, a tool that her students will be able to use. She was even helpful in identifying improvements that could be made to my revision of her bathroom for the project. I feel like the drawings came out really well, and am grateful to have gotten help from people like Robin who really have an eye on quality.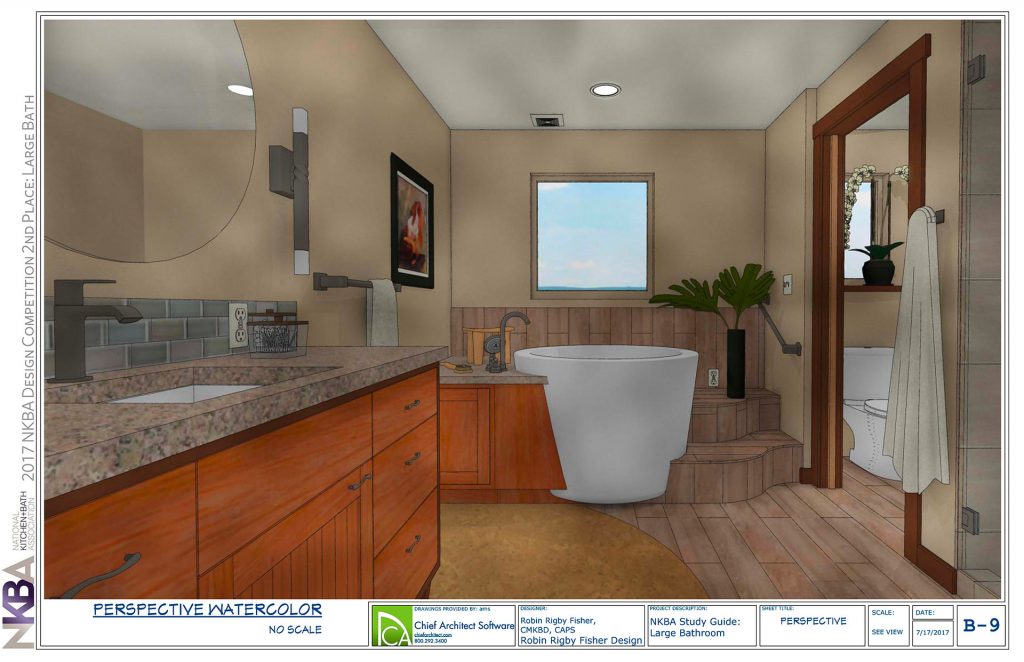 "I initially went to school to be an engineer, and then decided I didn't really want that. So I switched to Art History. I really wanted to be an Art History major, and then I realized that you can't make a living and I loved Architecture so I thought about going into Architecture. Then I moved away from that and went into Interior Design. I wanted to actually work with people in their homes and have an impact on how people live inside their house. It was more important work on the interiors, and I love to cook, so kitchen design was really the way to go. Design can impact someone's life by how easy it is to maintain, how easy it is to live in. Maybe it is one less level of stress to have to deal with, so when they go out in the world, maybe they aren't going to get as cranky about someone cutting them off, or something like that. The world is so full of such angry people, if I make somebody's home a nice place to be, then I've succeeded."
This bathroom design is a prime example of succeeding.
"The space was divided into 3 spaces – an "office", bath and bedroom. We decided to approach the entire 2nd floor as one space with an homage to our client's Japanese roots.
"From the base of the stairs throughout the entire upper floor, we installed cork flooring (soft, and warm). At the top of the stairs, we created a custom "tansu" cabinet that is built into the eaves for depth. Here all of our client's lingerie, casual and workout clothes are stored. Behind the vertical lattice doors are pullout hampers."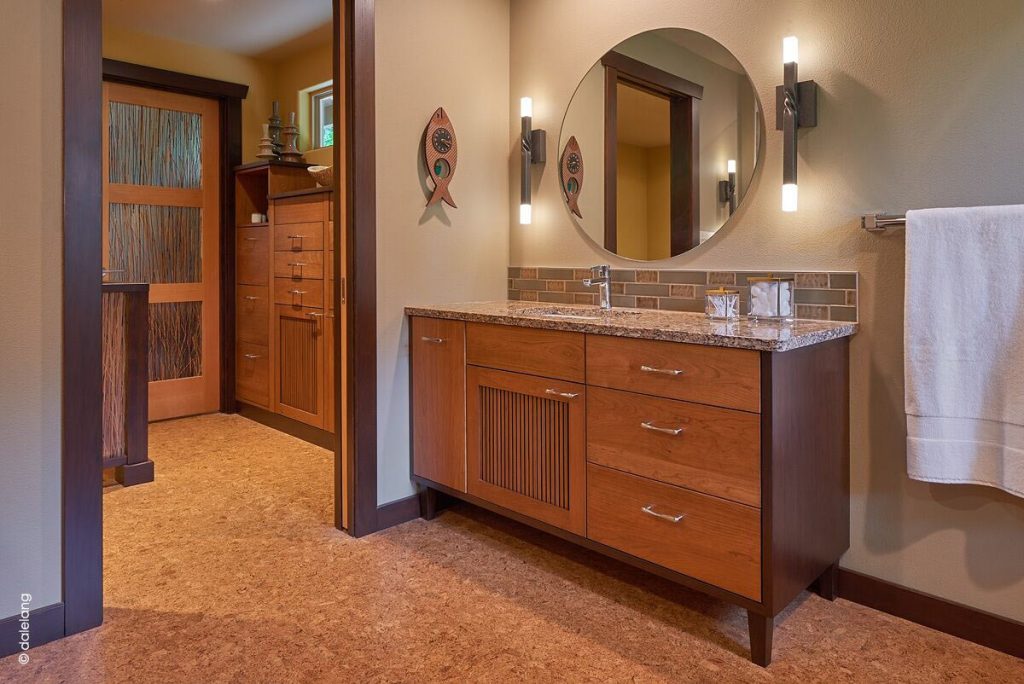 "The vanity mimics the Tansu cabinet in the hall, topped with Cambria Quartz and the circular mirror is flanked by Hubbarton Forge – Helix LED light fixtures.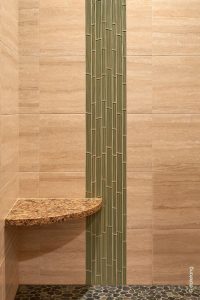 "Our concept for the bathroom was a river forest. Beginning in the shower, the floor is Island Stone rocks with "limestone" porcelain tiles (we chose porcelain for cost and ease of maintenance). Accenting the shower is Island Stones "Banyans" designed to emulate bamboo. The corner bench and countertop are Cambria – Canterbury.
"Exiting the shower, our client steps out of the "river" and into the curved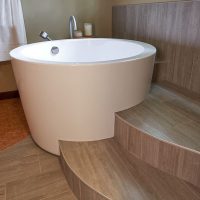 path of the "forest" of porcelain wood tile. The path takes you to the ofuro tub, a traditional Japanese soaking tub. The faucet for the tub is by Watermark a high-end plumbing manufacturer out of Brooklyn, NY.
"The cork floor (our forest floor) merges with the porcelain tile in a soft curve – the edges are protected through the use of a Schluter trim in anodized aluminum."
Robin, thank you for your insights and for sharing your design!
Connect with Robin Rigby Fisher, CMKBD, CAPS: