By Adrean Stephenson
Over the years I've had a number of opportunities to leverage Chief Architect's tools for projects with our friends in the industry. Not only is it exciting to mix up my regular routine, but I always get the extra benefit of coming away with newfound understanding of needs and details in these specialty areas; this latest project was no exception.
The Goal: Create examples of Kitchen and Bath projects that can be used as references for those studying for the CKBD examination.
The National Kitchen & Bath Association (NKBA) offers 3 levels of professional certification, giving designers in the Kitchen and Bath world an opportunity to carry trusted credentials of their experience. The NKBA requires continuing education in order to maintain individual certification, ensuring that members continue to learn, grow, and excel in the field as the industry evolves.
Above and beyond certifications, members have the opportunity to show off their chops via the annual Design Competition, where there are 6 categories for entry and even more awards. Designers submit drawings, photos, and design statements for consideration. What better way to learn the ins and outs of kitchen and bath design than from the winners themselves?
We took the following 6 winning designs from the 2017 NKBA Design Competition and transformed them into a cohesive group, each with similar technical styling, so they could be used as reference documents for the NKBA's certification program.
I used Chief Architect to re-draw (and in 1 case simply re-work) the designs and present them as 11×17 PDFs which follow the NKBA Guidelines for construction documents. A set of plans like this includes a Floor Plan, a Construction Plan, a Mechanical Plan, various Elevations, and 3D Perspectives. I also included photos of the finished spaces which the designers provided.
I'd like to say it was a snap to churn out the drafting work for these designs, but instead, I'll admit there were some challenges. Primarily, I'm not as well versed in the NKBA's Guidelines for dimensioning standards as I should be, even though I've earned my AKBD Certification. Let's just say that I was a little rusty, and had actually never fully gone through the process of fleshing out some details that are required for a complete project set. Floor Plan Specifications were more than a little bit of a foreign concept, and the nuances of Mechanical Legend Notes, and Construction Plans in general had me scratching my head.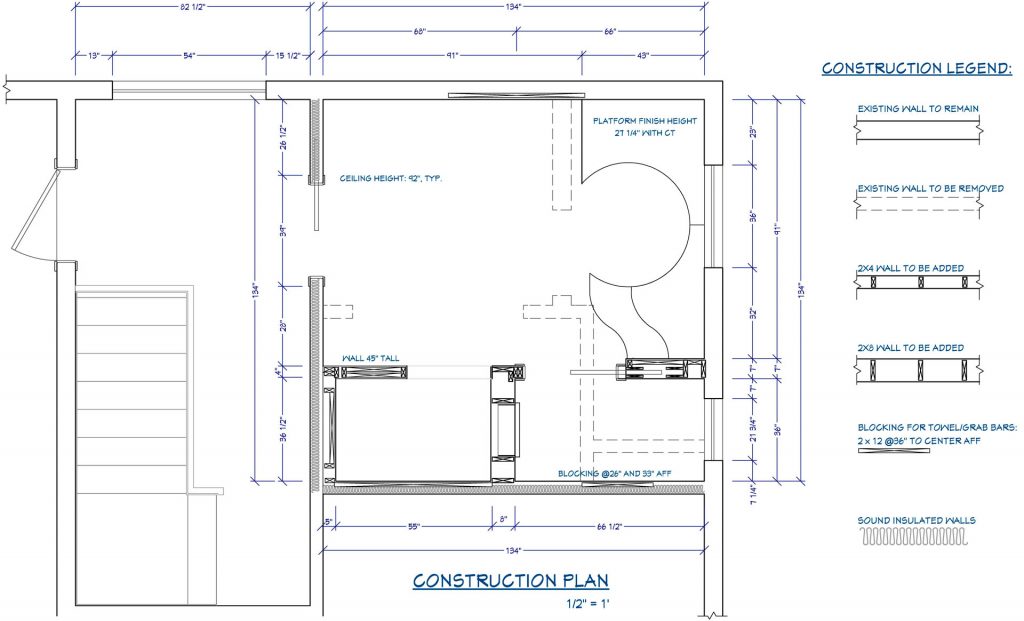 Fortunately, help was never too far, as I had experts Judith A. Neary, CMKBD and Peter Albanese CKD, CBD (both professional designers and NKBA Trainers) in my corner, while Andrea Kucker of the NKBA kept us on point and in forward motion. We conspired over details through live Skype meetings and Dropbox file sharing. Judith graciously talked me through unfamiliar territory over the phone more than once. She notes, "I have practiced both as a commercial and residential interior designer. I admit when I started to specialize in kitchens and baths I was very challenged to re-think how I detailed plans. This segment of the industry, due to the complexity of the kitchen or bath, does dimension and detail the projects a little differently than the architecture or design trades. Having a well-documented project with all the critical design details communicated in a consistent graphic format is critical to a successful outcome."
Having a well-documented project with all the critical design details communicated in a consistent graphic format is critical to a successful outcome.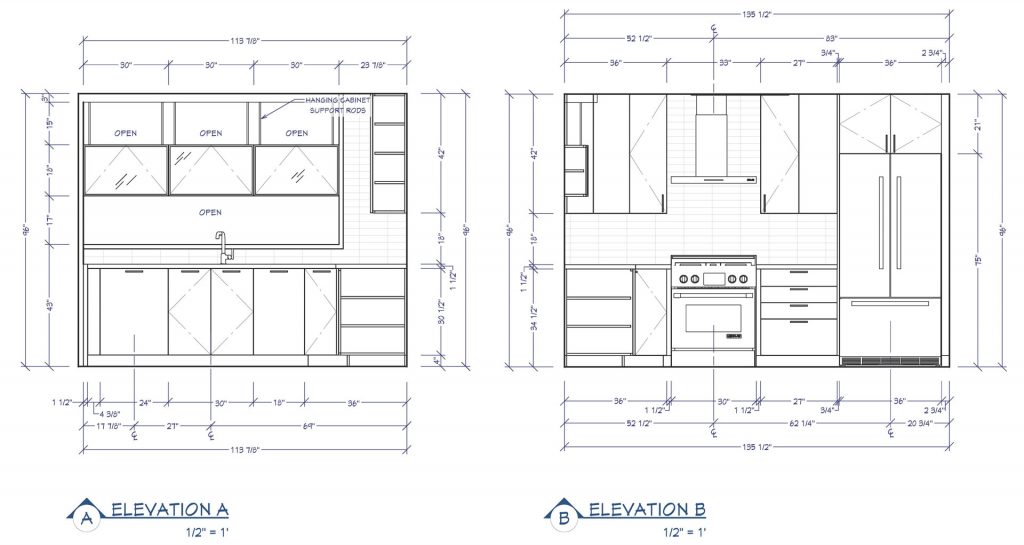 By the end, I had leveraged Chief Architect's sharing of layer sets, defaults, and annotation sets to create a sturdy foundation for each design. I chose to use the software's watercolor view, overlaid with graphite-grey sketched lines, to make renditions mimicking real-life scenes for the 3D Perspective views. Reproducing the cabinets, materials, and other details was a snap in Chief Architect; it's always gratifying to know you have the freedom to make minor adjustments, setting everything "just so," even as you wrap up your project.
Doing this work is fun and challenging, and has also helped me solidify my own understanding of the Guidelines and why they are important. Aside from the work involved, the opportunity to learn and gain insight from professional designers is pretty invaluable. I can understand why so many creative and driven people are drawn (yep, I said it) to Kitchen and Bath design. With the opportunity to imagine beautiful and functional spaces, leverage technical skills, use exceptional tools and resources, and surround yourself with talented colleagues it is certainly appealing.
When will you start studying?
Along with the final PDF for this Study Guide, we have shared some more resources for taking the CKBD Certification Exam on the NKBA page of our site. Watch the Exam Video Series to learn about taking the test using Chief Architect Software, and download templates and other plan examples.