By Adrean Stephenson
The little room that won 1st place for the Powder Room category in 2017's NKBA Design Competition is big on character! Lori Carroll's take leverages a vaulted ceiling and the use of light and texture to make this Powder Room a space to remember.
"For this client, luxury is a state of mind; something that goes beyond the ordinary amenities and accommodations. Wanting their guests to experience something special, the design concept for this powder room didn't have to be extravagant or opulent; just beautifully simple. When visualizing aesthetics for this project, a softer, more natural look conveyed the feel the client hoped for. The combination of stone, metal and wood creates a unified design in this powder room."
"To start, there are few things in the world more remarkable than the Matterhorn, and a polished granite named for that spectacular peak is like a magnet drawing you in. With a mitered, eased edge, this beautiful stone slab becomes one of the amazing focal points found in this space. Clean and pristine, paired with a stainless waterfall support, the vanity makes a statement without appearing overdone. Teak tiles, with a warm, organic quality take a prominent place on the feature wall. The natural look, warm color and resistance to water further enhances the guest bathroom experience. Decoration was kept to a minimum, preserving the modern feel. Adding a spun glass sink, sleek fixtures and a suspended steel mirror results in a bright, beautifully classic and comfortable space."
It was a pleasure to redraw this small space in Chief Architect, recreating the teak tiles, custom vanity and mirror, vaulted ceiling with special details for custom lighting, even the towel rings. The space is a perfect blend of utilitarianism and richness. Lori really knows how to capture and relay her design visions.
"I was born in Denison, Iowa where my father owned a lumber yard." She shares.
"That early construction influence kindled my creative instinct. I knew from junior high that interior design was going to be my chosen profession. I earned my Bachelor of Science degree from The University of Arizona in 1986 while working as a sales associate and design consultant at a local furniture store. During most of the 36 years since the beginning of my career I co-owned and managed a successful partnership for 12 years and later established Lori Carroll & Associates in 2000. My studio offers a broad range of residential and commercial design. From conception through completion, every detail is managed professionally. Architectural reviews are heightened by presenting clients with comprehensive computer automated drawings that assist in visualizing accurate prospective and space planning. By adding an infinite collection of resources, impressive finish and product selections can be chosen to suit any lifestyle."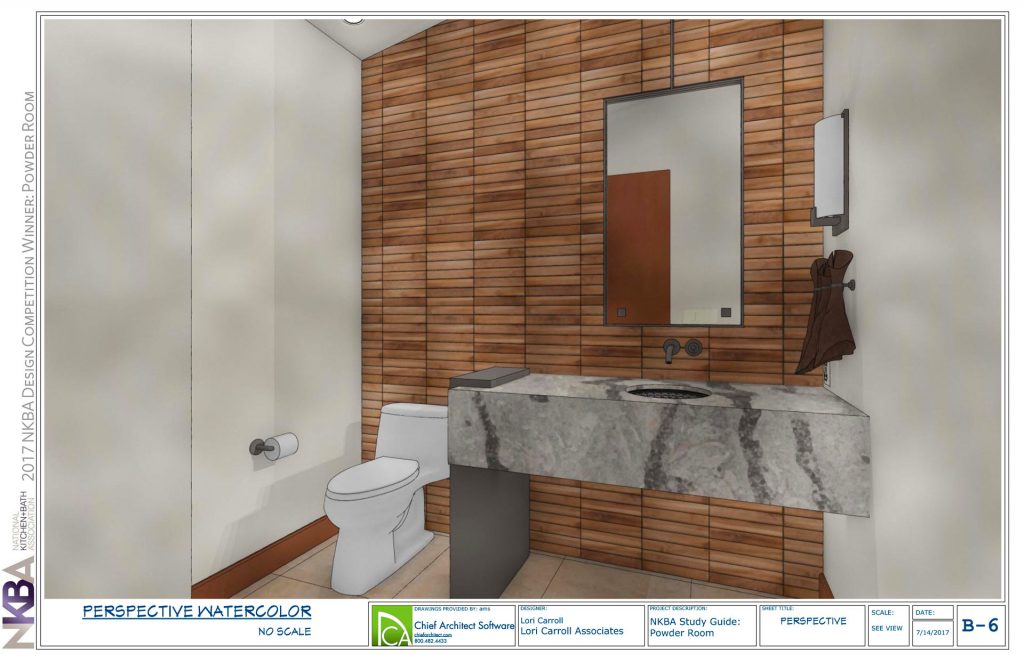 Lori's powder room will go on to help others learn professional techniques and standards as they study for NKBA certifications, like the CKBD. This bath is included as a reference sample in the latest revision of the Study Guide tools from the NKBA.
"There are professional organizations in every field and being a member of the National Kitchen & Bath Associates has definitely played an important role in my success as an interior designer. With kitchens and bathrooms being some of my favorite projects, knowing there is a professional connection that offers guidance, education and support is encouraging for both myself and my clients. When clients look for a designer they want assurance that who they choose is professional, ethical and knowledgeable. Being a member of NKBA certainly offers a level of confidence for the homeowner when deciding between someone with the affiliation versus one without. Another lucrative benefit of my membership in the National Kitchen & Bath Association is participating in the annual NKBA Design Competition. This opportunity allows me to share projects with peers, promote my firm and is an effective strategy for reaching a clientele outside my own demographic. The recognition and publicity I have earned through the National Kitchen & Bath Association has undoubtedly helped my business prosper and grow."
The powder room wasn't Lori's only win at this year's competition. Her Large Bathroom design also took the award for "Best Bath".
"All great primary bathroom designs have one thing in common; a space has to satisfy the homeowner's needs and reflect their personal lifestyle. This project was no exception. With the clients coming from a background influenced by the excitement of urban living, they wanted an en suite bathroom that was an expression of fresh, modern ideas that also proved contemporary can be warm and inviting.
Characterized by gleaming surfaces, modest fixtures and minimalist décor, this primary bathroom delivers the mix of modern and casual style the client hoped for. Incorporating many of the materials that define modern design; glass, tile and wood emphasize the clean simplicity that is restful and soothing. Varying shades of grey also inspire tranquility and convey a soft, comfortable feel."
Thank you Lori, for sharing your spaces and your story!
Connect with Lori Carroll: