By Adrean Stephenson
It felt a little like cheating when I opened up Danielle Burger's winning Small Bath plan and began transitioning it for our NKBA Study Guide project.
Danielle has been using Chief Architect since 2015 and made beautiful work of her bath design using the software. I simply asked to start from the plan file and then made some edits that matched her drawings to the drafting style of the other designs in our project.
Danielle describes the bathroom's remodel transformation:
"I designed this small primary bathroom for a young couple living in a 3rd floor condominium. Originally a large corner tub dominated the space and restricted full access into the room. There was no shower head (only a deck mounted tub faucet) so the homeowners had to use the guest bath for showering. Removing the corner tub and installing a rectangular tub/shower along the window wall, allowed for a larger vanity and more clearance in the space.
"The window in the new tub/shower area required special attention. The homeowners were concerned about potential water damage. Since the glass block and mortar were in excellent condition, I proposed a frame of white quartz instead of tile. This would provide a ledge for soaps and shampoo but also create a smooth surface to protect the walls. Instead of a curtain, I suggested a frameless glass shower panel to allow the natural light to filter through.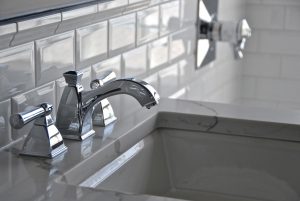 "The existing vanity was in good condition but there was only one sink. Since the homeowners wanted two sinks, more storage, and more counter space, I designed a larger vanity and relocated it to the wall opposite the doorway. This new location also became the entry focal point from the primary bedroom. Originally the door opened into the space, blocking the toilet and getting in the way. A new pocket door gave full access to the room.
"The homeowners desired a gray palette with clean simple lines, yet they didn't want the room to be too neutral. I mixed elements to achieve a vintage classic look. I selected a gray shaker style vanity, white marble-like quartz countertop with warm veining, white beveled subway tile, polished chrome plumbing fixtures, industrial glass sconces with a filament bulb, and a dramatic deep navy wall color."
The thoughtful design considerations for this project certainly paid off. It is a beautiful space and the winner in the Small Bath category of the 2017 NKBA's Design Competition. It is apparent that Danielle has a strong foundation in design.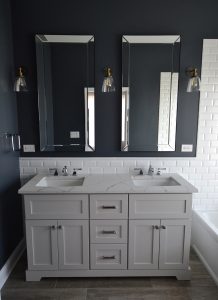 "My interest in interior architecture and design began at a young age. My mom would frequent flea markets and buy peculiar items such as dressers and lamps. I tagged along and eventually started honing my own style. This hobby led me to pursue educational degrees in art and design.
"I majored in Art History at Loyola University Chicago and had the opportunity to study abroad in Rome. After I graduated, I interned at a museum but craved interacting with people, not just sculptures and paintings. I changed gears and pursued a degree in Interior Design. That's when my interest narrowed to the kitchen and bath.
"I have over a decade of work experience. For several years I sold decorative plumbing and hardware showroom in downtown Chicago. After relocating to Baltimore, I worked for a showroom that sold cabinetry, countertops, hardware, and tile. When my husband and I moved back to Chicago to start a family, I decided to be my own boss. I launched my business Kitchen Vitality Design to offer clients a personalized service to revitalize their space. I recently moved to Charlotte, North Carolina, to escape cold winters and continue growing my family and my career.
"I always considered the NKBA a leader in the industry that set a standard of excellence for its members. When I first started my business, I realized that my passion and previous work experience weren't quite enough to further my success. So I became a member to continue my education and complete classes that my other degrees didn't provide.
"After many educational hours and design tests, I achieved CKBD certification with the organization. It has been vital to the development of my business-related skills. The courses provided great insight and understanding of design standards, management, marketing, and customer service, among other things.
"NKBA not only provides classes, but also creates a network of other trade professionals. At local chapter events and trade shows, I can connect and learn from other members. They are inclusive, generous with knowledge and information, and genuinely passionate about what they do. I am a proud member and hope to share my expertise with others."
Danielle, thank you for sharing your story (and your Chief Architect plan files) with us!
Connect with Danielle: