By Phillip Gibney
For many, a home is not just a place to live, it's also a way to build wealth and financial security. A common strategy for millions of homeowners looking to increase their home's value is to complete home improvement projects. When considering which projects to pursue, estimating the project's return on investment (ROI) early in the planning process is essential. The ROI for a given home improvement project helps predict how much your home value might increase based on how much money you spend on the project. This is important because it can help you prioritize which home improvement projects to undertake based on your goals. For example, if you spend $30,000 on a home project and this project increases the long-term value of your home by $30,000, then the ROI is 100%; however, if it increases the value of your home by $15,000, the ROI will only be 50% and may have you reprioritizing your list of home improvement projects. In this article, we will discuss home improvement projects that consistently have the best ROI and learn how 3D home design software can help ensure your next project is a success.
---
Top home improvement projects to increase value and build equity:
---
Kitchen and Bathroom Remodeling
Kitchens and bathrooms are rooms you step into every day and are key rooms home buyers take into consideration. Remodeling these rooms will make the spaces more functional and comfortable to use while you live in the house and have a return on investment of up to 85% (JLC cost vs. value report).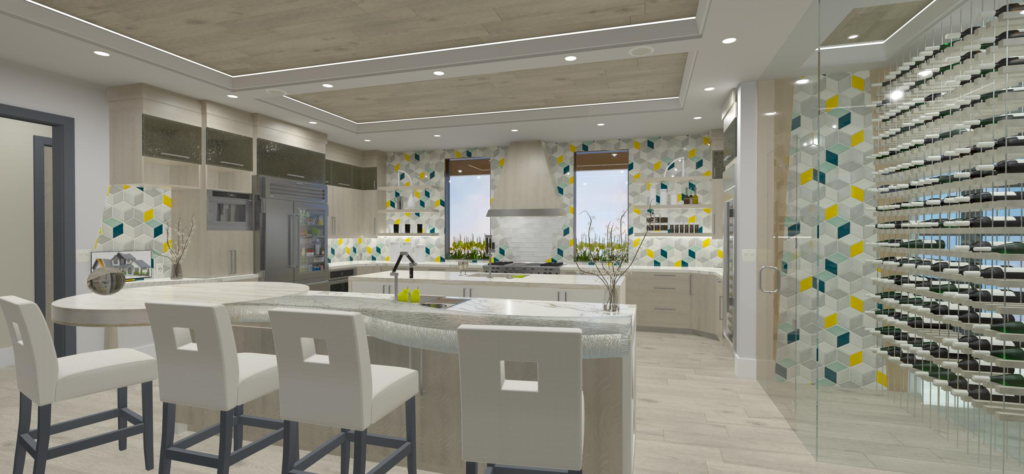 Kitchen and Bath Remodeling Ideas and Tips:
When remodeling, consider design and material selections for longevity. While certain design and material selections may be popular today, they could be out of style in a few years and deter potential buyers. Additionally, make sure your selections are balanced throughout the house. If you have a single room with a drastically different look and feel than the rest of the house, it can feel out of place. Picking design and material selections that are in harmony with the rest of your house and have proven to stand the test of time may make your house easier to sell in the future.
For a large kitchen or bathroom remodel, you might completely demo the existing room down to the studs and rebuild the space with a new floor plan configuration to make it more functional. You can use Home Designer Software to experiment with different floor plan configurations to ensure any changes you consider meet your lifestyle requirements.
The sizes of cabinets, the door/drawer style and configuration, and the hardware choice can make your kitchen or bath more functional and stylish. With Home Designer, you can design base cabinets, wall cabinets, full-height cabinets, partitions, and more to any size to ensure your space is arranged exactly how you want it. Additionally, Home Designer comes with a wide variety of common door and drawer styles and hardware selections. If using Chief Architect Premier, you can use manufacturer cabinetry for advanced detail.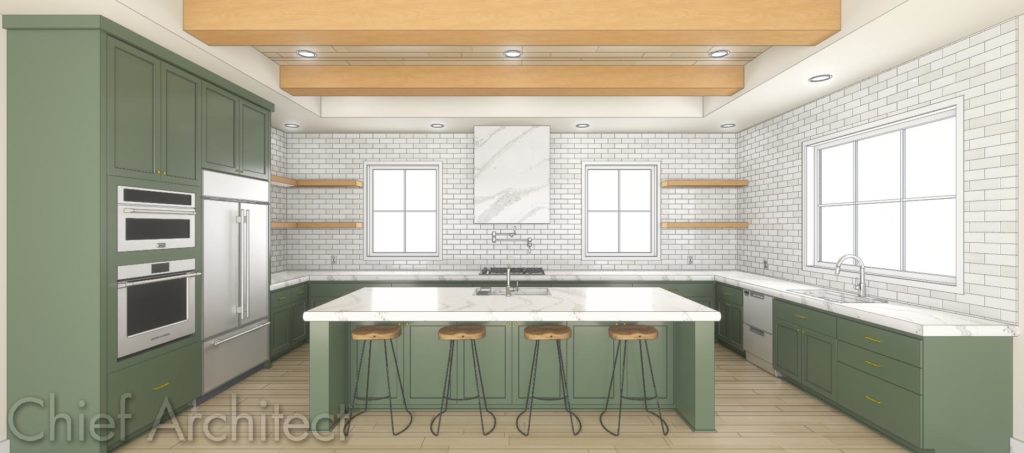 In addition to updating cabinetry, you may be updating the fixtures or appliances used in conjunction with them. Home Designer has thousands of fixtures, such as sinks, faucets, tubs, grab bars, etc. from top brands such as Kohler, Delta, Moen, and more. If you are updating cabinetry, you may decide to update appliances at the same time. In Home Designer it is easy to integrate appliances from top brands such as Jenn-Air, Miele, and Sub-Zero. All of these can help you evaluate your design options and make the right choices for your project.
Both large or small kitchen and bath projects may include upgrades to finishes, like painting cabinets or replacing countertops, flooring, or backsplashes. Home Designer's 3D library has thousands of materials from top brands such as Armstrong Flooring, Cambria, Daltile, and many more. The software's material painter tool allows you to swap between different material options in seconds to ensure the finishes you choose fit your design style.
If your kitchen or bath space feels small, consider combining the room with an adjacent room to make it larger. This can create a larger open-concept floor plan that can make the floor plan more inviting or open up more design possibilities. For example, you may combine a kitchen with an adjacent living room and dining room and add an island for entertaining, or you may combine a small primary bath with an adjoining bedroom to create a large primary bath with a walk-in closet. You can use Home Designer to see what potential changes will look like, where structural adjustments need to be accounted for, and create documents for contractors or your permitting department (if required).
---
Finish an Unfinished Basement
When it comes to increasing the value of your home, there are many routes to consider. However, one of the most significant untapped opportunities to increase your home's value lies beneath your feet: the unfinished basement. If your home has an unfinished basement, transforming this underutilized space into a functional area can significantly improve your lifestyle when living in the home and boasts a high 86% ROI (National Association of Realtors Survey). Chief Architect and Home Designer Software can help you plan for a finished basement, and there are lots of project options to finish your basement to improve your home's value: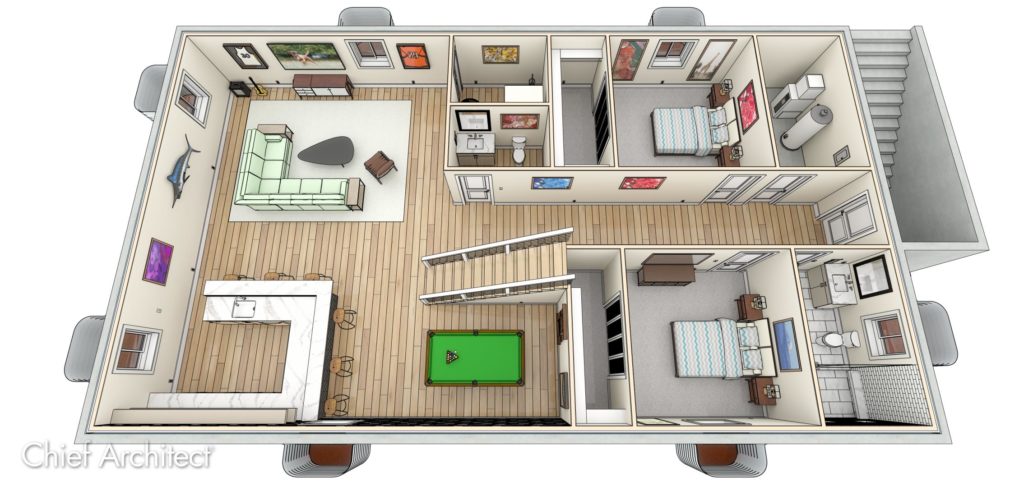 Finished Basement Planning Process and Ideas:
One of the first things to do when deciding to finish your basement is to understand what you are working with. A detailed inspection could uncover unknown issues that must be addressed and have you reevaluating if now is a good time to finish your unfinished basement. While resolving previously unknown issues with your basement may not be a fun project to tackle, it could save you money in the long run by stopping the issue from growing into a larger problem.
Next, you will want to make a detailed list of basement wants and needs and develop a budget. This can help you determine if you are in a realistic position to finish your basement. You may decide to pursue specific basement projects based on your budget or seek financing options.
Once you have determined your budget, you can start planning the project in detail. Designing how the finished space will be utilized is where the fun comes in. If you have a growing household, you may opt to turn it into extra living space such as bedrooms or bathrooms. You can make it an area for entertaining, such as a man cave or theater room. Or you may turn your basement into a purpose-built room such as a home gym, wine cellar, hobby room, home office, and more. This is where using basement design software like Chief Architect or Home Designer comes into play. You can create detailed floor plans to ensure you are efficiently using the space and develop documents that other parties involved in the project may need, such as material lists or layouts for contractors and your permitting department.
A well-designed finished basement can add significant value to your home and is typically the most affordable way to add living space because the structure already exists. Being highly cost-effective and offering a solid ROI make finished basements one of the most popular home improvement projects and a great way to increase value and build equity in your home.
---
Outdoor Living Spaces
Functional outdoor living spaces have exploded in popularity. Over two-thirds of homeowners use their outdoor living space multiple times per week (New Home Trends Institute Survey), making them high on home buyer's wish lists. Creating a functional outdoor living space can boost your quality of life, usable outdoor space, and your home's overall value when it's time to sell.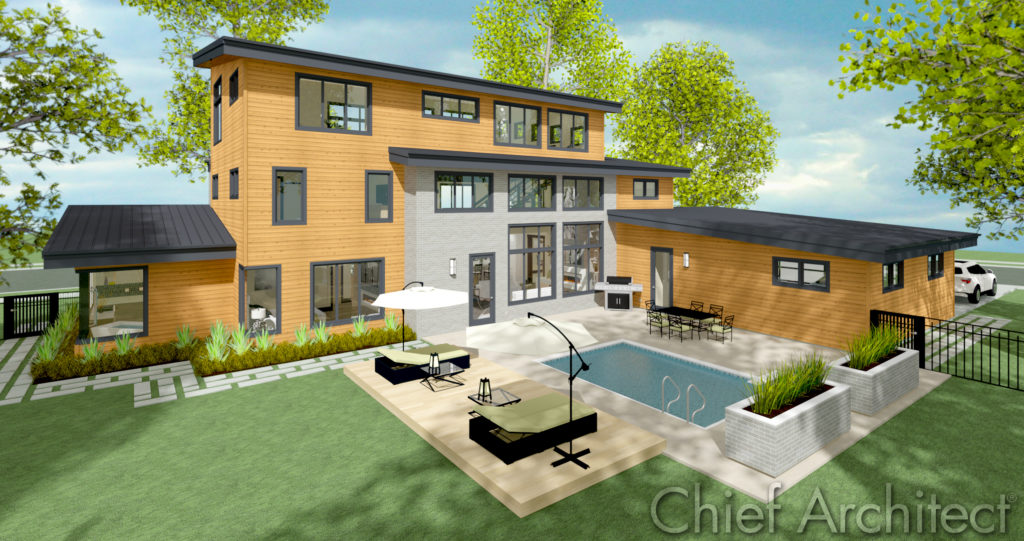 Outdoor Living Space Ideas and Benefits
Adding a deck provides the basis for many outdoor living areas and is highly sought after by home buyers. A National Association of Realtors Survey found that homeowners list decks at a 9.8 out of 10 for happiness and satisfaction, making decks a huge selling point for buyers. In Home Designer, decks are easy to draw: select if your deck will have a railing or not, and draw out the shape of the deck. If the deck is on slopped terrain, the software will automatically ensure the deck posts and footings extend to the terrain. Decks can be constructed from lumber or composite decking, and in Home Designer, you can use either one, including composite decking from Trex, Azex, and Fiberon. And if your deck will have stairs, these can be easily added in two clicks. In Home Designer Pro, you can manually adjust the position of framing members, ensuring the deck framing is precisely how you want it. Overall Home Designer makes deck design easy and can help you design the perfect deck for your outdoor space, increasing your home's value.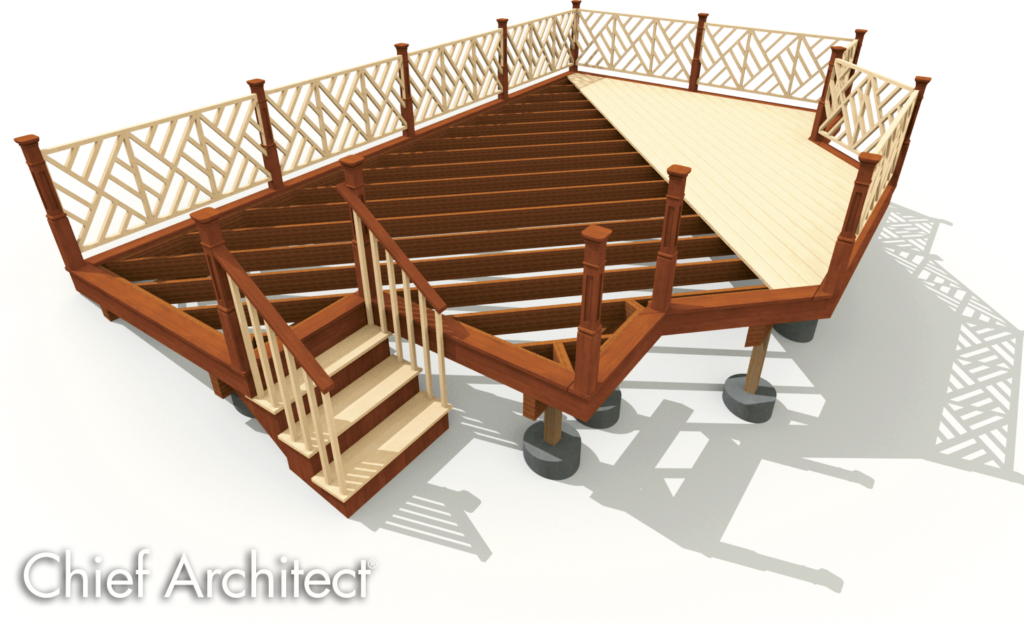 Patios are another option for starting outdoor living spaces and have seen a massive growth in popularity in recent years. In 2021, 63% of new homes came with patios, marking the sixth year in a row that new homes with patios hit a record high (NAHB), meaning patios are an outdoor feature home buyers are looking for. Patios can be made from pavers or poured concrete and can optionally include electrical, plumbing, or natural gas access for adding other outdoor features. Additionally, a patio may be covered with a roof. Home Designer makes it easy to experiment with different patio design ideas to ensure they aesthetically tie in with the existing yard and house and evaluate options for roof styles, stone paver or concrete materials, and more.
Outdoor kitchens can be fitted with many of the same amenities as an indoor kitchen, such as cabinetry, appliances, and sinks. They can include amenities not typically found indoors, such as grills, smokers, or pizza ovens. Outdoor kitchens benefit from open-air ventilation and outdoor heat and odor disbursement. In Home Designer, the same indoor kitchen design features mentioned in the previous section can be adapted for outdoor kitchen design, and you can use materials suited for the outdoor elements.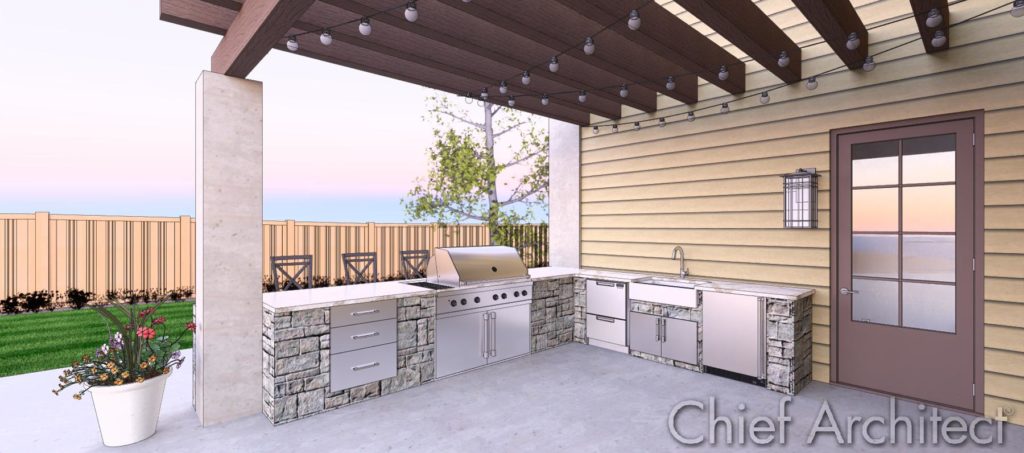 Outdoor dining and entertainment areas allow you to take in the sunshine, fresh air, and outdoor views to create a more pleasant social environment, and there are endless possibilities for designing your perfect dining and entertainment area. Your dining space may be under a pergola, umbrella, or sunshade, and using Home Designer, you can plan and visualize how each option might fit in your space. The software has fire pits, patio sets, playground equipment, and thousands of other items for entertaining. If you live in a location with warm weather year-round, a swimming pool can be a huge selling point, and Home Designer can design swimming pools to any size, shape, and material selections. Whatever your outdoor dining or entertainment area requirements are, they can be modeled in Home Designer to help you plan the perfect outdoor space.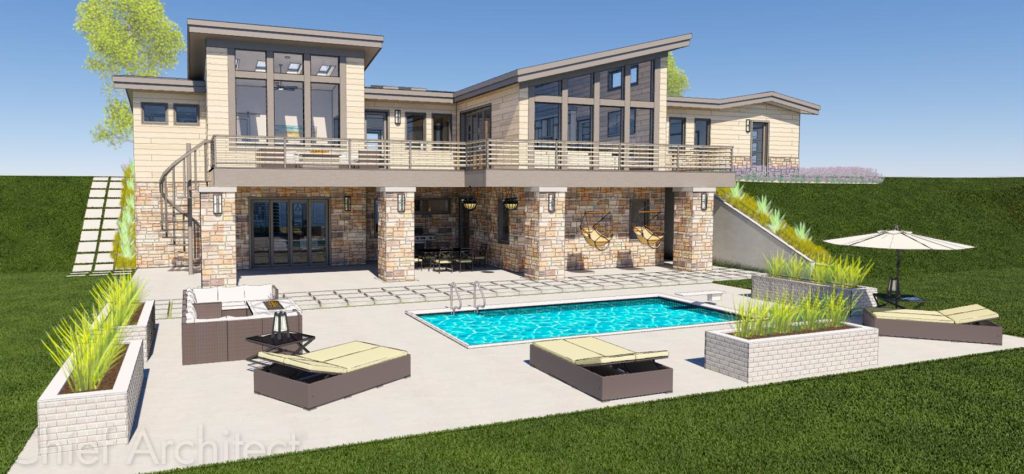 Beautiful landscaping complements all outdoor living spaces and can connect you to nature and your environment. Upgrading landscaping can entail adding trees, bushes, and shrubs, and is often a task most DIYers can handle. Home Designer Software makes it easy to choose which plants to add. The Plant Chooser tool will produce a list of plants that meet your criteria, such as hardiness zone, height, water requirements, and more. After adding the plants, you can use the Plant Grower tool to see how your landscaping will look at different stages of plant maturity. Additionally, the software has tools to quickly add stepping stones, garden beds, water, features, retaining walls, and more. There are also catalogs for backyard ponds, landscaping accents, and arbors, to add variety to your landscaping.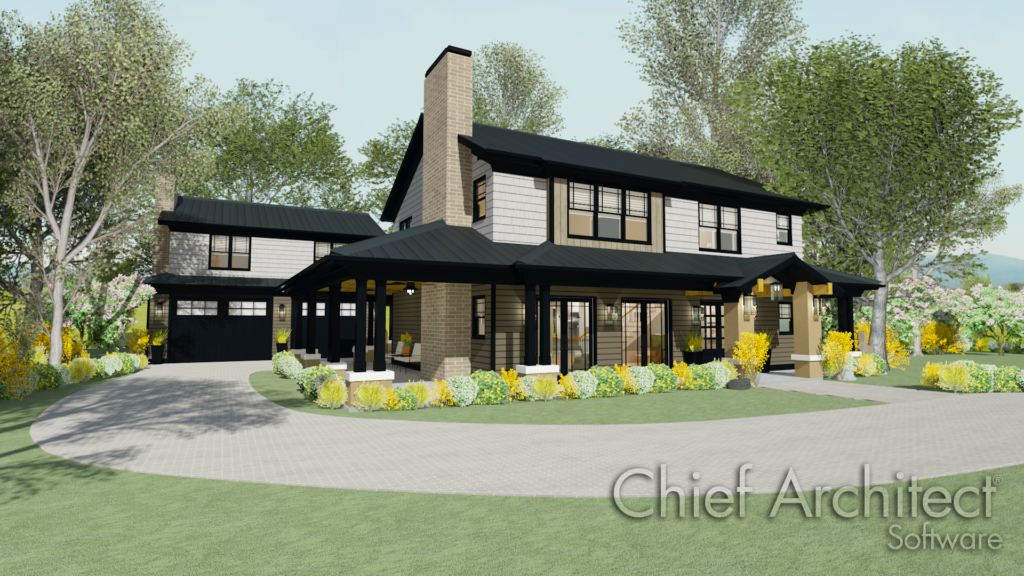 Whatever your outdoor living space project entails, many options exist to improve your home's value. Home Designer Software can be a valuable tool in planning and visualizing how outdoor living space upgrades will complement your home's existing architecture and is an excellent way to improve your home's value while attracting more buyers.
---
Enhance Your Home's Curb Appeal
First impressions matter, and your home's curb appeal sets the tone for potential buyers. Making improvements to the front of the house can make it feel warm and welcoming and give a positive first impression to home buyers. 97% of the National Association of Realtors (NAR) members believe curb appeal is essential to attracting buyers, and 92% suggest sellers improve curb appeal before listing a home for sale (NAR 2023 Remodeling Impact Report Outdoor Features). This means when you sell your home in the future, your realtor will likely recommend upgrading your curb appeal. So why not tackle curb appeal enhancement projects while living in the house to enjoy an aesthetically beautiful home?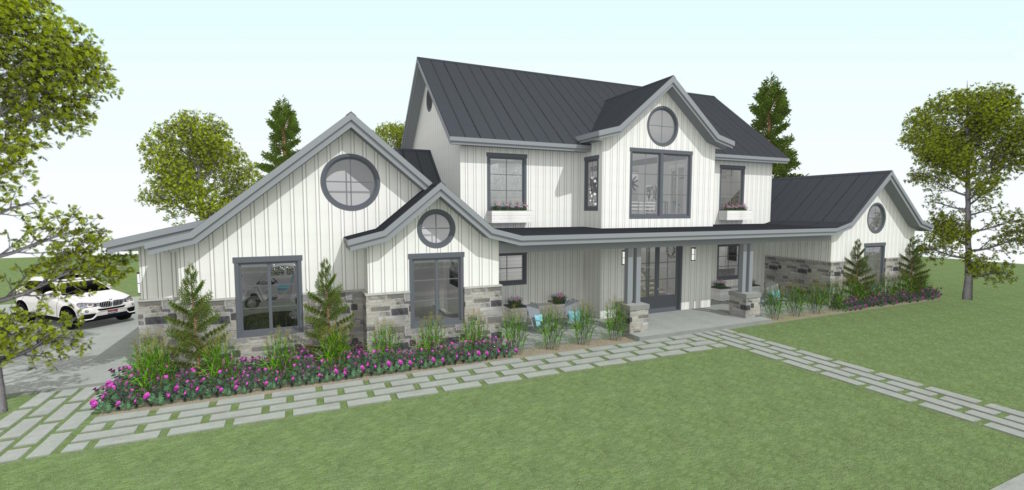 Home Curb Appeal Improvement Projects
A fresh coat of exterior paint or applying new siding or accent stone can transform the home's exterior appearance, and there are endless material options to choose from. With Home Designer, you can experiment with different exterior finishes from top brands such as Coronado Stone, James Hardie, Behr, Benjamin Moore, and more to see what your home's exterior will look like in 3D and make sure your selections are in harmony with the rest of your house.
Your front yard's landscaping can give potential home buyers the impression of whether the house has been cared for or not. This can make or break potential home buyers from wanting to tour your house. Great landscaping can entail having a healthy green yard, trimming trees, adding flowers or bushes, and more. There are many ways to landscape your yard, and in the previous section, we discussed Home Designer's landscaping tools for outdoor living spaces. These same tools can be used for landscaping your front yard and can be valuable in ensuring your landscaping choices make the front of your house attractive to home buyers.
A home's front door can create a unique appearance to the front of your house. Updating your front door may entail refreshing it with a new coat of paint or replacing it with a stylish new one. Steel front door replacements are one of the best home improvement projects, with 100% of the costs recouped at the home's sale, according to JLC's 2023 Cost vs. Value report. Whether you paint your front door or replace it altogether, you can use Home Designer to evaluate front door options and see how they tie together with the rest of your house front. Additionally, a new front door with a foam-insulated core and weather stripping can improve your home's energy efficiency and reduce energy costs (energy.gov).
You can update other miscellaneous items such as light fixtures, house numbers, window planter boxes, and more to add character to the front of your house. While these types of updates might be minor, the charm and attraction they can bring to your house's front can produce a positive first impression to home buyers. These minor additions are often inexpensive and can be bought quickly at the store and installed by DIYers. In Home Designer Software, there are over 80,000+ library items you can use to visualize how the items fit in with the architectural design style of the front of your house. You can even import 3D objects you find online and use them in your design.
Curb appeal matters because it directly affects a home's perceived value and the impression that potential buyers form when viewing the property online or in person. This increases the likelihood that you will be able to sell it faster and at a higher price, making curb appeal upgrades a smart place to invest your money.
---
Energy Efficiency Upgrades
Increasing your home's energy efficiency can reduce utility bills, increasing the home's comfort level and value while minimizing your environmental footprint. 64% of home buyers want a home that is energy efficient (Zillow 2023 Housing Trends Report), making energy efficiency improvements an excellent way to improve your home's marketability. There are often energy efficiency rebates offered by utility companies and state or federal agencies, further driving down costs and maximizing your return on investment. There are energy efficiency upgrade projects to fit a wide range of budgets, and you can use Home Designer or Chief Architect for project inspiration, planning, budgeting, and more.
Energy Efficiency Upgrade Ideas
You could start with small and simple upgrades, such as switching to LED light bulbs, using a smart thermostat, caulking windows and doors, and more. These are often simple tasks that can be handled by DIYers.
About half of residential energy consumption comes from heating and air conditioning (U.S. Energy Information Administration), making your furnace and AC your home's largest source of energy consumption. Additionally, your water heater and appliances consume a lot of energy. If your home has older fixtures, these are all candidates to be updated with energy-efficient replacements. Home Designer has thousands of appliances, heating and cooling fixtures, water heaters, and more to see how they look and fit in your space. And when searching for replacements, look for Energy Star approved products to ensure the upgrades you purchase meet energy efficiency specifications set by the EPA.
If you are building a new house, doing major remodeling, or adding an addition, you can plan for energy-efficient floor, wall, and ceiling structures along with energy-efficient windows or doors. These structural considerations will ensure your home's envelope efficiently retains heat and prevents air drafts. In Chief Architect Premier, you can input R-Values, U-Factors, Solar Heat Gain Coefficient (SHGC) values, specify rooms as conditioned or unconditioned, and more. From here, Chief Architect Premier can export data to ResCheck to calculate if your house meets energy codes.
Solar panels have become the symbol of sustainable energy and are on homes worldwide. In 2022, the average monthly electrical bill in the United States was $137 per month (U.S. Energy Information Administration). Solar panels can lower or eliminate this expense, making a home with solar panels more attractive to potential buyers. Home Designer has an alternative energy sources library catalog available that includes solar panels, so you can plan for them and make sure they are oriented to best utilize the sun's energy.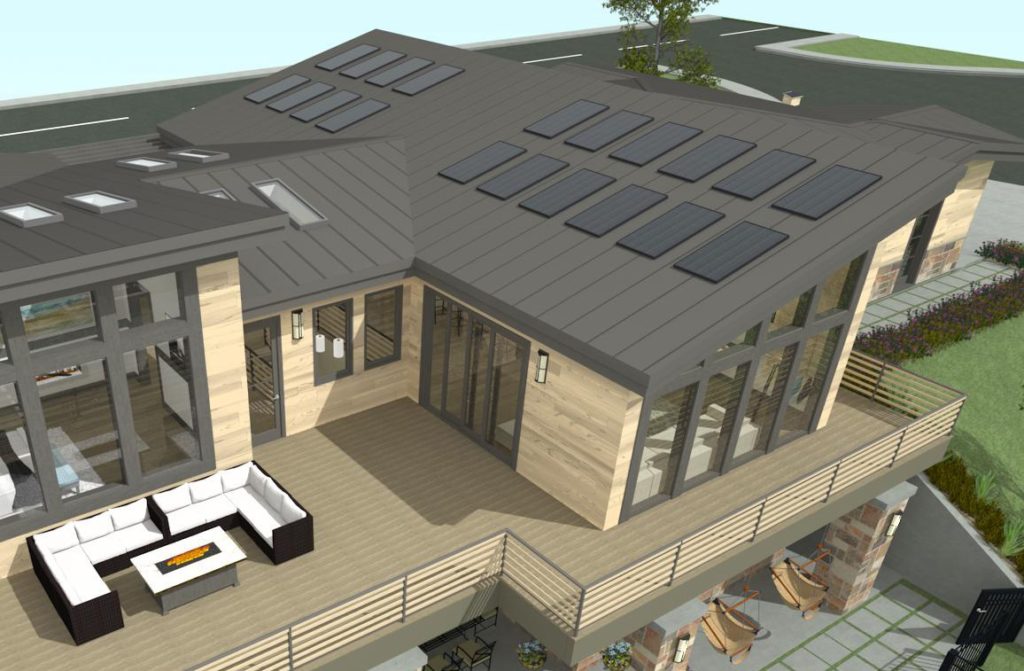 Energy efficiency upgrades to your home can result in lower operating costs, increasing your home's marketability and value while minimizing your environmental footprint. Whether you plan to sell your house soon or live in it for the foreseeable future, these benefits make energy-efficient upgrades a valuable short and long-term investment in your home.
---
Home improvement projects are a great way to increase your home's value and build equity while enjoying a more comfortable living space. With Chief Architect for professionals or Home Designer for DIYers, you have a powerful software tool to assist with space planning, visualizing material and design options, estimating costs, producing layouts, and more. This can help turn ideas into reality faster and more efficiently while decreasing costs and maximizing the return on your investment. Do you have any upcoming home improvement projects that will benefit from using Chief Architect or Home Designer Software? Let us know in the comments!