By Emily Black
Congratulations to Danielle for her outstanding accomplishment at the National Technology Student Association (TSA) Competition in CAD Architecture. She is only 16 years old and is on her way to a promising design career.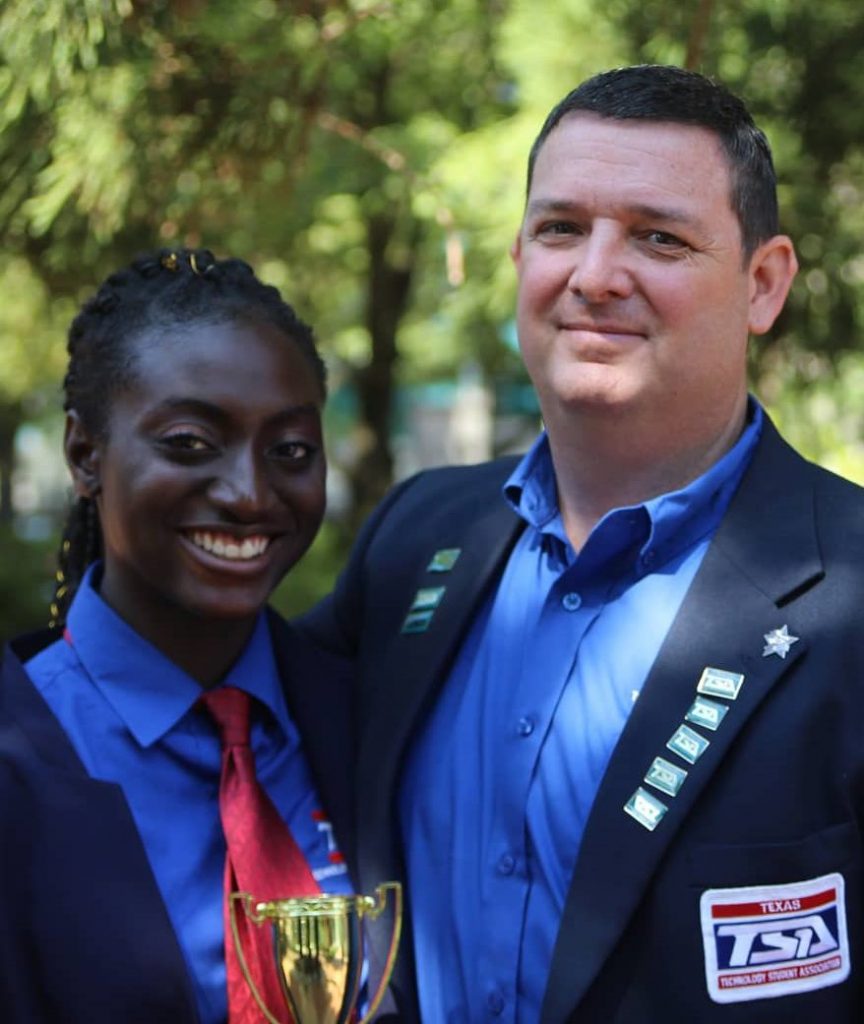 "I am 16 years old and from Grand Prairie, Texas. This upcoming school year, I am going to be a junior at James Bowie High School where I am captain of the girls wrestling team and a member of my school's orchestra, BPA, TSA, and NHS. Ever since I was little I have loved to make things with my hands, when I was in second grade I had even attempted making a castle out of tissue boxes. When I got to high school, I began to see architecture as a possible career path because it combines my different interests, so I took the class during my sophomore year.
"When we were first introduced to Chief Architect in class I was immediately obsessed. The software was professional level and had so many options and different features that the possibilities felt endless. Chief Architect is fast as well as easy to understand and use and no doubt gave me an advantage during my competition. Every time I use Chief Architect I find how to better use another feature and get a better result, and I intend to someday master those features in order to create great designs.
Chief Architect is fast as well as easy to understand and use and no doubt gave me an advantage during my competition.
"At TSA Nationals I showed up to the room 30 minutes early to ensure that I got a good seat at the back of the room then I had an additional hour while everyone else arrived and the judges quickly interviewed us. Then we were all given the problem and the time was started. When they gave us our problem I began to worry, there was so much to do and I only had four hours.
"We were given a floor plan to modify so I started first by recreating the walls, windows, and doors. There were holes in the design that I had to fix so I worked on those then began designing the rooms and other spaces. My main focuses, however, were designing the primary bathroom and the kitchen, as well as the area around the front entrance. When time was almost out and I was putting together my layout, I remember worrying that I had focused on the wrong things, but I had to trust that I had used my time wisely and accept what happened. After time ran out we were sent off while the judges judged our work and had to wait for them to call us back to talk about our work. When it was my turn, the first judge told me how well I had done but then pointed out that I had forgotten my dimensions on my floor plan, after that, I lost all hope of getting top three. The rest of my comments were a mix of "good work" and "did you run out of time?" and one of the judges commented that he knew immediately that I had used Chief Architect.
"At the awards ceremony, I was dreading going on stage because I thought the top 10 was as much as I'd get, and once they announced 3rd and it wasn't me, I was sure that I didn't trophy, but then they announced first and said my name… Everything was a blur after that, I couldn't and still can't believe it!"
Danielle's Nationals Design
Danielle's Qualifying Design
Danielle's teacher, Andrew Barrett, is on his 24th year of teaching and is currently teaching Architectural Design and Animation. Andrew has incorporated Chief Architect into the classroom for everything from floor plan creation to electrical plans, elevations, site plans, roof plans, and layouts. Also, students create animated walkthroughs utilizing Chief Architect to create their structures and use the export function to send their 3D models to 3D Max for animating.
"This is Danielle's first year in my class and her first time to use CAD of any kind. I am extremely proud of her. She has worked very hard to improve her skills this year. Danielle is a gifted student with so much potential. I feel blessed to have her as a student. The sky is the limit for this amazing young lady in the future!"
We are honored to be a part of Andrew's curriculum and Danielle's design process! We wish Danielle the best in her future endeavors. If you are a teacher or student interested in incorporating Chief Architect into your class work, learn more about our academic software.