By Kendra Dorosh
The team at Lake + Land Studio, LLC, has won first place in the Chief Architect Residential Design Contest with their charming Walnut Cottage. The home's quaint features like a wrap-around porch, exposed rafters, and exterior trim details conjure thoughts of rest and relaxation.
Located in South Mississippi, and operating since 2015, Lake + Land Studio focuses primarily on designing lake houses, boathouses, and retreats. They operate as a small business and take great pride in each project they design. They believe in designing spaces that are inspiring, resonate with their clients, and evoke a sense of calmness.
We pride ourselves in creating unique, one of a kind designs for every client we work with."

Lake + Land Studio, LLC
"Every time we are able to walk our clients through their future home or project with Chief Architect 3D Software, it's a success. Many of our clients are not visual. Chief Architect helps bridge the gap between the 2D floor plan and grasping what the finished project will look like. We hear constant feedback on how impressive the capabilities of being able to see the scale of the spaces, customize materials, try different cabinet configurations, etc. We are able to save them so much headache and heartache in the design phase vs. going through a change-order process in the field. Being able to offer the 3D aspect for our projects has truly set us apart from our peers."
"We've been designing with Chief Architect software since 2010. We do high-end residential design, and we felt this software best optimized our needs for a program to design residential structures.
"Our Partners Luke Sippel and Bill Holloway were already using Chief Architect from their previous employer. Luke Sippel originally starting using Chief Architect in 2010 and trained exclusively through online training videos, Chief Talk Professional Forum, and the Reference Manual. We now employ 5 staff who all utilize Chief Architect daily."
Winning Design
See more renderings of the Walnut Cottage plan below.
We're inspired by the feelings of harmony with Lake + Land Studio's designs. It's an honor to share their story and we'll look forward to seeing more of their work!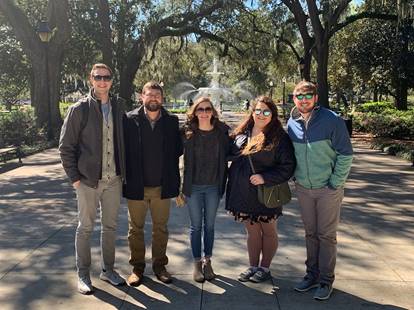 Lake + Land Studio, LLC is based out of Hattiesburg, MS. They've been operating since 2015 and have multiple custom homes featured in publications such as Southern Living Magazine, Art Food Home, Coastal Living, and Hattiesburg American. You can even see their work on HGTV's hit series "Home Town". They've been using Chief Architect software since 2010.
Connect with Lake + Land Studio on Facebook, Instagram and Pinterest.
Email: lakeandlandstudio@gmail.com
Back to Top
More Renderings of the Walnut Cottage Plan
This plan was designed exclusively for Southern Living Magazine. You'll find the full plan here.
Photography and 3D images by Lake and Land Studio, LLC
Watercolor rendering by artist Adam Trest