By Todd Gillman
There is no shortage of ways in which technology has improved the architectural, engineering, and construction industry. To this effect, one of the most profound ways that technology has added efficiency to building design is through the widespread adoption of building information modeling (BIM) software. With tools that automate and simplify the design process, you can quickly develop a 2D floor plan while the software simultaneously creates a viewable 3D model along with supporting structural components such as a foundation, roof, and framing, without any additional work. This level of automation saves all parties involved a substantial amount of time and money while 3D renderings and virtual tours provide an invaluable communication tool allowing the client and trades to visualize the design. With this in mind, the following breakdown looks at the numerous ways BIM software can help design a home.
---
Interactive and Collaborative Features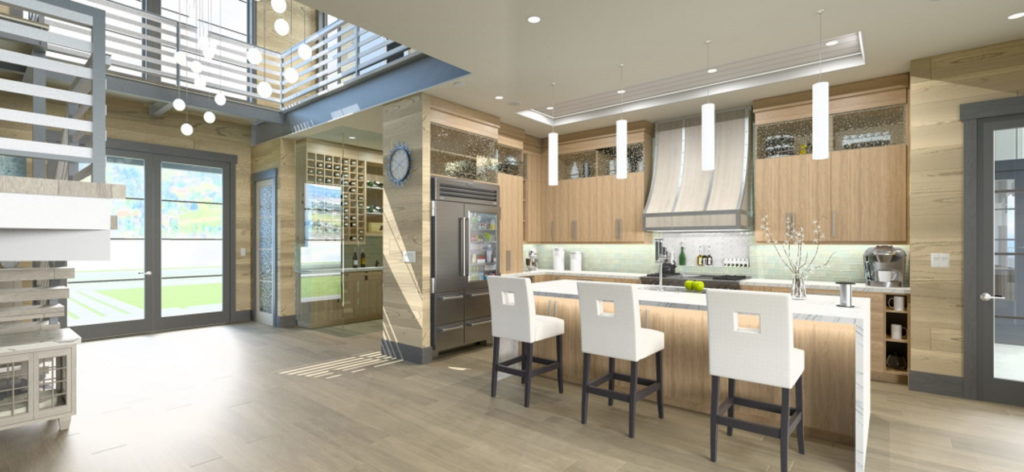 Designing a home has traditionally involved balancing the work of multiple distinct parties. Just getting everybody together and on the same page can be a monumental task. Without design software, the architect would have to get their blueprints to the contractors, who would then have to use these drawings to bid the job and place material orders. From there, the interior design team would need to look things over and see if there were any issues that may inhibit them from realizing their vision. Not to mention balancing the input of the client, electricians, and plumbers. All of this has the potential for endless back-and-forth that can greatly forestall ever breaking ground on a project, making the collaborative features of design software, such as Chief Architect's Premier product and companion 3D Viewer app, truly revolutionary.
---
Automation of the Design Process
Innovative BIM software, such as that offered by Chief Architect, has revolutionized the design game. Chief Architect is the preferred software choice for the industry's most respected architects, builders, remodelers, and interior designers because it helps users save time and money through its elite automation features. Some ways that Chief Architect leverages automation include:
When a wall is drawn, all components of the wall structure are automatically incorporated, such as the siding, sheathing, framing, insulation, and drywall.
Framing and headers are created automatically and adapt to changes in placement and sizing of doors and windows.
Automatic roof and dormer tools can create entire roof systems with a single click.
Quickly build out kitchen, bath, and interior spaces with smart cabinet tools. Choose from manufacturer-specific or generic cabinetry, fixtures, appliances, furniture, lighting, and more.
Chief Architect uses these features to easily create blueprints, floor plans, elevations, 3D renderings, and 360 panoramic renderings. Using the convenient 3D Viewer app, all parties to the project, such as the homeowner, engineers, and subcontractors, can access the files to allow for collaboration during the design process.
---
Vast Library of Materials, Colors, and 3D Objects
The best design software comes equipped with a treasure chest of built-in resources. This allows users to preview their project in 3D using any number of material options, as opposed to tedious real-life trial-and-error methods. For example, if the homeowner were a bit equivocal on the vinyl siding that came as part of a base home design package, the designer could use the software to quickly swap out the vinyl with fiber cement or steel siding to see if the upgraded selection is preferable. Other areas of the home that offer a wide range of material types for previewing include roofing, floors, windows, kitchen counters, and cabinetry–all easy to cycle through and preview in the 3D software. Some resources to expect in Chief Architect design software include:
Over 130,000 different materials, colors, and 3D models from which to choose
Manufacturer catalogs so that users can specify the exact brand and model number in the design
Switch between popular design styles with a single click using the Style Palette tool.
Ability to import objects from third-party sources to make design possibilities nearly limitless
---
Helps Clients and Project Collaborators Visualize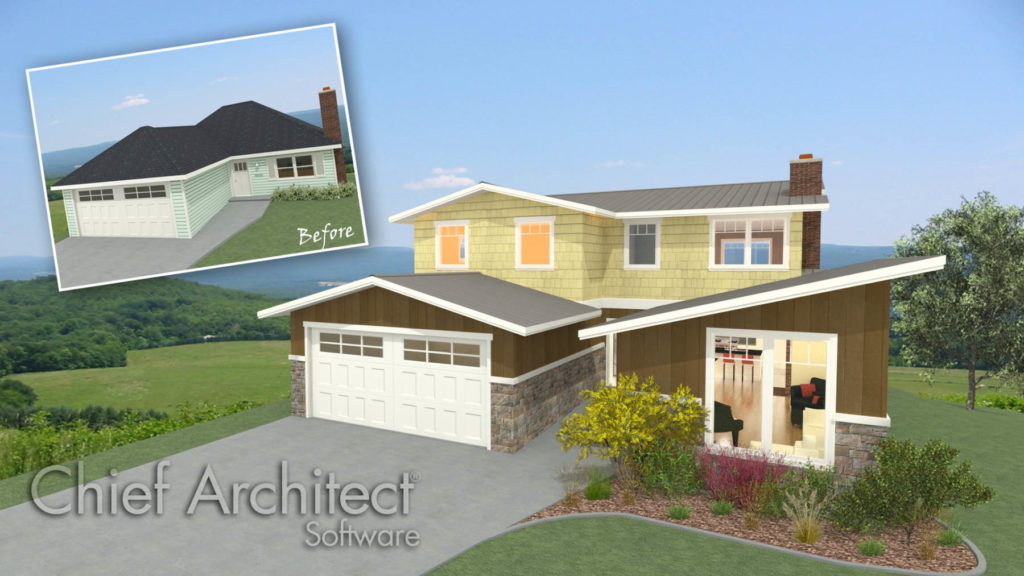 The ability to compare homes in their totality is another major benefit of design software. Clients can't generally visualize design concepts from a 2D drawing. Providing 3D visualization will get them excited and engaged with the design which will help them move forward in the sales process. Through renderings, walkthroughs, 360 images, and virtual reality, clients can see exactly what their home will look like before ever breaking ground. This helps with managing the customer's expectations and ensures they will be happy with the finished product. Chief Architect software makes visualization and collaboration easy.
Detailed 3D models are automatically created as you move through the design process. This means that interactive content does not need to be created separately, it's a by-product of designing in Chief Architect.
Virtual reality and augmented reality features provide clients with a fully immersive visualization experience.
Convenient sharing the design for instant feedback with the Chief Architect 3D Viewer app.
---
Offers Unmatched Segmentation Capabilities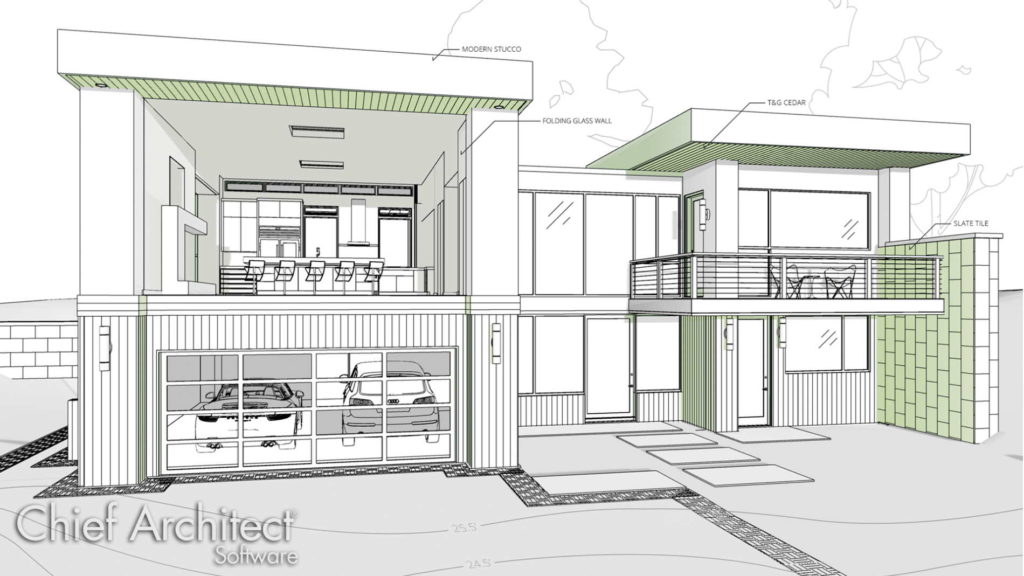 Chief Architect software allows users to break down and analyze small sections of a much larger design project. For example, if the home looks amazing but the garage looks a bit off, the designer can easily segment this area of the home to experiment with different garage door sizes and styles before incorporating the new garage into the rendering. This is also a great feature when designing distinct sections of a large property, such as when the designer wants to focus on the backyard or pool area without getting bogged down by other aspects of the project.
---
Accurate Budget Estimates
Design software can help keep construction projects on or under budget. Because a 3D model is being created as you design a home, it is possible to instantly generate a full materials list for all phases of construction. This takes the guesswork out of estimating project costs and makes it easy to see the quantity differences when providing design options to the client. To help validate these claims, the Center for Integrated Facilities Engineering at Stanford University found that BIM software led to an 80% reduction in time when generating an expenditure quote, as well as a 40% reduction in unbudgeted project changes. Some ways that Chief Architect software helps create more efficient material takeoff and cost estimating include:
Real-time creation of material lists throughout the design process
Generates a cut list to give the correct board lengths of required lumber
Easily calculate the material difference for design options. For example, find how much more concrete is required for a full basement versus a crawlspace.
Master List feature allows you to enter and store pricing information.
---
Top 5 Reasons Software Can Help in Home Design
Technology has transformed the architectural, engineering, and design industry in a multitude of ways, and the use of innovative BIM software is one of the most impactful. By providing a central project hub, material visualization and simulations, side-by-side comparisons, segmentation capabilities, and more accurate budget estimates, BIM software offers no shortage of means to help design a home.
---
Todd Gillman is the content director for the Innovative Building Materials blog and a content writer for the building materials industry. He is focused on helping fellow homeowners, contractors, and architects discover materials and methods of construction that save money, improve energy efficiency, and increase property value.