By Phillip Gibney
Chief Architect Software is a leading software developer that focuses solely on home design software. Chief Architect Software offers two product lines: Chief Architect for design professionals and Home Designer Software for DIY home enthusiasts. If you are an industry professional looking for a design program or using Home Designer Software, you may have questions about the differences between our two software lines and the advantages of the Chief Architect line.
In this blog article we are going to talk about: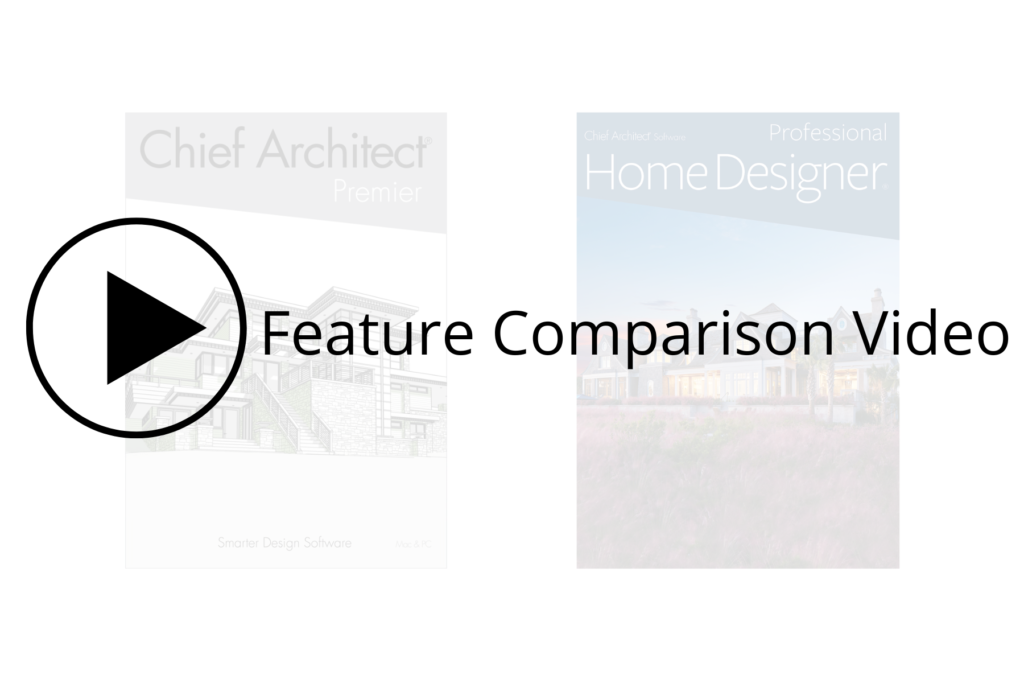 ---
"We use Chief Architect every single day and it is an absolutely indispensable part of our business. The ability to show a client, with extreme accuracy, what a space will look like before the work has even begun is everything."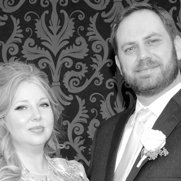 Robby & Lisa Griffin
Robby & Lisa Griffin Design
---
Chief Architect Premier and Home Designer Pro Summary
Chief Architect Premier offers our highest level of automation and efficiency and focuses on making your workflow quick and easy, from concept to construction documents. This gives you more time to sell jobs and build projects. The professional products offer photo-realistic and artistic rendering techniques that will help you communicate design ideas to clients. This helps manage client expectations and gets them moving forward in your sales process.
Chief Architect Premier is the flagship program for full residential design, light commercial design, and kitchen, bath, and interior design.
---
Home Designer Software is designed specifically for the DIY home enthusiast. Home Designer products are based on Chief Architect Premier with a limited feature set. Home Designer Software will look and function similar to Chief Architect, and there is file compatibility between the two product lines. There is much more functionality in Chief Architect to create designs faster and in more detail. Although most DIYers choose a Home Designer Software product, some opt for the design flexibility and efficiency of Chief Architect Premier.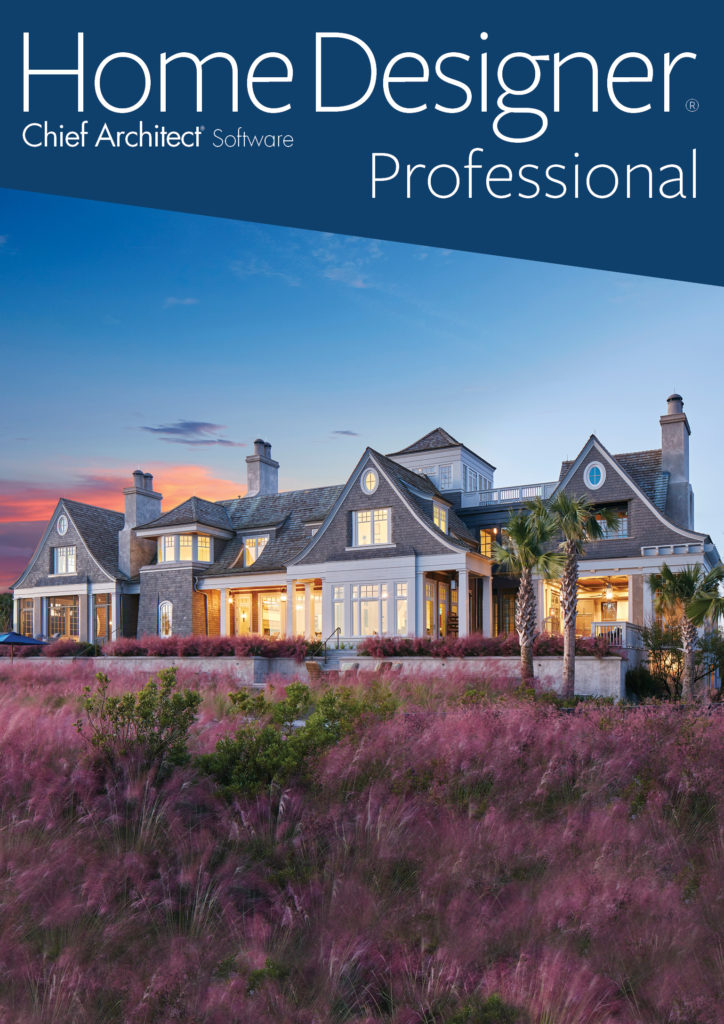 Home Designer Pro is the top program in our DIY software. This program is a great option if you are a DIYer who is looking to produce simple construction documents for a one-time build or occasional projects.
Compare Chief Architect Premier and Home Designer Pro
Why Choose Chief Architect over Home Designer Pro
Now that we know a little about Chief Architect Premier and Home Designer Pro, a question you may be asking yourself is "Why choose Chief Architect?". While many feature differences set Chief Architect apart from Home Designer Pro, the differences between these products can be broken down into four categories:
Productivity
For professionals, time is money and Chief Architect is loaded with efficiency features to maximize your productivity. The software uses an automated workflow to significantly reduce the amount of time spent designing and creating construction documents. For example, Saved Plan Views optimize the program for working on specific tasks, such as creating a site plan vs. a kitchen plan. Automated elevation dimensions will add story pole dimensions to exterior elevations, and wall elevation dimensions locate specific items such as cabinetry or appliance centers to NKBA standards. With a single click, the program keeps track of all of the materials being used, generating schedules and materials lists. The Project Browser side window is an easy way to manage and access plan information such as elevations, schedules, or material lists.
For remodeling, Chief Architect Premier has features for showing the as-built, demo, and new areas of the plan. Chief Architect Premier lets you create framing for the entire plan or a single wall, room, or individual roof planes and it is fully customizable, which can be ideal when designing remodels and additions, or lumber takeoffs. Chief Architect's layout feature allows all construction document pages to be contained in a single file. Chief Architect Premier comes with over 500 architectural CAD details that you can use and modify for construction documents. These features and many more result in a fast and accurate workflow for creating detailed designs and maximizing your productivity.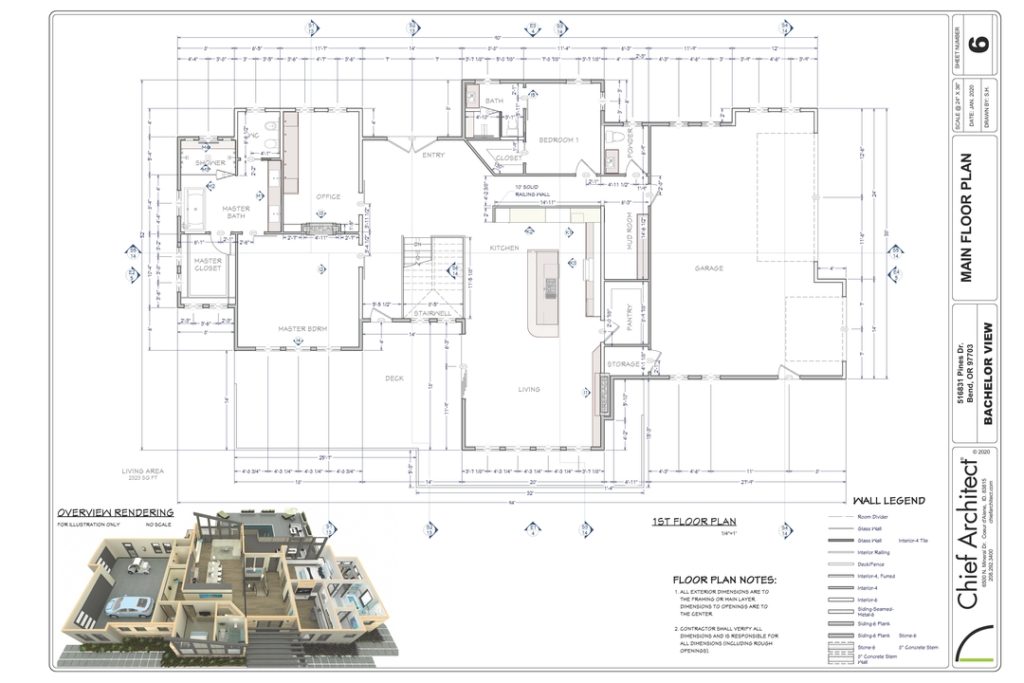 Design Flexibility and Content
When your client requests something unusual or you have a unique design in mind, you need a design tool that can deliver. Chief Architect's toolset gives you the flexibility and creative freedom to make your designs stand out and impress clients. Easily create cathedral, vaulted, and barrel ceilings that can be sloped to any pitch. Tray and coffered ceilings can be edited to any shape and size, be recessed up into the ceiling or dropped down into the room, have sloped edges, and can include moldings and rope lights.
Chief Architect's smart cabinet tools allow you to create fully custom cabinets giving you unlimited cabinet configurations or you can design out of a manufacturer-specific cabinet catalog. The design may require elements that can add distinctive character, such as timber framing, decorative columns, custom stacked moldings, inset materials, and more. Chief Architect makes adding architectural features quick and easy. When your design requires something completely custom, there are CAD and 3D modeling tools to draw custom items from scratch. With over 130,000 items available, including manufacturer or generic content, specifying what you need is just a click away. Chief Architect Premier provides the very highest level of customization for your designs with the greatest variety of content.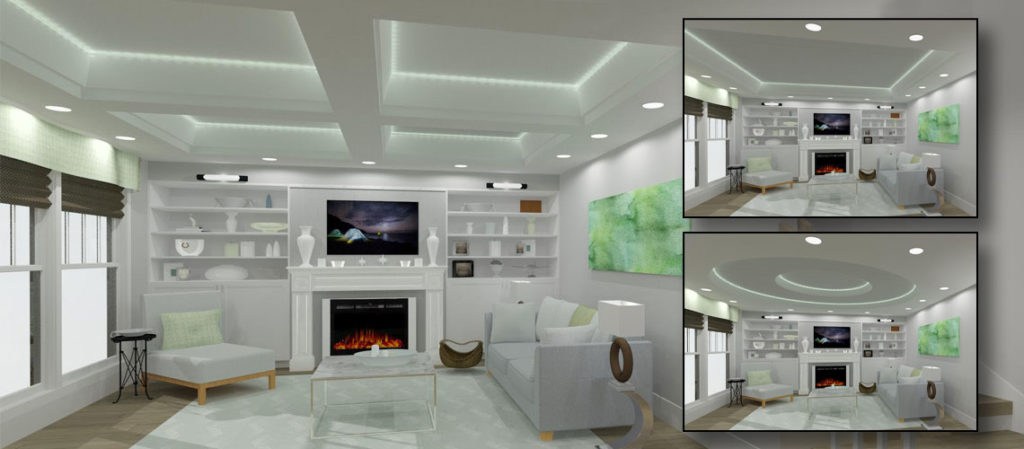 3D Rendering
Showing a client what the design will look like can sell the job and Chief Architect has many 3D rendering and visualization features to make client presentations seamless. Chief Architect has a Ray Trace feature that shows how light interacts with materials in the design, resulting in a photo-realistic image with very high detail. Producing photo-realistic images of a design not only 'wows' clients, but it allows them to clearly visualize what the final design will look like before it is built.
The Style Palette tool in Chief Architect lets you create pre-saved design styles, which can include door, window, and cabinet styles, material finishes, and more. Then you can quickly apply the Style Palettes to the design in front of the client, allowing them to visualize what various material and object styles look like, such as comparing a Modern vs. Coastal style.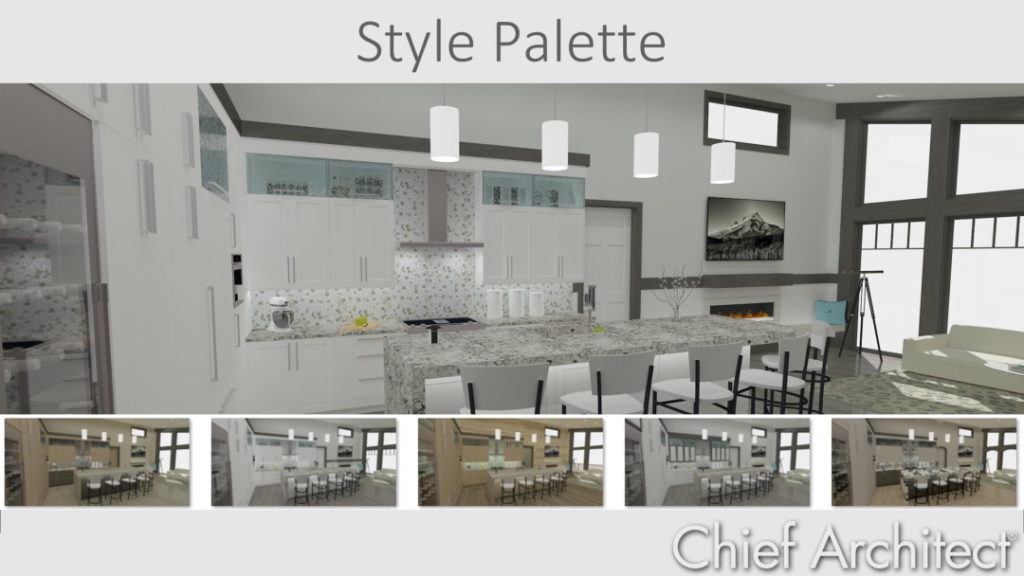 To further immerse the client in the design, you can sync Chief Architect with a virtual reality headset. When the client puts on the headset, they will be viewing the model through a first person point-of-view. The client can physically walk in the real world and they will virtually walk through the model. Not only is this a fun, unique experience for the client, but it helps the client understand the depth of the space. The premium visualization features in Chief Architect are a compelling sales tool that will set your business apart from the competition.
Training and Support
Chief Architect has many free training resources for learning how to use the software. These training resources are available in a few different formats to accommodate a variety of learning styles. There are over 500+ Training Videos, 700+ How-To articles, webinars, an active user forum, and more. If you are new or working with the free trial version, we recommend beginning with the Quick Start Video Series.
Chief Architect offers paid training services, including Classroom Training, Personal Training, and On-Demand Training. These training options provide the opportunity to receive training from our staff directly.
Features gained in Chief Architect
Advanced Layer Controls
Design more efficiently with the ability to create new layers, change layers objects are on, customize the appearance of layers, group layers together into task-specific Layer Sets, and more.
Default Sets
Increase productivity with pre-configured sets of defaults for specific focuses such as kitchen plans, framing plans, electrical plans, and others.
Plan Views
Manage Layer Sets and Default Sets with Saved Plan Views, and quickly switch between Plan Views for an efficient workflow when creating construction documents.
Remodel Plans
Create remodeling layers, layer sets, and plans to show as-built, demolition, and new areas of the plan for 3D renders, floor plans, construction documents, and materials takeoffs.
Advanced Layout Sheets
Streamline your workflow and increase your productivity in creating construction documents with advanced layout sheets. Create a full set of construction documents in a single layout file. Open multiple layout files simultaneously, rescale views sent to layout, add revision tables and revision clouds, and create layout file templates with pre-set page information and custom title blocks.
Advanced Reference Display
Display information from one plan file to another for reference in both 2D and 3D views: ideal for showing remodel changes and construction options.
Schedules
Create custom schedules for objects such as Doors, Windows, Cabinets, Fixtures, Appliances, Electrical, Notes, Room Finish, Walls, and Framing with optional, customizable callouts.
Project Browser
Improve productivity with the Project Browser by easily managing Plan Views, Layout pages, Schedules, and more via the Project Browser side window.
Ray Trace Rendering
Ray Tracing, the highest quality of rendering, creates photo-realistic images of your scene with real-world lighting, shadows, and reflections.
Style Palette
Save favorite style options and apply them to rooms for quick and easy client design options.
Virtual Reality
Use a virtual reality headset to give your clients an immersive first person walkthrough of the model.
Automatic Tray Ceilings
Create tray ceilings using the Tray Ceiling tool. Tray ceilings can be edited to any shape, width, depth, recessed into the ceiling or dropped into the room. Tray Ceiling edges can be sloped and may include Moldings and Rope Lights.
Smart Symbol Creation
Import or create custom 3D shapes and objects, such as custom doors or hardware, then convert them into smart parametric symbols that interact with the programs smart tools.
Manufacturer and Custom Cabinets
Create any cabinet style and edit the configuration of the front, sides, back, moldings, hardware and more using the smart cabinet tools.
Wall Elevation Auto Dimensioning
Automatically dimension kitchen and bath floor plans and wall elevations to National Kitchen and Bath Association (NKBA) standards.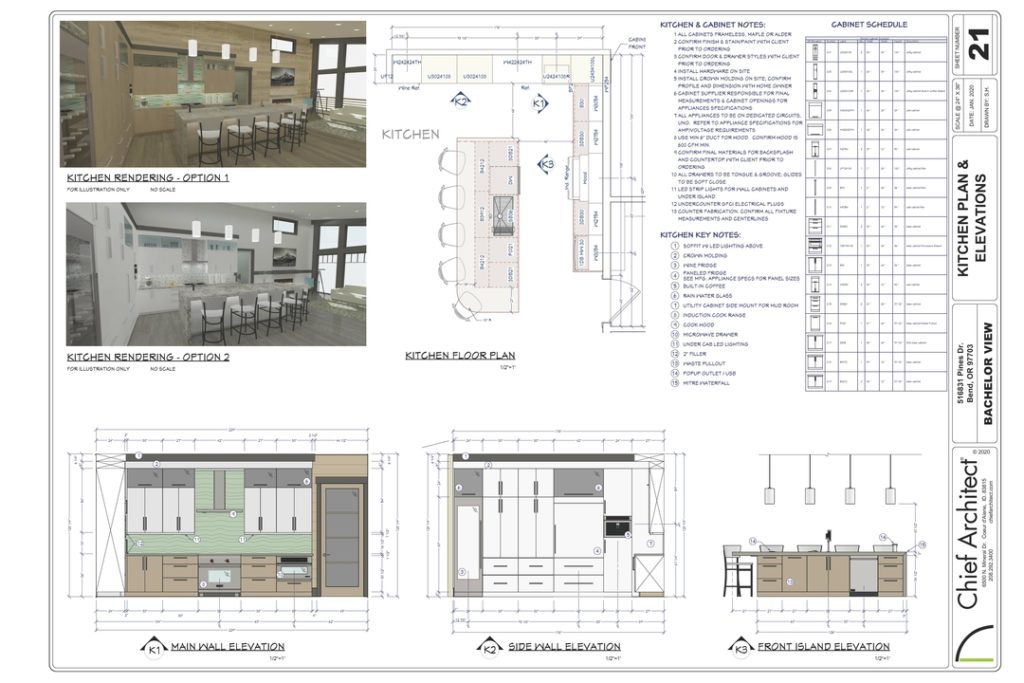 Architectural and CAD Details
Choose from over 500 customizable details or use the CAD Tools to create your own. Auto Detail section views with fills for the floor, ceiling, and platform layers and insulation. Details can be saved and reused in future plans.
Custom Framing
Build custom framing for the entire plan or a single wall, room, or individual roof plane – ideal for remodeling and additions.
Wall and Truss Framing Details
Automatically create framing details for individual walls and trusses, then send them to your layout pages for highly detailed plans.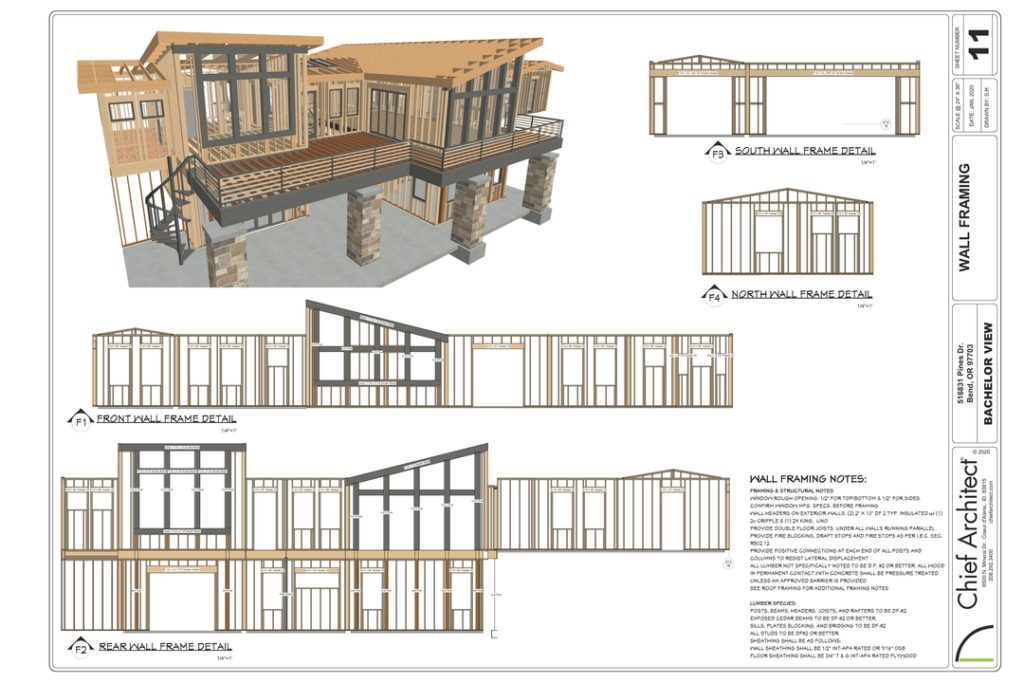 Advanced Materials List
Using Layers or Polylines, create Material Lists with filtered items. This is ideal for showing remodels or additions. Build custom cut and buy lists using Lumber tables. Export Materials Lists to Excel, BuilderTREND, and more.
Support and Software Assurance (SSA)
Stay current with New Version Releases, New Catalogs, phone tech support and discounts via SSA
Lastly, you can always download a free trial of Chief Architect or Home Designer Pro to evaluate the features. If you have any questions our sales department is happy to answer them for you!