By Kerry Hansen
Whether an architect, interior designer, draftsperson or design-builder, working from home is a key strategy for many. Carving out a personal work space for yourself can serve as an essential resource and is one of the keys to success and productivity when working from home. Here are a few tips to get going.
1. Select the ideal location
2. Consider ergonomics and lighting
3. Include the office essentials
4. Breathe some life and personality into your space
5. Utilize the tools to increase productivity
6. Keep communication at your fingertips
7. Join the Chief Architect community
8. Never stop learning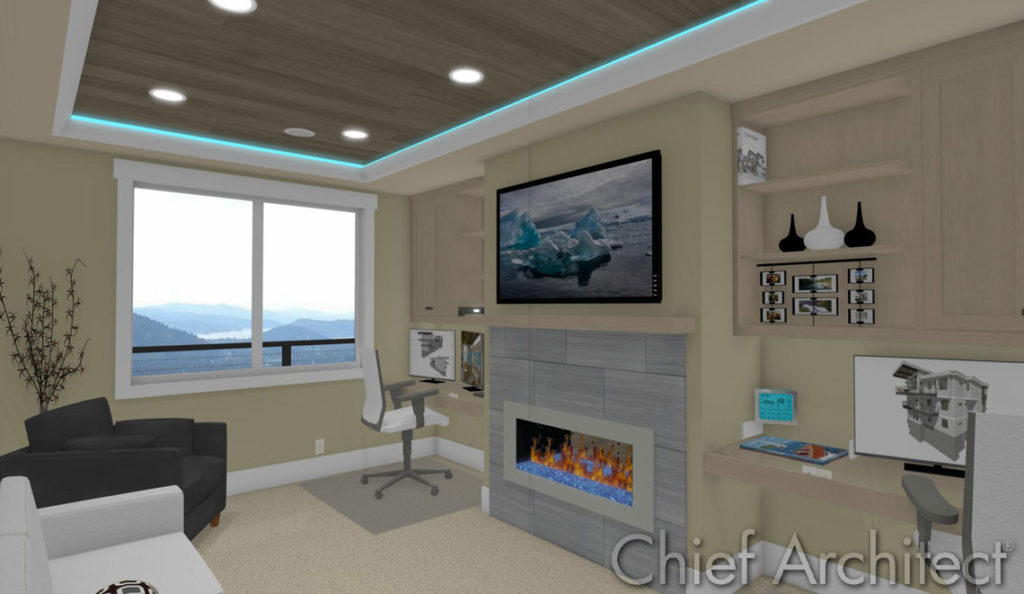 Select the ideal location.
Choose a spot that is quiet and organized. It doesn't matter if you have a designated room or you've creatively transformed a nook in your entryway into your home office, the bottom line is to define an environment that is conducive to work. Transform that awkward unused space in your home. Even the small space beneath the staircase can be transformed into a home office nook. When it comes to organization, don't forget to utilize vertical space. Adding a few floating shelves to serve as a desk with a bit of storage and you're on your way. Top it off with a chair to fit your personality. The functionality of the space is what is important, not the size that you have to work with. Be sure that the location you choose to set up shop is away from distractions like the television and the refrigerator. Out of sight, out of mind. Finally, when it comes to the ideal location, make sure your home office is practical, ergonomic, and clean. No one likes to work in the middle of a mess.
Consider ergonomics and lighting.
When you prepare your work station, take time to position your chair, keyboard, and monitors to accommodate your body. Doing so will promote good posture, and help protect your eyes and joints. Remember to keep a neutral head and neck position. That may mean adjusting your monitor. Your monitor should be about an arms distance away from you and the top of the screen should be at eye level. If you do not have the ability to adjust the height of your monitor, place a decorative box or a ream of paper under the base. If you work with two monitors, consider how you will be using them for placement. The average desk height is 29 – 30 inches tall. This may be too tall or too short for you depending on your height. You will want to adjust your chair to account for that. As you raise or lower your chair, your arms should remain at a 90-degree angle when using the keyboard. Your keyboard should be placed where your hands naturally land with the mouse right next to that. Move your mouse from the elbow not the shoulder to reduce strain from overuse. A footstool is recommended if your feet do not touch the floor.
Lighting is important. Good lighting is the best way to make a space feel professional and chic. An upgrade to your lighting can make any room feel bigger. Lighting is also key to functionality. It can help reduce eye strain and mental fatigue, especially when screens are in use.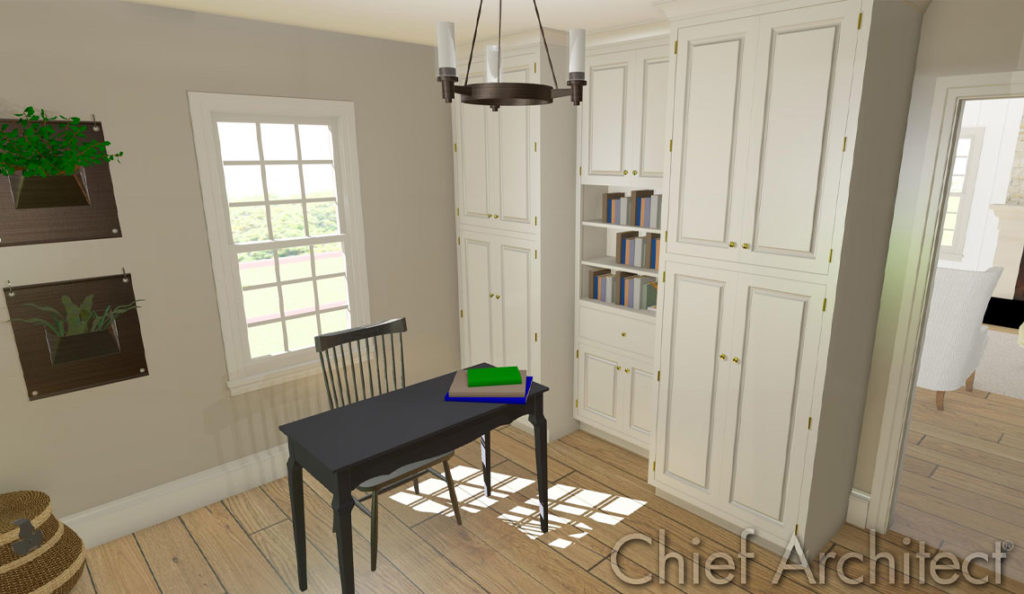 Include the office essentials.
You will certainly need a desk and chair, but for Chief Architect users, dual monitors are an easy way to increase workflow. Large monitors give you additional flexibility. Some items may seem mundane, none the less, they are essential to workflow and you will want to include them. It's better to get everything that you need when you set up, rather than piecemeal it all together when you are trying to work and realize that something is missing.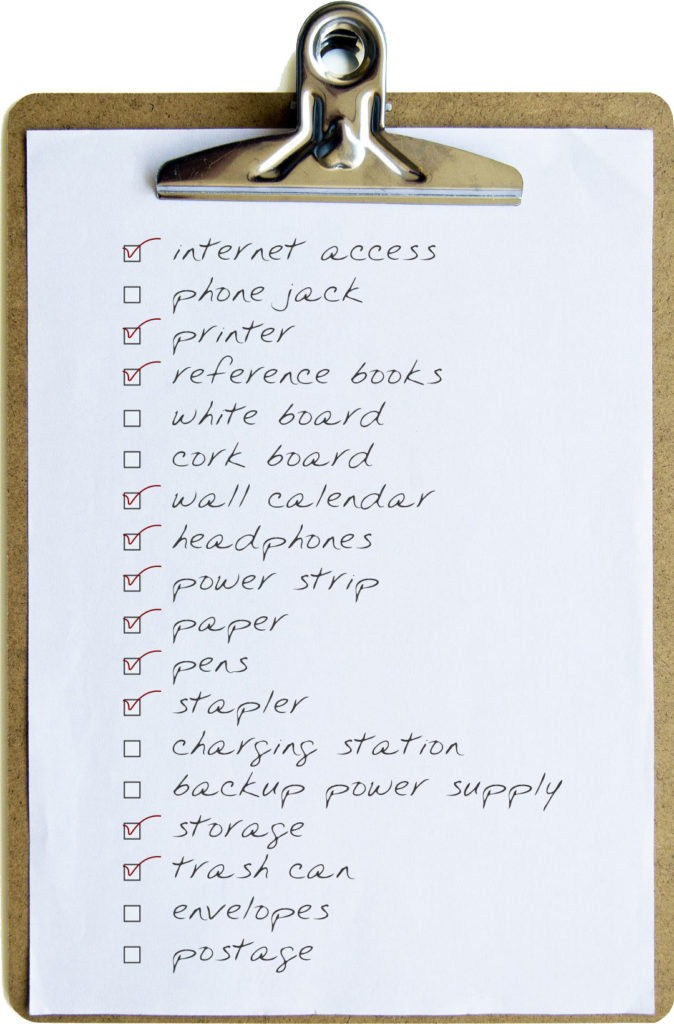 Utilize the tools to increase productivity.
Chrome Remote Desktop will allow you to access your office computer while you are working from home. Install your Chief Architect License on more than one computer. Easily work from home and the office by swapping your license between your two work spaces. Follow these steps from the Chief Architect website for help setting that up. Easily share files with coworkers through Dropbox and Google Docs.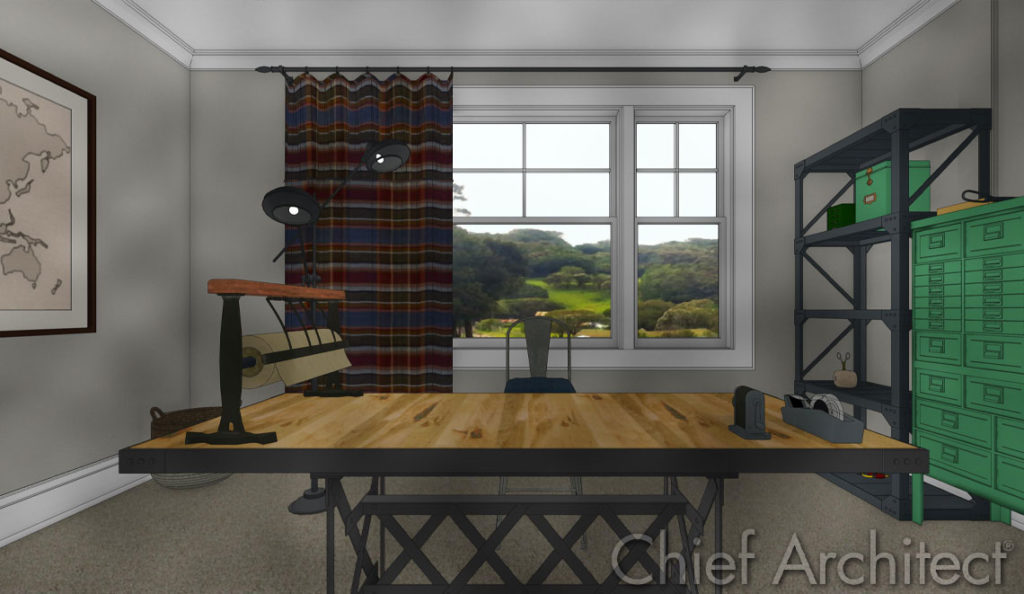 Keep communication at your fingertips.
Having the necessary tools at hand will save you time in the workday. A webcam, for example, can keep you in contact with clients and vendors when you are working remotely. You simply plug it into the USB port if one is not already included in your monitor. It will give you the added flexibility to hold meetings with your colleagues so projects stay on track. Utilize communication resources like Slack, Skype, Zoom and Chief Architect's 3D Viewer App.
3D Viewer models are interactive virtual reality models that can be viewed on a phone, tablet, or web page. 3D Viewer models can be shared or embedded on your website. These models are a great way to help your clients or subcontractors visualize your designs. To view on phones or tablets, download our free 3D Viewer app — available for both Apple and Android devices. To embed on your website 1) export the 3D Viewer model to your Chief Architect cloud account 2) from your cloud account use the embed button and copy the code to your website. Learn more with our 3D Viewer support article.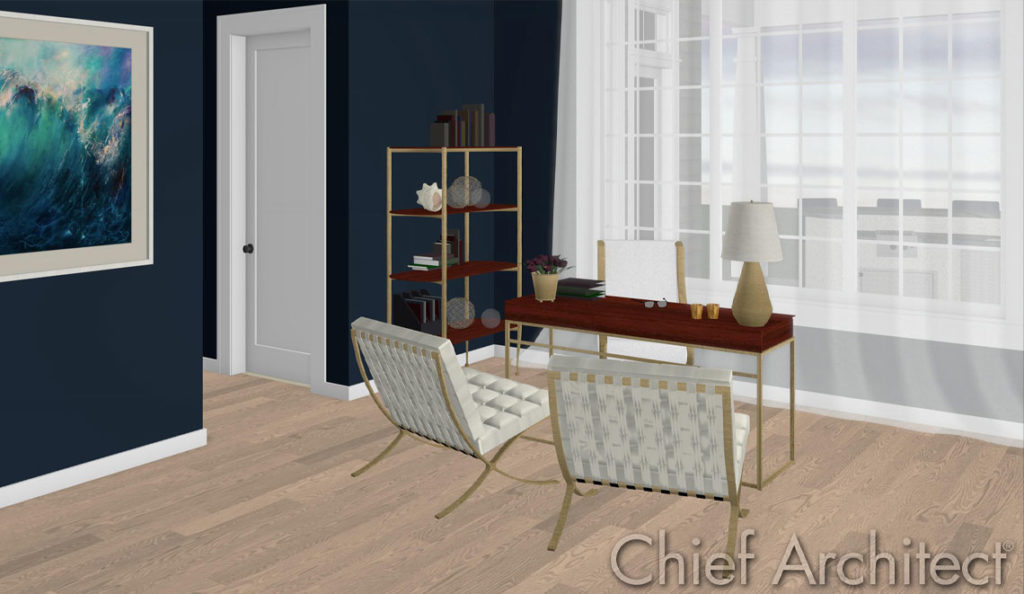 Breathe some life and personality into your space.
Incorporate plants. They clean the air, make you feel happy, remind us why we are at work in the first place and inspire us to stay stress-free and keep at it. Speaking of staying stress-free, don't forget to get up and move or take a break. When the water cooler or office neighbors aren't available for quick breaks, remember to schedule moments to disengage.
Add personality to your space. Your work space should reflect your personality and inspire creativity. Add that drama, throw in that vibrant piece of art, it will energize and motivate you. Consider a mixed gallery wall to incorporate color. It will encourage you to work from your office and helps it feel like a finished space. Incorporate a rug to absorb sound and add a pop of color or a soothing texture to the room. Make it welcoming but not too comfortable.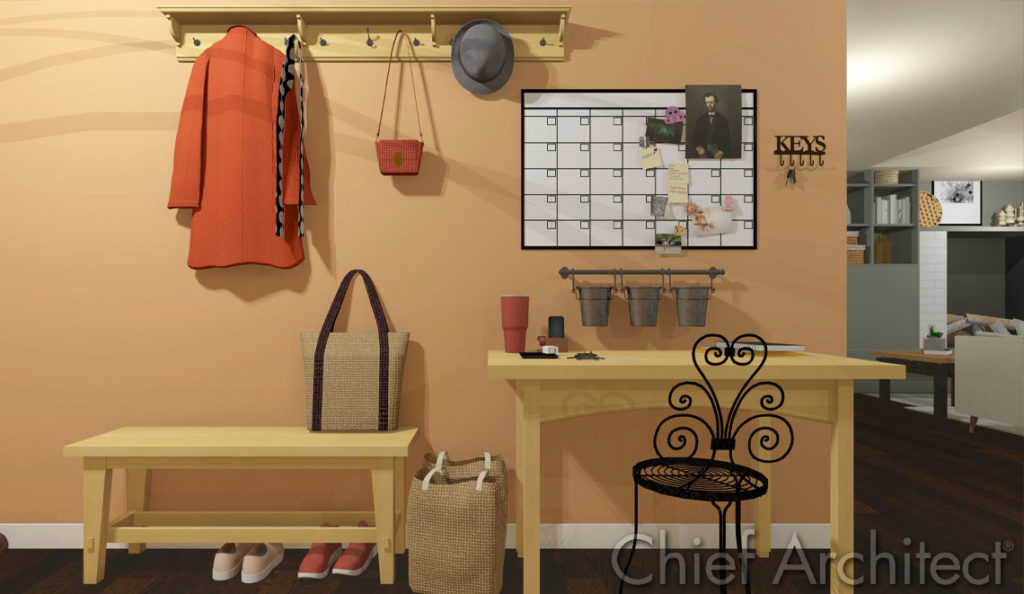 Join the Chief Architect community.
The Chief Architect professional forum, ChiefTalk, allows you to interact with other Chief Architect users. Get excited about your latest project. Share what you're working on with other users in the gallery, or ask questions. Enter one of our monthly Design Contests to get your name out there. We write featured blog posts on the winners that you can share with your community. There are times when other news outlets share these featured user posts. If you enjoy connecting, branch out to Facebook groups like Users of Chief Architect or Chief Architect Users Showroom. Both are excellent sources of information and filled with amazing Chief Architect users worldwide.
Never stop learning.
Chief Architect provides plenty of learning resources. Chief Architect offers a collection of countless training videos on our website. Sign up for Virtual Training courses, One-on-One Personal Training or any of our weekly webinars for additional training.
We want to hear from you. What are you doing to make working from home better? Tell us about it in the comments.